By DAVID DUPONT
BG Independent News
Clearly Presbyterians don't believe in bad karma.
Otherwise the pastors and board of the First Presbyterian Church in Bowling Green would have thought thrice about hosting a production of "The Christians," a drama about a church being ripped apart.
The church lived up to its declaration on its sign outside as a welcoming congregation, and welcomed Broken Spectacle Productions into its sanctuary.
Luke Hnath's 2015 play "The Christians" is being presented Thursday and Friday at 7 p.m. in the church's sanctuary. Tickets at the door are $20 and $15 for students. Tickets in advance are $15. Visit brokenspectacle.com.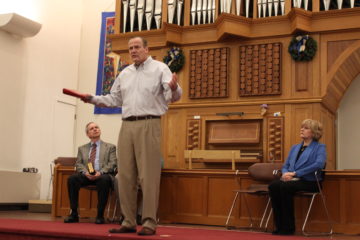 That's a fortuitous setting for the play. After a small choir (William Cagle, Beth Felerski, and Lorna Patterson) directed by pianist Connor Long has offered a couple hymns, the pastor, Paul (Jim Trumm) steps out and greets the congregation. Given the stage is a sanctuary a moment of confusion ensues – is this a service or a performance?
Trumm's Paul is a warm, reassuring figure, glib but not quite unctuous. He's certainly proud of what he's built. As he details in the opening lines of his sermon, he built this church from a handful of worshippers in a storefront into a congregation of thousands with a church that has a bookstore, coffee shop and parking lot big enough to get lost in.
This Sunday is one of celebration, he tells the congregation, because the mortgage on the church has finally been paid off. And the Sunday is notable as well because he is announcing a dramatic change in theology – he no longer believes in hell.
Paul arrived at this epiphany not on the road to Damascus, but in a bathroom in an Orlando hotel. At a conference he heard a missionary lament that a boy, who burned to death in the process of saving his younger sister, would not go to heaven because he was not a Christian, not saved. Paul says that is incompatible with a loving God. "We are no longer that kind of church." Trumm's Paul announces this with joy and certainty.
The audience – or is it a congregation? – would do well not to be so mesmerized by Paul's preaching that they neglect to watch the others on the dais. The actors – Eric Batts as the associate pastor Joshua, Jim Dachik as the elder Jay, and Libby Dachik as Paul's wife, Elizabeth – register their characters' reactions to Paul's revelations.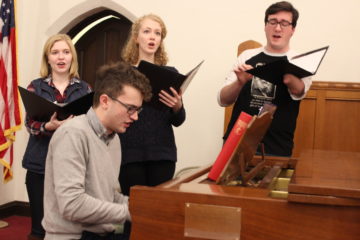 Jay is confused. You can see him trying to process what's being said. Joshua is in turmoil, pondering how he will react to this change. Elizabeth's face is a greater cypher, by design. Her role as pastor's wife requires her to contain what she's feeling. Libby Dachik communicates that initial struggle with the slightest tightening of the muscles and shifting of her eyes. It's an attitude she must maintain until the drama nears its climax. That what she says when she does speak her mind is a revelation to her husband, and the rest of us, is a tribute to Libby Dachik's controlled performance.
Under the direction of Jonathan Chambers, the actors portray rounded, complicated characters. Paul is neither a heroic iconoclast, nor a martyr, nor a charlatan. Joshua is not a dogmatic firebrand.
Through their conflict as it roils the congregation, we see the question of what it means to be a Christian. Note the names – Paul, as in the great proselytizer to the heathens, and Joshua, or as it is in Greek, Jesus.
Erin Williams gives powerful testimony as a single mother, Jenny, who is as riven by the split as the church itself. She loves the church and appreciates all it has done for her, but is troubled by this new theological direction. Jay, in his own guarded way, makes clear that the practical, monetary matters of maintaining the church are not as divorced from the spiritual mission as some would believe.
In one touching scene, Joshua and Paul talk about the new church Joshua has started. They are two deeply religious people at odds over a core belief, yet they find for a moment camaraderie in discussing the logistics of launching a church in a YMCA. The restroom and sound system are problems, Joshua said.
This, though, cannot salve the wound of schism. The play offers no pat answers, because there are none. And the other possibilities between Joshua and Paul's views are not discussed, though Joshua mentions in passing the unbeliever's view when describing his mother's last moments. Fodder, maybe, for discussion over coffee and cookies after the play.