Submitted by the WOOD COUNTY DISTRICT PUBLIC LIBRARY
Teachers, book enthusiasts, parents, and readers of all ages are invited to participate in a 2017 Mock Caldecott Election on Sunday, Jan. 22 at 2 p.m. in the Wood County District Public Library Children's Place Programming Room.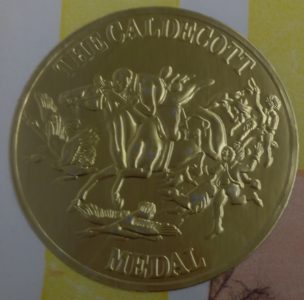 The Caldecott Medal is awarded annually by the Association for Library Service to Children, a division of the American Library Association, to the artist of the most distinguished American picture book for children. At the Wood County District Public Library's Mock Election, everyone will take a close look at some carefully selected, beautifully illustrated picture books from the past year, then help select a "most distinguished" picture book.
Kathy East, retired Children's Librarian, will share her experiences serving on the Caldecott committee in 1987 and chairing it in 2004. For the full mock election with final results, the Children's Place suggests planning to stay until about 4 p.m.
The 49 books we will be considering for our Mock Election are currently on display in the Children's Place Quiet Study. Everyone is invited to read and look at the books on closed reserve status.
The Caldecott award winner, along with the Newbery award winner and many others will be officially announced on Monday, Jan. 23 at the ALA Midwinter Meeting in Atlanta.
For more information, contact the Children's Place at 419-352-8253.