By ALYSSA ALFANO
BG Independent Contributor
Bowling Green State University's School of Media and Communication has a new building on campus, which opened for use in the fall of 2016.
The new building was named Michael and Sara Kuhlin Center after two BGSU alumni. Sara graduated in 1969 and Michael graduated in 1968 with a degree in journalism.
The building, previously known as South Hall, provides new technology, classroom space, and more for students in the programs that are housed within this building.  In addition, this building provides new and updated spaces for student media organizations on campus. This fills a great need for these organizations.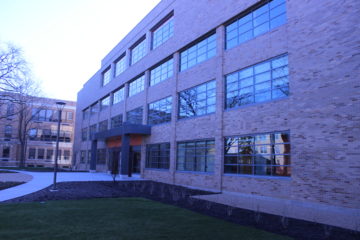 After speaking with BG Falcon Media editor, Holly Shively, it was clear that some updates were needed.  West Hall was outdated and had old technology. In addition to new technology and classroom spaces, the location of this building is much better than that of West Hall.
"I think we are in a better place on campus," said Shively.
She went on to say that the building's location is easier to find and more centered on campus.
Change brings many good things. However, it can take a while to get used to and can often leave room for improvement. As expected with any new building, while students and professors settle in they are discovering a few situations that may require some change.
One thing that Shively and several others said needed adjusted, was the layout of the classrooms in the Kuhlin Center. While the classroom size and new technology is beneficial to students, the layout is not ideal.  The computers in the classrooms outline three of the four walls and face away from where the professor stands. This layout may be good for labs and in-class workdays, it is not ideal for in-class discussions and lectures.  In addition, there are no desks.  In the center of the classrooms there is one long conference table. This makes it difficult for students and professors to have effective lectures in class.
This type of classroom doesn't work for more traditional classes.  All of the classrooms within the Kuhlin Center are computer labs.  There are no lecture halls within this building.  As a result, students have to go to other places on campus to have class.
Another change that may need to be considered is the placement of the advisors and faculty within the School of Media and Communication. Many of the advisors are on the third and fourth floor and this tends to be out of the way for many students.
In spite of these flaws, there are a few things about this people that people do like, aside from the new technology.
Shively said that one thing she enjoys about the new building is the new space provided for student media organizations on campus. She said that it took some time getting used to such a clean and pristine space, but it is a more professional space to be working. In addition, Shively says that the media organizations are in a much better space and have better opportunities to collaborate with each other.
There will always be ups and downs to a new building and to changes on campus, but for the most part, the Kuhlin Center is a much better space and the updates were very badly needed.