By DAVID DUPONT
BG Independent News
Several dozen  protestors, a mix of students, faculty and community residents, lined the sidewalk leading to the main entrance of McFall ready to greet those arriving for Tuesday's Faculty Senate meeting to support making Bowling Green State University a sanctuary campus.
The petition calls on the university to refuse to cooperate with immigration officials in deporting anyone in the country without proper documents, to not assist any federal officers in gathering information about immigration status, and to "require that on-campus recruiters from the Department of Homeland Security, Border Patrol, and Immigration and Customs Enforcement use civilian clothing, bring no weapons, and drive no official vehicles."
The protestors wanted the senate to support the petition, but Michaela Walsh, who originated it, said the senate's executive committee did not place it on the agenda.
She said a senator could bring it up under the issues portion of the agenda. That did not happen.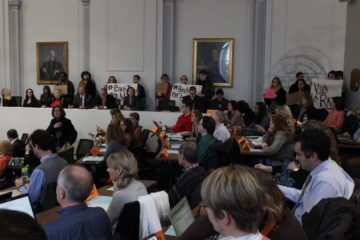 The idea is to pressure President Mary Ellen Mazey and the university's board of trustees to support the sanctuary plan. In her address to the senate, Mazey said she did not support the petition. As a public institution, the university required to obey the law.
In an interview after the meeting, Mazey said that the university will continue to support students covered by the provisions of the Deferred Action for Childhood Arrivals (DACA) policy, just as it supports all students.
Mazey said there are 11 DACA students on campus, and noted that they received state aid.
She said her decision was made based on what the petition asked for and that would be against federal law.
"We'll do everything we can to ensure the safety of our students and to ensure that we will comply with regulations here at Bowling Green State University," Mazey said.
She and other university presidents support the BRIDGE Act, which was introduced in the U.S. Senate in December, which would provide provisional protection for people with DACA status.
In her remarks, Mazey said, that 68 percent of the university revenues are linked to the federal government. That includes federal student loans, competitive grants for programs, and research grants.
Asked by Julie Haught about any threat to these funds if the university pursued sanctuary status, Mazey said she wasn't aware of any.
However U.S. Rep. Bob Latta (R-Bowling Green) in a statement on Facebook last week wrote:  "Enforcing the law should not be controversial. I've signed onto legislation, the Stop Dangerous Sanctuary Cities Act, that would deny Federal funds to cities or any other jurisdiction that refuses to share information that would help immigration officials do their job. There is no reason to allow these safe havens for illegal criminals to continue."
Mazey said she was unaware of that legislation.
She said she was reassured by the BRIDGE Act and the stance taken by Speaker of the House Paul Ryan on immigration.
Mazey said much has evolved since the election, and she is optimistic about how the issue will be resolved. "I feel comfortable that we're going to be OK."
That feeling is not shared by Walsh.
The petition was based on what Trump said during that campaign and that included ending the DACA policy.
"I can tell you the day after Trump was elected many of my Latino students had slurs written on the doors of their dorm rooms," she said. The sanctuary proposal also includes, she said, support for all students who now feel threatened. That support includes counseling and legal assistance.