By DAVID DUPONT
BG Independent News
Five years after he arrived on the Bowling Green State University campus, Bryce Davis has a place he can "whole-heartedly and unapologetically" be himself.
That wasn't the case when he first came to Bowling Green. In his time here, he's worked to change that, and the opening Saturday of the Multicultural Center and LBGTQ+ Resource Center in the Bowen-Thompson Student Union is the result of his and his fellow students' efforts to bring about change.
He had misgivings about BGSU from the start. Coming from Columbus where he as active in promoting social justice causes, he was excited about the academic programs in psychology and sociology. He saw BGSU as an up and coming, innovative institution. But Davis, who identifies as queer and biracial, looked around at the cornfields fields that surrounded the campus. He knew that there may be cultural conflicts with a largely older white and conservative community.
When he got here he felt there was no place for him on campus. Friends who were black has racial epithets yelled at them by people in trucks driving down Wooster Street. Gay couples were reluctant to hold hands because they would be mocked or even have things thrown at them.
Davis joined Vision, now the Queer/Trans Student Union, and found a place for himself at BGSU. Through Vision he joined the activist group Call to Action. He's stayed here for five years, and is now ready to move onto graduate studies. The opening of the Multicultural Center and LBGTQ+ Resource Center will give others the place he sought, and needed, especially as a first year student.
The space replaces what had been located in a few cubicles that each barely accommodated five people in the Math Science Building. The new centers have separate conference rooms connected by a lounge, and a small office space.
Interim President Rodney Rogers said Sheila Brown, the associate director of Multicultural Affairs, declared the centers as "15,000 times better" than the space in Math Science. The centers had originally been located in Saddlemire, the former student services building that was razed to give way to the Wolfe Center. Since then they had been moved to various locations around campus.
The opening of the Multicultural Center and LBGTQ+ Resource Center marks "a milestone" for students on campus, said Vice President for Student Affairs Tom Gibson.
"My hope for these two centers is it will be a hub for campus life and place students will feel at home," he said. "It will be a space where multicultural programs will be abundant. These two centers will be a model for inclusive excellence."
Both Gibson and Brown credited student action with bringing about the creation of the new centers. Brown singled out Davis for his leadership. Many other organizations were involved as well, she said, including the Latino Student Union and the Black Students Union.
Brown said that now those students and others will have a place to meet, socialize, hold seminars, and stage events.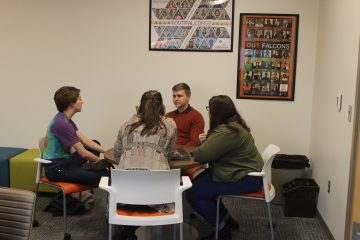 Katie Stygles, assistant director for diversity education and LBGTQ+ programs, said the centers are open to a wide range of students, regardless of sexual identity, ethnicity, or religious beliefs.
It's important, she said, that it is located in the student union, "the heart of campus."
Rogers echoed that sentiment. The space is essential, but more important is the programming that helps students come together, engage with each other, and learn.
Davis said the centers offer a place where students who want to be allies to marginalized groups can meet and socialize with those different from themselves.
While he appreciates this space, Davis said he envisions something broader. He'd like to see an entire building devoted to diversity and inclusion that brings together academic programs such as the School of Cultural and Critical Studies with the student organizations and the Office of Multicultural Affairs.
Part of that will be met when later this year when the Office for Multicultural Affairs relocates to space around the corner from the centers. Then students who may be inspired to learn more can find guidance just down the hall.