By DAVID DUPONT
BG Independent News
For Mei-Yi Wang performing the first movement of Sergei Prokofiev's Third Piano Concerto with at the Concerto Concert at Bowling Green State University is a dream come true.
Wang is one of the winners in the College of Musical Arts' annual Competitions in Musical Performance. Last December 69 students vied for the chance to perform a concerto with the BG Philharmonia.
Wang first heard the Prokofiev concerto when she was in junior high school in Taiwan. "It was so amazing. The piano, the orchestra, the sound was very fantastic. So I'm dreaming I should play this piece someday."
That time will come as Wang and three other competition winners will perform with the Bowling Green Philharmonia, Saturday, Feb. 16, at 8 p.m. in Kobacker Hall. Tickets are available at bgsu.edu/arts or by calling the box office at 419-372-8171.
Other soloists are:
Flutist Alec Porter, a junior, performing three movements from John Corigliano's "Pied Piper Fantasy."
Saxophonist Johnathan Kierspe, a second year graduate student in music performance, performing Marius Constant's Concertante for Saxophone.
Erin Redick, a third year student from Fletcher, who will perform Emmanuel Séjourné's Concerto for Marimba and Strings
Also, receiving top prizes at the competition were: composer Emilio Jose Gonzalez who will have his piece performed at next fall's New Music Festival, and Ariel Magno de Costa, who received the Virginia Marks Collaborative Piano Award.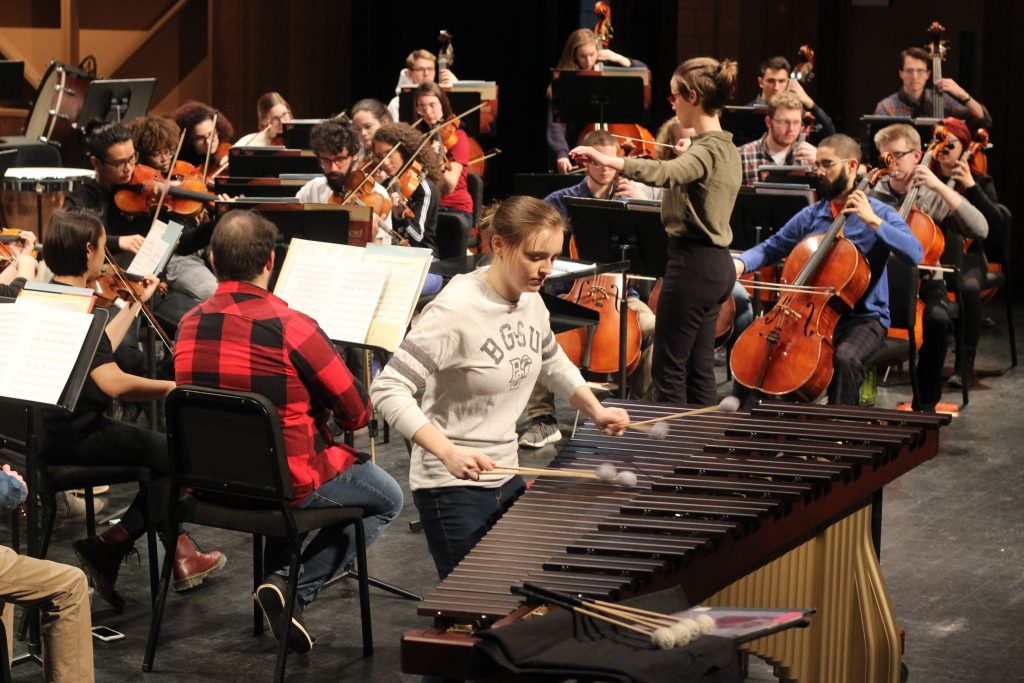 Redick describes herself as shy and a percussionist who doesn't like to play loudly even though she started in music because she wanted to be in a rock band.
Third year student from Fletcher said she decided to compete this year because "it would force me out of my comfort zone. … I'm a more reserved player. This has broken me out of my shell."
Emmanuel Séjourné's concerto, Redick said, is accessible. "It's just tonal enough that it's easy to listen to, but it's challenging at the same time."
Her teacher Daniel Piccolo had her listen to three possible concertos to prepare for the competition. It was only after she'd made her choice that she found out that the Séjourné piece was the one Piccolo expected her to select.
The percussion studio has not been as active in the concerto competition in the last few years so she found it "a bit shocking" to win, and as a music education, not a performance, major.
She started playing percussion in junior high after dabbling a bit on piano and guitar. She wanted to play bass in a rock band, but the junior high music program didn't offer bass. She went with drums in hopes of learning bass later. She fell in love with percussion especially after she started taking formal lessons as a high school junior and discovered the percussive possibilities.
Redick said she decided to pursue music in college after working with junior high music students while she was in high school.
Unlike the other winners, she didn't come to BGSU to study with a particular teacher. She came in a time of transition.
When she first visited she met long-time percussion professor Roger Schupp. She immediately like BGSU because "everyone was so friendly."
Schupp died in December, 2015, and Piccolo had just taken over the studio when Redick came in.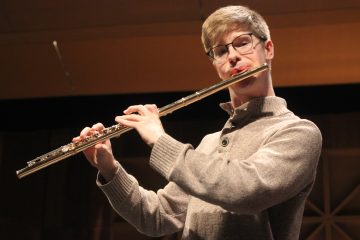 Porter came to study with his teacher Conor Nelson. When Porter was a junior in high school he attended a recital at BGSU by Nelson, the flute professor at BGSU. Porter, a junior from Carey, ended up studying with Nelson the next year, and then enrolling in BGSU. Nelson "has been a strong influence on me."
He only decided to focus on flute as a high school sophomore. He'd also played saxophone and trombone. Flute, he said, was the most challenging instrument.
Porter is a dual major in flute performance and music education. The junior will be looking at getting a graduate degree in flute performance with the aim of teaching in college. He's interested in working more individually with students than is possible in a school setting.
This was his third time participating in the concerto competition.
He credited playing the Corigliano piece with helping him break through into the winners circle.
"It's of a different caliber," he said. "It requires more intense collaboration between the soloist and the orchestra because of the contemporary notation. So that presented a great many challenges. Plus, it just sounded a lot cooler." And he gets to wear a costume including a feathered hat.
Porter said he was surprised just to make the finals "because of the caliber of players I was competing against. My colleagues are some of the best musicians I've ever met, and some of the repertoire they were playing sounded really, really good, so I'm really quite fortunate."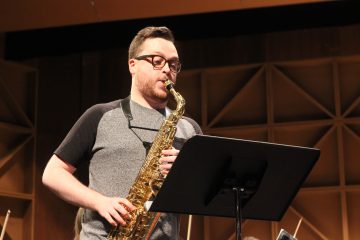 The winners are selected by a panel of five judges from outside BGSU. "It's a very fair process," Kierspe said. The judging takes place over two rounds.
"People take it seriously, but it's also a fun challenge."
Pieces must be memorize. The saxophonist said his ability to memorize the knotty concertante played a part in his success. On stage during rehearsal, he has the score for reference while working with the orchestra, "just to make sure we're together."
The concertante is "a super important piece" in the saxophone literature but doesn't get played as much because the piano reduction is inadequate, Kierspe said. His accompanist was able to work some of the missing orchestral parts into her part. That included her playing percussion effects directly on the piano's strings.
Kierspe grew up in China where his parents do mission work. He started playing violin at age 6, and then, influenced by his friends, took up saxophone when he was in junior high. In his senior year of high school he attended a residential arts high school in South Carolina before getting his bachelor's degree at the University of Carolina.
Kierspe was drawn to BGSU by the chance to study with John Sampen, who is "such a large presence" in the world of classical saxophone. He plans to earn his doctorate with the aim of teaching in higher education, possibly back in China.
Of music, Kierspe said: "There's always a new challenge. It's always forcing you to get better. It's a cruel world where nothing is ever perfect. The fact there's always something to improve has kept me in it."
Wang said music allows her to express herself. "I have so many ideas."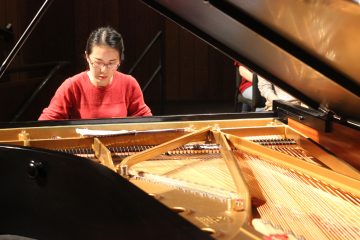 Her teacher in Taiwan was a close friend of Solungaa Liu of the BGSU faculty and recommended Wang study with her when Wang moved to the United States to pursue a second master's in collaborative piano.
Wang said that this is the first time she's participated in the competition. Because she is studying collaborative piano, she felt this may be a rare chance to solo with an orchestra.
So this offered her the opportunity to play that music by Prokofiev. "You can pick the piece you really like and stand in front of orchestra and play the piece you really like. That's why people like the concerto competition."