By DAVID DUPONT
BG Independent News
Globalization of the economy is an unstoppable force at the same time that the study of foreign language in the United States is declining.
"Foreign language departments are closing across the country," said Philip Peek, who chairs the Department of World Languages and Cultures.
That's true in high schools as well.
That trend served as the incentive this year, to marry Bowling Green State University's two language departments, German, Russian and East Asian Languages and Romance and Classical Studies and form World Languages and Cultures.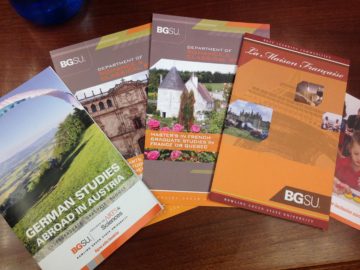 "Everyone realized that if perhaps we joined forces and started working together and looked at it as an overall team approach that we'll all get stronger," he said.
The merger was a long time coming. At one point in the university's history the foreign languages were all under one roof, but at some point they split. The reason is a matter of conjecture about faculty butting heads.
Peek said from the time he came to BGSU in 1995 people were discussing merging GREAL and ROCS, but only in the last two or three years did it become apparent that this would actually occur.
Spanish is, and promises to remain, the dominant foreign language. While almost 80 percent of Americans speak English at home, almost 13 percent speak Spanish. No other language has even 1 percent, though Chinese comes close with 0.9 percent, according to figures provided by Peek from the American Communities Study.
Spanish is the language most taught in high schools.
At BGSU, the new department offers courses in 10 languages Spanish, German, French, Italian, Chinese, Japanese, Russian, Arabic, Latin, and Greek.
While much of the rest of the world is bilingual, the United States remains largely monolingual.
"It's the geography of the country," Peek said. "In Europe you don't go far, and you're dealing with people speaking with different language from a different culture."
American attitudes may change. "Globalization is a phenomenon that's not going to stop. It's not political, it's just something that's inevitable. I think that will result in shifting attitudes toward learning a second language," Peek said.
"If you see the changes that are happening globally, ones that will require greater interaction globally, there's a lot of potential for growth."
That will require making alliances across the campus. Peek said that means "taking walks and talking with folks and seeing what collaboration we could have with a variety of different majors and programs."
Those include travel and leisure, business, history, and math and other programs.
It means continuing to work closely with the university's office of International Programs and Partnerships, as well as the related, but independent programs in International Studies and Asian Studies.
The department's approach rests on three elements, the learning the language, studying the culture  and visiting a country where the language is spoken. He said the new department would like to increase the number of students studying abroad. "Once you do go abroad, your attitudes tend to change," he said.
The benefits of learning a second language go beyond economics and academics. Studies show, Peek said, the many benefits to earning another language from general mental health to more flexible thinking and ability to see things from different perspectives. "All things the humanities are interested in."