By DAVID DUPONT
BG Independent News
A few years ago Natalie Magaña needed the help of the Cocoon, which is "committed to ending domestic violence and empowering those affected by it."
Now Magaña, who is a graduate student in flute performance at Bowling Green State University, wants to return the favor.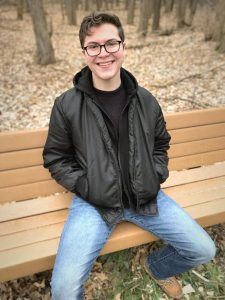 The Emanate Trio will perform a benefit concert, "Sign in the Window," Saturday, April 27, at 7:30 p.m. at St. John XXIII on Route 25 in Perrysburg.
Other members of the trio are Emily Morin, piano, and Madalyn Navis, violin. The trio will perform  a composition, "Sign in the Window," composed by fellow graduate student Chace Williams specifically for the concert. They will also perform their own arrangement of Astor Piazzolla's "Libertango' as well as music by Nino Rota, Mel Bonis, and Bohuslav Martinu
Magaña said she and Navis play in the liturgical band at the church. They talked about forming a chamber group that could do benefit concerts for local causes. In January with Morin they formed Emanate Trio, and they started brainstorming about causes they may assist.
About that time she saw a story in BG Independent News about The Cocoon wanting to find new ways to promote their services.
"I experienced things in my personal life," she said. "I reached out to them a couple years ago. When I read they were looking for new ways to raise awareness of their services it was little personal to me and close to home, I thought this would be awesome."
So Magaña approached the Cocoon with the idea.
Cocoon staff will be on hand to meet with people during the reception following the concert.
Magaña also reached out to her friend Chace Williams, a first year graduate student in composition, to write a piece for the concert.
She first heard his music before he came to BGSU, and she was drawn to his music even then.
For inspiration Williams turned to a poem by Eavan Boland, "Domestic Violence."
Williams said he was struck by a butcher shop's sign that Boland quotes: "please to meet you meat to please you."
Williams said "that line inspired the whole form of the piece." He said he walked away from the composition at one point, and that line stuck with him. "It was super powerful."
He drew on the poem's four stanzas to develop the material for the piece.
Williams, who studies with Elainie Lillios, usually writes electronic music. This is the first time in a while he's composing a piece for acoustic instruments.
He found the prospect exciting. Rather than focus on melodies and harmonies he concentrated on the sound of the instruments, often pushed to their extremes.
All the techniques he employs are "not native to classical music."
He calls on Magaña to blow into the end of her flute to create a whistling sound. He has Navis pushing down with her bow onto the violin strings to get a scratching sound. Morin will elicit a variety of sounds playing inside the piano, including rolling a ball over the strings. And the piece makes strategic use of a fan to create the sound of the wind.
No one will leave the concert at the end singing his piece, Williams said.
"I knew the setting," he said. "I didn't hold back at all for the audience. It will be challenging. I came to the conclusion that I would write a meditation on this subject."
Williams said that his schedule doesn't allow for him to volunteer on a regular basis. Still "we need to support those who give people that safe haven."
Such recitals give the musicians a chance to play for a different audience and get their music outside the walls of the College of Musical Arts, Magaña said.
The challenge of Williams' piece is balanced by the more traditional classical pieces, including a work by Bonis, a little known French woman composer, and Piazzolla's tango. "We hope people will be dancing in their seats," she said. "There'll be something for everyone."