By DAVID DUPONT
BG Independent News
Jim Graf took his time making his maiden voyage as an exhibitor at the Wood County Fair.
Growing up in Grand Rapids, he never exhibited. He was active in Pinewood Derby and made a few car models.
Graf, 80, had a varied career – factory work, selling insurance, then banking. After that he owned a mobile home park, drove a truck and worked as "a cook and go-fer" for a hazardous waste cleanup company.
Then 12 years ago while he and his wife, Vicky, were wintering in Texas, she got him a project, a model of the U.S.S. Constitution, known as "Old Ironsides."
"I thought he'd enjoy it," she said.
"He's the kind of person when he sets his sights on something, he'll finish them," she said, adding she "learned new combinations of words" during the construction process.
Graf set to work. He worked at it for a year then set it aside. "I put it in dry dock." But his wife knew he'd return. And, he did.
A decade later, he was back at it. "Now that my fingers were numb and my eyes are bad, I get to the hardest part. A 16-year-old could tie one of those knots in one third of the time it took me," Graf said.
"You know in my old age this taught me a lot about perseverance and patience."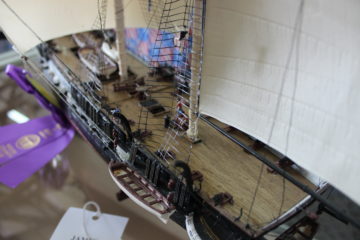 He invested hundreds of hours in the project, redoing the rigging several times. The two years in spent actually building the model is about as long as it took to build the original back in the late 18th century.
Once finished, complete with sailors in the crow's nest, the U.S.S. Constitution was docked in a place of honor, in a window in their home.
But Vicky Graf had another idea, bring it to the fair and enter it in the model competition.
"This wasn't my idea," said Graf.
But Vicky Graf said she wanted to exhibit it because her husband had stuck with the project and completed all the close work required. "This is a heck of an accomplishment. I'm just really proud of him."
The result was a blue ribbon and a best of show.
Now it will return to its berth in their Bowling Green home. And that Graf said is the end of his career as a Wood County Fair exhibiting career. "It's the first and last time."