With an audience made up largely of kids age 4 through 7, the line between moving to the music and fidgeting is pretty fine. It didn't matter that the music was not only before their time – because everything is before their time – but before their parents' time, and likely even before their grandparents' time. The beat was good. A few youngsters broke out the dance steps, a few swayed in rhythm in their seats and a few fidgeted. Teachers know the difference.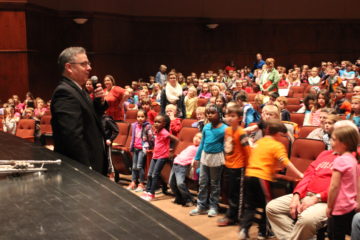 For its Young and Young at Heart concert Friday, the Bowling Green bands threw open the doors of the Performing Arts Center to senior citizens and pre-school, kindergarten and first graders from Kenwood, Conneaut and Crim.
The older listeners mostly took up the back rows, while the front of the house was packed with kids, and their outnumbered teachers.
After some preludes on marimba, the concert got underway with the high school's jazz band, the Jazz Cats. Their short set was devoted to swing classics from the 1930s and 1940s. But what's 70 years when one of the songs is named "Boogie Woogie Bugle Boy," which is deliciously funny to say.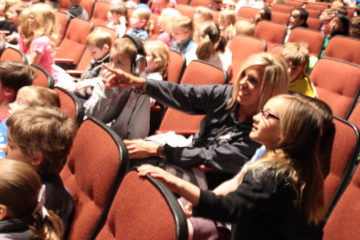 During the switch between the Jazz Cats and Symphonic Band, Band Director Bruce Corrigan demonstrated how that bugle boy blew those notes. More funny sounds, more laughs. Corrigan knew his audience.
Then the Symphonic Band stepped forward with Morton Gould's "American Salute," a fantasy on "When Johnny Comes Marching Home," then a bit of musical magic, a piece featuring a flute solo by Lilly Rakas, and a musical tribute to bugs that included a couple of comically cavorting butterflies.
The time just flew until the show ended up in a galaxy a long time ago. First graders trooped up to the stage to take positions within the band, and don the visages of Stormtroopers, Ewoks and Wookiees. Then with their masked associates at their feet,  the musicians played music from "Star Wars," a preview of a May 10 at 7 p.m. concert when the winds will join the string orchestra to play music from "Star Wars: The Force Awakens."
Now it was time for the youngsters to troop out to waiting buses, and for the elders to convene in the atrium for cookies… sorry, kids.
Emma Cook was on hand with her husband and two young grandchildren. The youngsters' sister, who was there with her class, encouraged them to attend
Cook was more than willing to make the outing. She has fond memories of being in band and choir in Bowling Green High and Otsego. It helped her, she said, when she went on to Bowling Green State University and studied to be a teacher.
These musical programs are valuable, she said. Concerts show young kids what they'll be able to do when they get older. "Kids need to be introduced to different types of music."
The school programs offer plenty of opportunities for expanding young people's musical horizons, Cook said. She brought another granddaughter to see the musical "Footloose."
"She was mesmerized."