By DAVID DUPONT
BG Independent News
Maria Simon, the children's librarian at the Wood County District Public Library, wanted to get the musically inclined summer reading program off on a high note.
So, of course, she brought in a soprano. And the soprano rolled in with a mezzo-soprano, a pianist, and a bass to play the bad guy.
Libraries Rock! The summer reading program got under way with a visit by Toledo Opera on Wheels.
The four-member troupe had enough scenery and hand puppets, not mention musical talent, to bring to life a couple of classic fairy tales. "Who's Afraid of the Big Band Wolf?" blends the stories of Little Red Riding Hood and the Three Little Pigs. The original script was set to music from Mozart's opera "Don Giovanni."
This is what the public library is all about, said Joy Torres, who was there with her four children age 3 to 10. "It introduces us to a lot of new things, we wouldn't have a chance to experience if it wasn't here. They always seem to bring in something new and exciting."
One year it was a magician, she said, and this year the opera. Later this year a local rock band, Mindless Matters, will play a show in the library on June 27 at 7 p.m.
Crystal Swaisgood, a mother of three who like Torres home schools her kids, said she's at the library all the time taking advantage of the diversity of activities offered.
This summer Lubrizol will present a STEM Sound Lab and young local musicians will come in play what they've been practicing and serve as reading buddies.
The full schedule of activities is available in the library's Connect Family Magazine. Click for more details.
"It helps keep the excitement of learning alive," Torres said of the summer reading program.
The young musicians in the Opera on Wheels program hope that their 30-minute opera will spawn future opera listeners and maybe performers.
Janani Sridhar, the soprano who sang the part of Little Red Riding Hood, said with the arts being cut in so many schools, programs like this are all the more important. She believes very strongly in bringing opera to these young listeners as a way of cultivating an audience.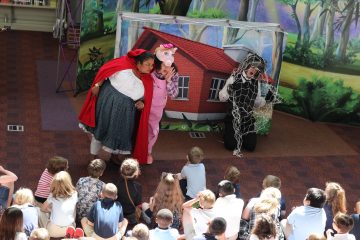 This was the last day for the troupe, all resident artists at the Toledo Opera. After 85 performances, they had one more show, and then they would be off pursuing their professional careers.
Carolyn Aquirre who plays the third little pig, that is the one who builds her house from brick, said she loves the question and answer session and seeing how involved the young listeners get.
The audience Thursday was pre-schoolers through second graders from St Aloysius School with a coupl dozen more kids with their parents.
They wanted to know why the wolf was so bad. Bass Michael Colman said that he tried to make him not all bad. He used his character to show something about bullying. In the end, he comes around to apologizing and gets a cookie for his contrition.
The musicians were also asked why they like opera.
Pianist Josh Wang, who got his master's degree from Bowling Green State University and is music director at First Presbyterian Church, said he loves how opera uses music to tell stories.
The kids also wanted to know how old they were when they started learning music. All began early taking lessons and performing.
Colman got his start in theater as a 12 year old in a high school production of "Sound of Music." He still enjoys what first hooked him then. "I love making them laugh. I love seeing their surprise. I love seeing them engaged. It's a great joy."