By JAN LARSON McLAUGHLIN
BG Independent News
As they watched the pinwheels spin in the breeze, the little children had no inkling of the real reason they were planting 884 in the ground on Wednesday morning.
The 884 pinwheels represent the number of child abuse and neglect investigations conducted last year by Wood County Children's Services. The number is a small increase from the 873 cases from the year before.
As Susie Dunn, of Dunn's Kiddie Kare, prepared the children for their role in posting the pinwheels, she explained that not all children have safe homes.
"I explained it's to help boys and girls who are sad and may not have a happy home," Dunn said.
This year the blue and silver pinwheels bear testament along Ohio 25 where motorists will easily see them, in the front yard of Thayer Ford/Nissan, 18039 Dixie Highway, Bowling Green.
The annual display of pinwheels is part of Child Abuse Awareness Month in April.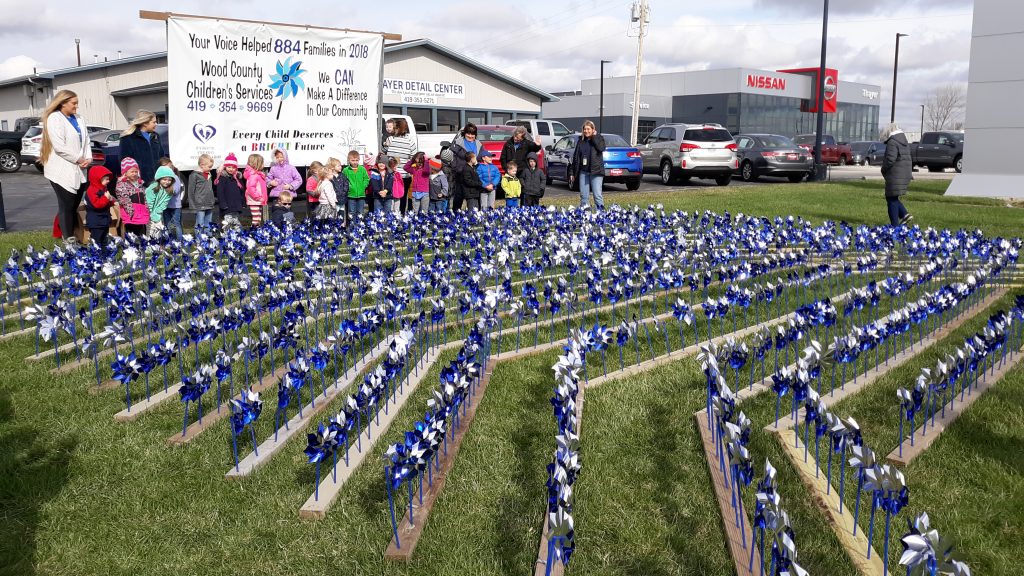 "This is to bring about awareness for child abuse and neglect – that it happens in every community," said Sandi Carsey, administrator of Wood County Protective Services.
The display serves as a reminder that not all children have carefree and loving lives.
In addition to the countywide pinwheel field on Route 25, individual displays are once again being planted in communities to show the number of cases in each school district. In Bowling Green, that number is 234 abuse or neglect investigations last year – up from 198 the year before.
Drug use by parents continues to be a factor in many of the cases.
"Opiates are a big one, but we're starting to see cocaine again," Carsey said.
The pinwheels are a visual reminder that the public needs to notify authorities about child abuse and neglect.
"These are a reminder for all of us who get too busy in our regular lives to know what kids go through," Children's Resource Center Executive Director Janelle LaFond said. "The shiny pinwheels really catch your eye."
After helping the preschoolers plant the pinwheels, Wood County Prosecuting Attorney Paul Dobson talked about the importance of the display.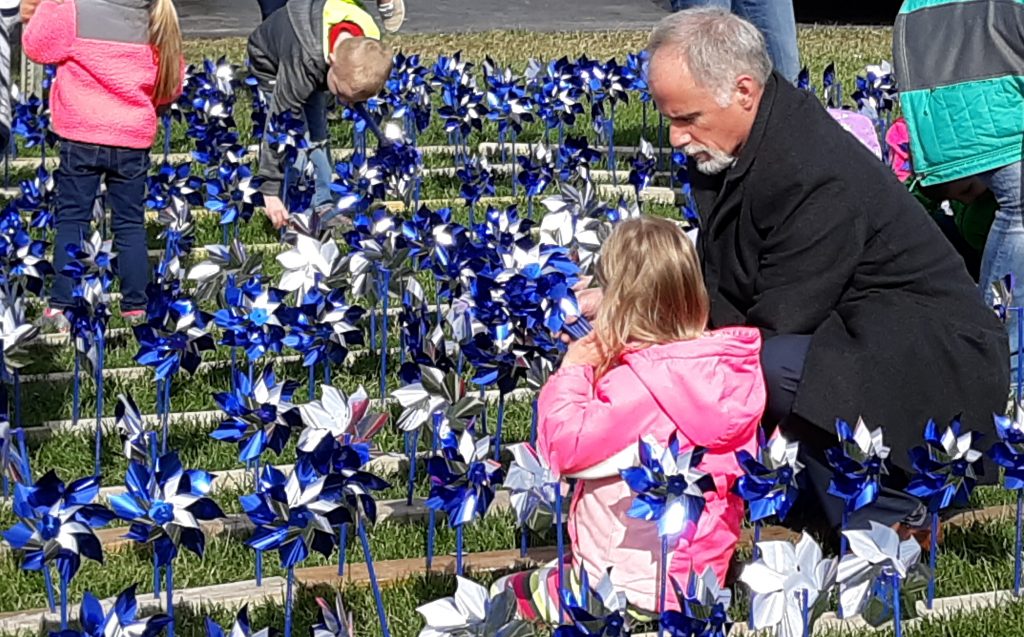 "It's important to bring attention and awareness to the horrible situations some kids face," he said.
Officials working on child abuse and neglect cases have to make tough decisions on separating, educating and assisting families.
"This helps bring awareness to that," Dobson said.
With a field of spinning pinwheels next to her, Pat Limes said she attended the event because of her work with the Bowling Green Women's Club on domestic violence.
"There's just no excuse for child abuse," Limes said, watching the young children. "They're the ones who suffer in the long run from domestic violence."
Area schools will have displays on their campuses, with the number of pinwheels indicating the number of families in the district assisted by Wood County Children's Services. The breakdown per district is: Bowling Green – 234 ; Eastwood – 44; Elmwood – 46; Fostoria – 31; Lake – 68; Lakota – 32; McComb – 8; North Baltimore – 67; Northwood – 52; Otsego – 60; Perrysburg – 100; and Rossford – 102; Other – 40.
The pinwheels will be on display throughout the month of April.
Among last year's investigation numbers were cases involving: physical abuse, 176; sexual abuse, 142; neglect, 492; and emotional abuse, 21. Drugs were involved in 260 of the cases.