By DAVID DUPONT
BG Independent News
You wouldn't expect an enterprise named Rock 'Em Sock 'Em would have its roots in romance.
But the idea for Rock 'Em Sock 'Em Retro goes back when the owners Jon and Kayla Minniear were first dating. The couple shared a love of gaming and anything retro. "When we first started dating, we started collecting old Nintendo, and then we started collecting other stuff. … A lot of this is our duplicate stuff," she says gesturing back to the shop. "We always talked about this, opening a storefront, back when we were dating."
They were also inspired by friends in their gaming community who operate similar stores.
That dream will be realized Monday when Rock 'Em Sock 'Em Retro opens at 192 S. Main St. in downtown Bowling Green. A ribbon cutting is scheduled for Nov. 3 at 11 a.m.
The storefront formerly occupied by Mill Jewelry.  "My grandparents bought their wedding bands here," Kayla Minniear said. "They're super excited we got this space."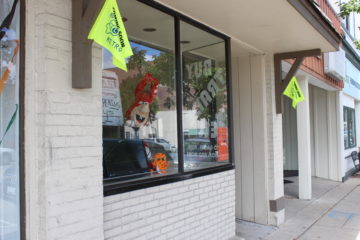 The store has been in the works for a while. Kayla Minniear, the daughter of Caroline and Ted Lippert of rural Bowling Green, cut back her hours at WYSZ six months ago to concentrate on sales at conventions and flea markets while they looked for a space.
When the store front in downtown became available, they jumped at it. It's hard, she said, to find a place with enough room and in such a prime location.  The Rock 'Em Sock 'Em name seemed perfect for a retro game and toy shop.
As they collected, and traded, going to sales and online, they accumulated duplicates of many of their favorites, and they dreamed about opening a store stocked with the kind of toys and games they and their parents grew up playing.
Minniear, a 2011 Eastwood graduate, said used equipment is nothing new to her. She never had a new game system when she was a kid. "So I played a lot of my Dad's." So she likes the feel of those vintage games.
"I feel like they're more family friendly. So many of the new popular games are rated M," she said. "With the old-school games, kids could play the same games as their parents."
The couple's families are playing a part in getting the shop open by helping to clean, paint and stock shelves. Minniear said her mother Caroline Lippert, who studied art, has grand designs for the shop's large front display window.
Even Jon Minniear's mother, who forbade him from playing video games when he was a kid – he played them at his father's – is a big support of the shop.
The shop will stock used games from old handheld models, the original Nintendo and up through PlayStation and Xbox as well as action figures, TV and movie board games and toys. Items will date back to the 1970s, with the bulk from the 1980s into the 2000s.
"I grew up playing it so I feel like a kid," Minniear said of the stock. Many of their customers feel the same way.
"There's a huge market for this stuff because people want to keep part of their childhood," she said.
Most of the video games will be used, she said. Every game will be refurbished and tested by her husband.
The store will operate on a buy, sell, trade basis. Customers will always get more in store credit, "but we'll always buy, too."
Eventually they will expand into online sales.
Even as they've been busy getting the store stocked and set up, the shop has piqued the interests of college students and other passers-by. Minniear has welcomed them in to look around their shop.
"I want it to be a cool spot to hang out."