By DAVID DUPONT
BG Independent News
Rock drummer Corky Laing says he's a "22 year old with 50 years of experience."
Celebrating his 70th birthday at Howard's Club H Saturday night, he demonstrated the truth in the quip. Appearing with the new edition of Corky Laing Plays Mountain, the veteran drummer performed with the energy of the musician who joined Mountain 50 years ago.
And his drumming had the verve, precision and a way of shaping the music that's honed over decades behind a drum set.
Yes, the music is 50 years old, but Saturday night it had the freshness and power of newly minted hits. For the older fans in the mixed aged group, they could have stepped back to the time when that record one fan carried to get autographed were brand new.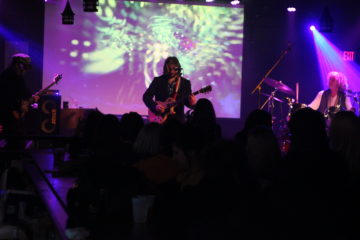 Laing was joined on stage by two stalwarts of the Toledo rock scene, Mark Mikel, on bass, and Chris Shutters, on guitar and flute. All three took turns singing.
They provided an additional jolt of energy earning the applause of the audience and the praise of the leader. More than praise really. He said he wants this to be his last band. Working with him reminds him of those days when he first joined Mountain.
Toledo is going to become his second home, he promised.
The trio commanded the stage like a working unit, with tightly executed riffs, and driving groove. Shutters' solos were blistering, and exploratory.
The band delivered the promised Mountain hits – "Mississippi Queen," "For Yasgur's Farm." Traveling in the Dark," "Sitting on a Rainbow" and more.
After pounding out the opening numbers, Laing announced he'd be telling some stories. It was his birthday so he could do what he wanted. Not that anyone minded. He's a skilled raconteur whether talking about the teenage lust that inspired the hit "Mississippi Queen" or the story behind "Nantucket Sleighride," not a seasonal song.
Both are rooted in his time on Nantucket. He remembered being inspired during a power outage at a club to keep a young girl in a see-through skirt dancing. At the end of the night she went home with his friend, and he went home with the song.
And "Sleighride," inspired by how in the 19th century whalers would get hauled over the waves by harpooned whales, is a metaphor for the rock life, he said. "A lot of our brothers and sisters in music went after the big one and never came back."
Then they delivered the epic, opening with some scene-setting keyboard work by Steve Feehan, the club's co-owner. Shutters also contributed some flute.
Laing told about once stealing Who drummer Keith Moon's sequined jacket. Laing's band was opening for the Who at the Forum in Montreal on their first American tour.
When Laing went to retrieve his drums, he found Moon's jacket left behind. So he took it. Later in the dressing room, he heard a ruckus. Moon was trying to get back to the stage to find his jacket. He was distraught, and in his underwear. Laing stepped out. Showed him the jacket. Moon kissed him square on the lips. Then Laing admitted he'd intended to steal it. Moon looked at him intently then kissed him again. He loved him more for admitting it, the said.
Laing told how when Dylan emerged, he was caught between his desire to delve into songwriting or stick to drumming. He resolved this conflict by performing Dylan's "Like a Rolling Stone" solo. He punctuated his expressive reading of the lyrics, with a display of his percussive arsenal of snap, crackles, pops, crashes, rolls, and tattoos.
Noting that the performance was being taped, Laing orchestrated the audience, playfully calling for more bass voices in the mix. Later, he rallied the crowd in a chorus of "Hell Yeahs."
Then there was a menacing "The Doctor," and the set prowled on naturally to "Goin' Home," a blues that Laing keep pushing, accelerating the tempo dangerously. Shutters and Mikel maneuvered with ease.
For an encore, the trio played a new number, "Knock Me Over," they'd composed together. It was a promise of things to come.
With the crowd calling for more, Laing admitted the newly formed trio had run through its material – and it's clear Laing wasn't about to present anything half-baked. At Mikel's suggestion they reached back and reprised "Mississippi Queen." The second time through was even more joyous and wild than the first.
"Mississippi Queen," version 2, provided a celebratory end to a birthday party for a rocker who seems primed to keep rolling for years to come.