By DAVID DUPONT
BG Independent News
When Billy Gruber was in high school he loved classic rock, and he loved the scene it spawned.
Think the Monterey Pop Festival.
Now about a decade later, he's ready to stage his own happening on April 20, a counterculture holiday. Lighting the way will be his Synesthetic Oil Spill show.
"I've had an idea of the pop show in my mind for a long time just because of my interest in that music and in that art scene," he said.
The Synesthetic Oil Spill 4/20 Music & Arts Takeover will be staged at Howard's Club H from 4:20 p.m. Saturday until 2 a.m. Sunday morning.
The takeover will include a full slate of bands from contemporary concert music to hip hop with all the stops along the way.
All acts will perform to the swirling glow of Gruber's old-school analog light show.
Gruber, who grew up in the Dayton area, described himself as a "a kid from a corn field."
He started music in the middle school band program on percussion. "I wasn't the greatest at sports," he said. So he quit football to be in the marching band, and then quit wrestling to be in the pep band.
When it came time for college, he headed north to Bowling Green State University where he earned a degree in World Music with a minor in philosophy. As a hand drummer he played with Indian Opinion and Tree No Leaves, one of the bands featured on Saturday's bill.
Also performing will be former bandmate Benji Katz, a poet and rock musician, now based in Cincinnati.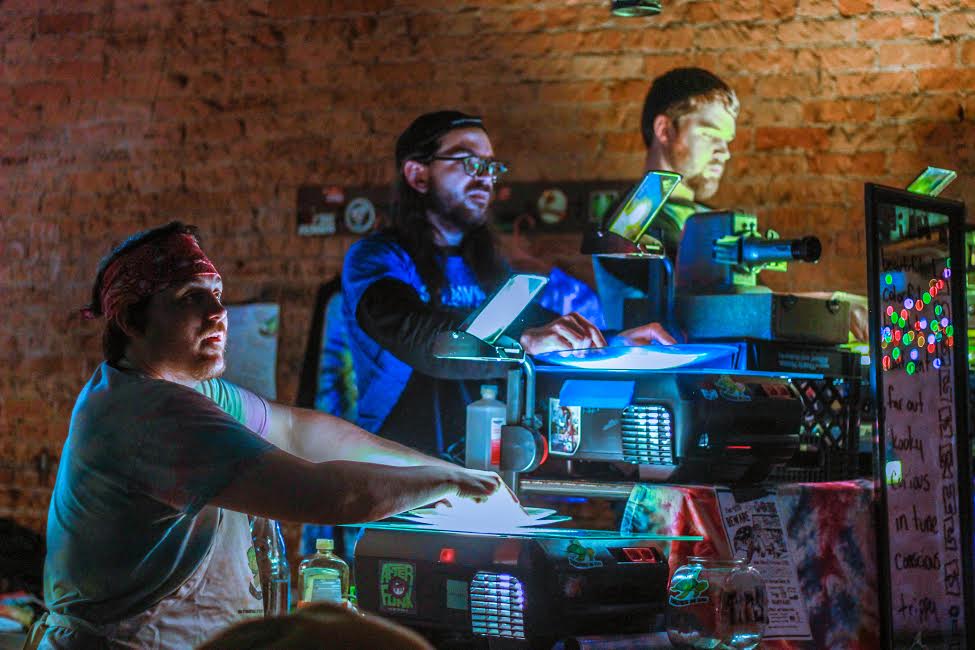 After graduating in 2016, Gruber returned to Dayton where he tried to plug into the local music scene. He played some drum set, but there wasn't much call for his specialty, auxiliary percussion. 
"The lights seemed the coolest way to jam along," he said.
So he found a YouTube by Steve Pavlovsky of the Liquid Light Lab in New York City.
The materials are easy to assemble. His father is a teacher so he could get an overhead projector.
"I put on an analog light show with overhead projectors, slide projectors and glass clock faces. You mix water and mineral oil and a little bit of colors," he said. "I'm in a very analog position."
In the two years, he's been doing the light show, he's worked with about 50 bands.
For Saturday's takeover, Gruber has booked nine local and regional acts. Scheduled to perform are:
• Tree No Leaves (psychedelic rock);
• Nick Zoulek (contemporary saxophone performance)
• Rovr (Toledo glitch punk)
•Masakiio (hip hop)
•MuAmin Collective (Cleveland hip hop)
•Baccano (Toledo jam rock)
•Benji Katz (Cincinnati poet rock)
•Douggy (hip hop)
•Nessy the Rilla & GrowBoyz (Detroit hip hop)
•watchTV (Toledo hip hop)
Also on hand will be a dozen vendors featuring food, crafts, and art.
As an artist himself, Gruber said, he's interested in promoting other creators' work.
"I have a ton of creative friends and want to get their work out there and try and make a profit. For me it was to try to include as many artists from as many media as possible."
Vendors who will be on hand are:
•The Cookie Jar BG
•Virginia Rieth Art (who did our poster art as well)
•Lindsay Jo Durham
•Alycia Bardwell
•Blue Tiger Gems
•P.G.W Creations
•Maddie Cox
•Andrew Vogelpohl
•High Spirit Woodworks
•Otaku Drawing Chick
•STREETWALKINCHEETAH
•Chelsea Ford