By DAVID DUPONT
BG Independent News
Sha Sha Higby's art is a continual work in progress.
The performance artist blends sculpture, puppetry, costuming, drawing, lights, and music, all influenced by ancient traditions from Japan, Indonesia, and other Southeast Asian traditions.
When Higby presents her one-person show "Paperwings III" at Bowling Green State University Wednesday, she will bring together two pieces. This is not their culmination though. The puppeteer-sculptor will surely make more alterations.
Higby's performance will be the opening event for the New Music Festival, which continues on campus through Saturday with a full schedule of concerts and presentations.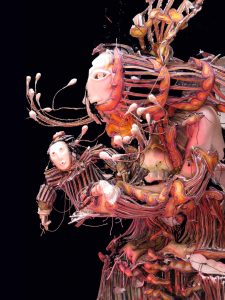 "Paperwings III" will be staged Wednesday, Oct. 17 at 7 p.m. in the Donnell Theatre in the Wolfe Center for the Arts. The performance is free.
When people arrive, they will find a sculpture on stage. That sculpture that the audience sees will come alive.
"I'm using my body as a motor," Higby said in a recent telephone interview.
The work then unfolds as she uses her limbs to bring masks to life. Her drawings are projected onto the wings of her costume, and the whole scene is bathed in dramatic lighting, designed with the assistance of her husband Albert Hollander, also assists with the music.
That soundtrack washes over the scene. Some of it is original music, but mostly it's snippets of sound picked up from her travels. It may be birds, electronics or a gamelan orchestra. (Higby performed years ago at BGSU with the university's gamelan.) Some audience members will be given small bells so they can contribute to the sound.
"It's like a piece of poetry. You have to use your imagination to link the parts," Higby said. "It's a visual dessert of images that are flowing."
In addition to the performance a retrospective exhibit of her work will be on display at the Bryan Gallery in the Fine Arts Center through Nov. 4. 
"The costumes and sculptures are elaborate, lyrical and meticulously hand-crafted," gallery director Jacqueline Nathan stated. The show will include a video of some of her earlier performances.
The exhibit was  a challenge to set up because it is shipped in pieces and requires assembly.
In fact, Higby said, the amount of work would cover a football field of arms, legs, wings, masks, and more.
 "I'll fluff it when I come," she said.
Higby, who was born in Michigan and grew up in California, started sewing and making doll clothes as a child. Her stepfather made shirts, and her brother also took up the craft and continues to make sails.
Higby created dolls, clothes for them, and dollhouses. When she attended art school she was told that dolls weren't art. So she focused on drawing. "It's the most direct medium," she said. "Drawings are the window to the soul."
In 1971, early in her college career, she traveled to Japan and became entranced with Noh Theater. Later she studied dance, shadow puppet making and performance arts in Indonesia. Then 25 years later she returned to Japan to study the intricate craft of lacquering the masks, which require 50 layers of lacquer that is made from the sap of a particular tree.
The lacquer, Higby said, is, like yogurt, living … fitting for her work.
In creating her work, Higby does not draw out her designs or make detailed plans.  "It evolves as I make the objects." 
She may start with an idea for a head, and then creates a framework. "It grows ahead of you."
That growth doesn't stop once she starts performing a piece. "How it happens on the stage at the time will change." She may adjust the choreography, or decide she needs another sculptural element.
Then Higby can spend months realizing that vision.
"The work is very meticulous," she said. 
Yet it is worth it. "It's a springboard to a whole other world."