By DAVID DUPONT
BG Independent News
The STEM disciplines – science, technology, engineering and mathematics – are infused in daily living.
Don't believe it? Take a stroll through STEM in the Park that sprawled inside and outside of the Bowling Green State University Field House Saturday. You'll see feats of engineering, and owls, starfish and other fauna from around the world, and bottles with multicolored water  that illustrate the ocean layers. You'll also see kids making pizza dough, and taking those first tentative sounds on musical instruments.
You'll see kids tumbling and watching bubbles float high above them.
And don't forget the slime. That was the favorite of Melissa Works' four children, age 4 to 10.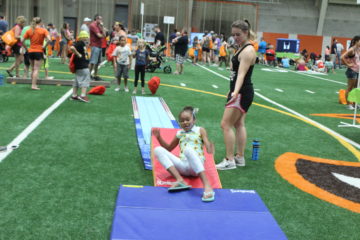 Logan, 8, was especially enthusiastic about the slime, his sister Rozlyn, 6, liked the bubbles and gymnastics, and all including Benjamin, 10, and Serena. 4, were enjoying the free hot dog and mac and cheese lunch provided by Tony Packo's. Well, Serena was more interested in leaving her mark with a crayon to the paper table coverings.
Work said that the activities held the interest of her crew. They still had the outside to explore, she said.
This is the eighth year the event has been staged on the campus of Bowling Green State University,
Emilio Duran, who teaches in the College of Education and Human Development, said the idea for the event first occurred to him and his wife, Lena Duran, who also teaches in the college.
The college, they realized, offers many events for students and teachers. "We wanted to do something for families," Duran said. "This is a community event. It's about learning about science together."
The event is presented by Northwest Ohio Center for Excellence in STEM Education.
People don't realize that STEM can be fun, he said.
The first year drew about 1,200 people. "It keeps growing and growing."
Duran estimates about 6,000 people will attend STEM in the Park this year. There are more booths, about 160 and activities about 180.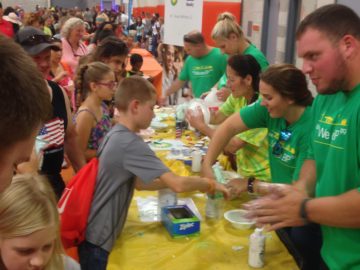 "It's all hands-on," Duran said. "This is the essence of the event. You always have to do something. That's how you learn science, not observing and listening. You do science."
Those activities appeal to a range of ages.
The organizers work all year, he said. Much of that work involves rounding up the corporate support that makes the event possible.
Student volunteers working at booths are another key element, he said.
Three students in the Academic Investment in Mathematics and Science program were taking a lunch break from their volunteer duties.
Griffin Spilman, who is studying to be a veterinarian, was helping kids make kaleidoscopes.
He, Denaja Haygood, and Kapri Burnett said they all enjoyed seeing how they kids reacted to the various activities.
"It's nice to see the excitement on their faces," Haygood, a biochemistry major, said.
"I was very passionate about science at a young age," Burnett, who is studying forensic biology, said. "Helping to expose kids to science is something I'm very happy about."
Duran said the event gives students a chance to interact with people from Bowling Green and the surrounding area.
"Most of the people here are local," Spilman, who comes from Cincinnati, said. "It's nice to see the community I'm going to be part of for the next few years."
Jeff Gonzales had brought his two young sons up from Bryan for the event at the urging of his wife, who had to work.
His mother, Beverly Gonzalez, said she'd also heard of the event and thought it'd be a great activity for her grandsons, Manny, 6, and Israel, 4.
He liked that STEM in the Park gave them exposure to so many aspects of science and technology.
"Robots and sports," Beverly Gonzalez said.
Manny said he liked the tumbling, and the robots as well as the introduction to curling. Israel liked watching the stunt biking.
Jeff Gonzalez said it was great that the boys got to try all sorts of activities. It shows them fields "they might want to go into."
For all the bustle and buzz of having so many excited kids, Beverly Gonzalez was impressed at how well organized the event was.
"This is the day everyone looks forward to," Duran said.  "We make a lot of people happy today.  We count our success by how many smiles we get. It's priceless."