By JAN LARSON McLAUGHLIN
BG Independent News

When Gov. John Kasich started pushing for technology to help people with developmental disabilities, John Martin was completely on board.
He recalled Kasich's blunt message.
"You people are not using enough technology," Martin said loudly, remembering Kasich blurting out orders.
(Martin can get away with that, since both he and Kasich are leaving their jobs at the end of the year.)
"He was demanding we use robots," said Martin, who has a few weeks left as director of the Ohio Department of Developmental Disabilities.
Martin knew the answer was in using technology as remote supports, not robots – and he knew Kasich would support that since the governor had declared Ohio as a "technology first" state.
Martin visited Wood County Developmental Disabilities on Friday to see how technology is being put to use here.
He heard from Chris Doerner, who is able to live by himself in an apartment – thanks to technology.
"It helps me be safe at home," Doerner told Martin and a roomful of people gathered to see the state director.
In simple terms, Doerner has sensors in his door, and a two-way TV in his apartment, that allows his family and Wood Lane staff to check in on him.
"It's neater than having somebody hanging around your house," Martin asked.
"Yup," Doerner said.
And when he wants privacy, "you can turn it off," Martin asked.
"Yup," Doerner replied.
That is just one example of using technology to allow someone to live more independently. Yes, it also saves on personnel costs, but the primary goal is to improve the lives of people with developmental disabilities.
In many cases, technology allows families to place their adult children in independent living situations with far less worry.
Martin talked about other technology success stories. He told of a man whose son has autism. The son liked his days to be predictable, with events going in sequential order. The family realized that if their son was up and in the shower at 5:45 a.m., then he would have a good day, Martin said. So the dad installed a sensor, so he could tell if the shower was running at 5:45 a.m. If not, the dad knew to give his son a wakeup call.
Technology is being used around the state to increase safety for people with developmental disabilities, while decreasing staff and family intervention.
"It's not about saving money. It's about making people's lives better," Martin said.
Technology is helping across the state with telepsychology services being provided remotely. It has been found that people with autism are often able to engage in better eye contact and communication when talking to a therapist through a screen rather than in person, he said.
Martin talked about one person who had a history of being aggressive to staff and running away from his home. Once the staff was removed from the home and replaced by at two-way screen, the man's behavior changed.
"Without staff in the house, he stopped running away," Martin said. "Without staff in the house, he stopped attacking people."
Technology improved that man's life and gave him independence he had never had before. At the same time, the support costs for that one person dropped from $145,000 a year to $45,000 a year.
Technology is also helping with health issues, he said, telling of a woman who wears a watch that reports to 911 if she has a seizure. The watch can also activate a camera in her apartment and record how many seizures she has and and how long they last.
Martin made it clear that technology will never replace staff members in the care of people with developmental disabilities.
He recalled when the push for technology first occurred six or seven years ago as Ohio was coming out of the recession. County services caring for people with developmental disabilities had very tight budgets and had difficulty finding employees.
"We were struggling with workforce issues, and it's only gotten worse," Martin said.
"It isn't just about saving money, but it does save money," he said. "It isn't just about reducing staff, but it does reduce staff. What it's really about is we're seeing improvements in people's lives."
Martin praised Wood County Developmental Disabilities for making use of technology to help local residents.
"You're one of our shining stars of counties," he said.
But not every county is taking advantage of technology, so Martin said he uses his own high-tech way to convince them to get on board.
"It's called public shaming," he said, showing a map of Ohio's 88 counties with different shading according to their use of technology.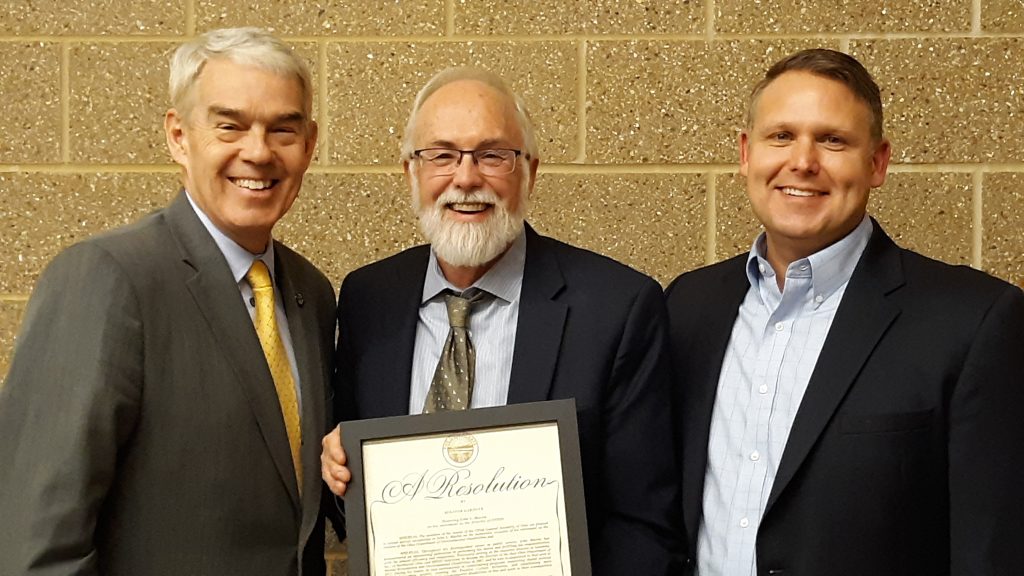 In addition to Martin sharing tech ideas on Friday, he was also recognized for his 12 years as director of the Ohio Department of Developmental Disabilities. He was able to transcend two governors from two political parties, said Brent Baer, director of Wood County Developmental Disabilities.
"This is an all-star here," State Sen. Randy Gardner, R-Bowling Green, said of Martin. "He is one of, if not the best cabinet official I've worked with in Columbus."
When Kasich took over after Gov. Ted Strickland, Gardner said his first phone call to the new governor was to push for Martin's position to be extended.
"You've got to keep John Martin," Gardner remembered saying.
Martin transcends politics, to do what is right, Gardner said. "You've been a giant in the Developmental Disabilities field. You're going to be missed."