By DAVID DUPONT
BG Independent News
Bowling Green State University Art history students got to rummage around in the Toledo Museum of Art's attic … figuratively speaking, that is.
The 18 students in Sean Leatherbury's Professional Practices in Art History class had the opportunity to select objects from the museum's collection that are not on display to present in an exhibit of their own.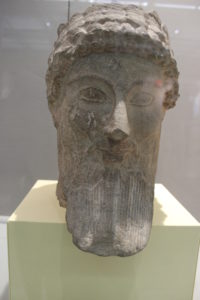 Leatherbury said that Adam Levine, curator of ancient art, pulled out about 100 objects, most probably never exhibited, for the students to peruse. They each selected one or two, and then as a class narrowed down what would be included in the show. They returned to the museum to study the objects and did research on them.
Working with a graphic design class taught by Todd Childers, the students assembled the exhibit "More Than War and Wine: Anxiety and Relief in Antiquity." The exhibit is on display in the lobby of the Bryan Gallery in the Fine Arts Building through April 15.
Leatherbury said that the students wanted to show that there was more to ancient society than the stereotypical images of wine and warriors, though the exhibit does include some of that as well.
What they wanted to show, Leatherbury said, was that 2,500 years ago Greeks also suffered from anxiety. The objects were grouped to represent aspects related to that theme.
There are objects related to: gender issues; myth as a way to cope with anxiety; and worship and ritual as a way to resolve anxiety.
The students, he said, didn't actually get to handle the objects. Instead Toledo Museum staff brought them to Bowling Green and installed them in the cases. They will come back to return them to storage in Toledo.
The Capstone class included both graduate and undergraduate students. Some are art history majors while others are studio art majors. That mix provided a variety of viewpoints about the objects, Leatherbury said.
The art history students were interested in the cultural context and how the images related to it. The studio art students tended to be more interested in how the pieces were produced.
A story provided by the university's Office of Marketing and Communications described the role of the graphic design students.
Kalia Johnson, one of the graphic design students, said that identifying a theme took some time. Then they had to pitch their ideas to the art history team, similar to the process an agency goes through when competing for design work.
"It created a whole new meaning of art," said Johnson. "These items connected our lives to their lives. We could see how similar some of the objects were to things in our own lives."
(Information from BGSU Office of Marketing and Communications included in this story.)