By JAN LARSON McLAUGHLIN
BG Independent News
It's not enough anymore for firefighters to just battle blazes.
For years, they donned protective gear to extinguish burning structures. They have handled hazardous material spills on highways and railways. And they trained to respond to meth labs.
But now, firefighters from big cities to small town volunteer departments have to prepare to handle a deadly threat that is so small they may not even be able to see it.
On Saturday, volunteer firefighters from throughout Northwest Ohio learned how they can keep themselves safe as they respond the heroin crisis in the state.
They were reminded of Ohio's dubious distinction of having the second most opiate overdose deaths, with more than 5,200 last year.
Drugs like heroin, cocaine and counterfeit prescription pills are now commonly laced with fentanyl to increase potency. Fentanyl can be absorbed through the skin or inhaled if it becomes airborne. A speck the size of a few grains of salt can potentially kill a 250-pound man.
Many volunteer firefighters – who are willing to respond to fires and accidents in the middle of the night – didn't sign up for this.
But it's now part of the job, explained Wood County Emergency Management Agency Director Brad Gilbert, who serves as co-chair of the fire school.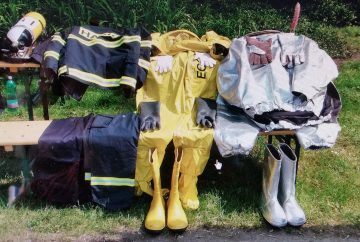 During one fire school class on Saturday, a firefighter from rural Williams County said he was on three runs involving heroin over a recent weekend. Another firefighter from Archbold talked about responding to a double overdose involving a man and his stepdad. Both men were revived. The stepdad went into treatment, but the son refused treatment and went to prison.
"Everybody's community is affected by this," said an instructor from the Multi-Area Narcotics Task Force from Northwest Ohio. "A lot of time it's the same house you go to. The people are overdosing time, after time, after time."
The Good Samaritan Overdose Immunity Law adopted in Ohio in 2016 allows people to report an overdose without fear of facing drug charges. They are given chances to enter treatment programs instead of jail. But on the third call, the immunity – and patience of first responders in some cases – is exhausted.
The more than 400 firefighters attending the weekend fire school held at Bowling Green State University also got refreshers on more traditional topics. They had training sessions on agricultural accidents, medical treatment of pediatrics and geriatrics, search and rescue using a self contained breathing apparatus, water tanker shuttles, fire and explosion investigations, methamphetamine labs, flammable liquid spills, fire search and rescue, silo explosions, and severe weather.
Gilbert said he expected another type of training to be added to the fire school's classes next year – tactical EMS training. This is "unfortunately" becoming necessary as fire and EMS departments respond to mass shooting incidents such as the most recent one in Parkland, Florida, Gilbert said.
"To be quite honest, they are all starting to look at that and how they can hook up with law enforcement," to work together on incident scenes.
Tactical EMS training is already being implemented with some departments, like Bowling Green Fire Division.
"They work closely with law enforcement on how they enter a building and get people out quickly," Gilbert said.