By JAN LARSON McLAUGHLIN
BG Independent News

Sherry Phillips has many mouths to help feed. So her load was lightened by the heaping cart of food as she left the pantry at First United Methodist Church earlier this month. She had eggs, milk, meat, a bag of potatoes and much more.
"It's awesome. God bless them," said Phillips, of North Baltimore, whose daughter has 10 children. "It really helps. What they do is unbelievable."
Behind her in line was Franklin Camp, pushing a cart full of groceries, including a bag of fresh eggplants and containers of kale. "I like eggplant," he said. "The girl I pick up for likes kale."
"They do a good job," Camp, of Bowling Green, said.
If it weren't for the monthly food pantry, Camp is unsure how he would get by.
"It's hard to say," he said. "I had a hard time last month, and they gave me the ability to feed my family."
The monthly food pantry at First United Methodist Church in Bowling Green is the smorgasbord of food distributions. Families leave with enough food to fill the trunk of a small car.
"We do more in an hour and a half than some pantries do in a month," said Todd Sayler, organizer of the food pantry.
Each month, about 240 people come to the church on East Wooster Street, and leave with grocery carts full of food.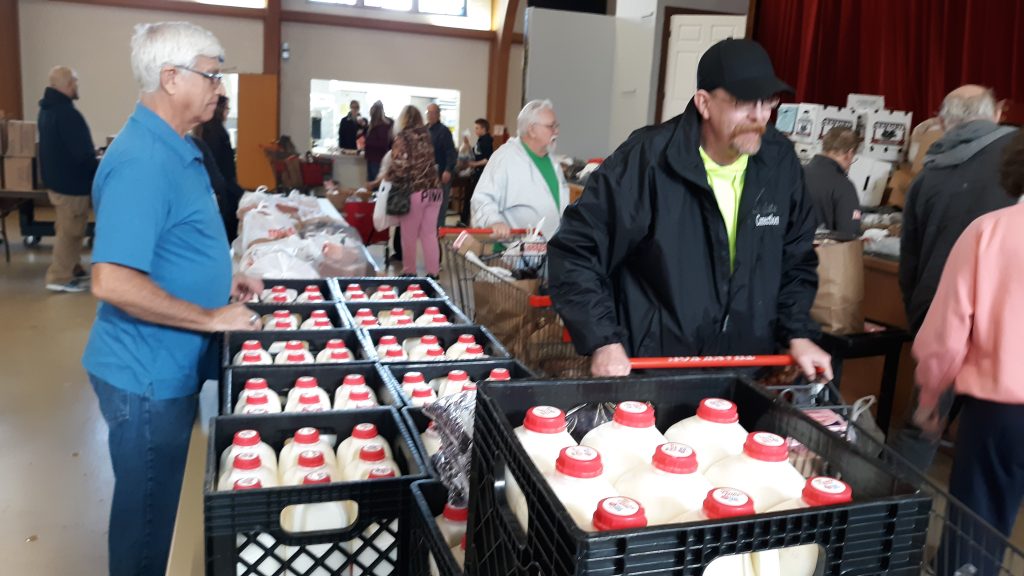 The exact food varies depending on availability. But earlier this month, each family of four went home with the following:
Two grocery bags full of items like soups, mac and cheese, pasta, spaghetti sauce, bagels, bread, peanut butter, cereal and granola bars.
Two cartons of eggs.
A large block of cheese.
A 10-pound bag of potatoes.
Fresh vegetables like zucchini, cucumbers, eggplant, onions and green beans.
Containers of salad mixings.
A three-pound bag of apples.
Apple and orange juices.
Frozen chicken, turkey and pork.
Two gallons of milk.
A large bag of frozen blueberries.
Snack items like nacho chips, cake mixes, brownie mixes, and frosting.
For families who request, there are also diapers, baby formula, powdered milk, laundry detergent, toilet paper and soap available.
Helping feed so many families takes a lot of coordination and a lot of funding. When families are hurting, the food pantry has to be ready to respond.
"We know the poverty rate is increasing in Wood County. We saw it happen," Sayler said. "We find pockets of poverty."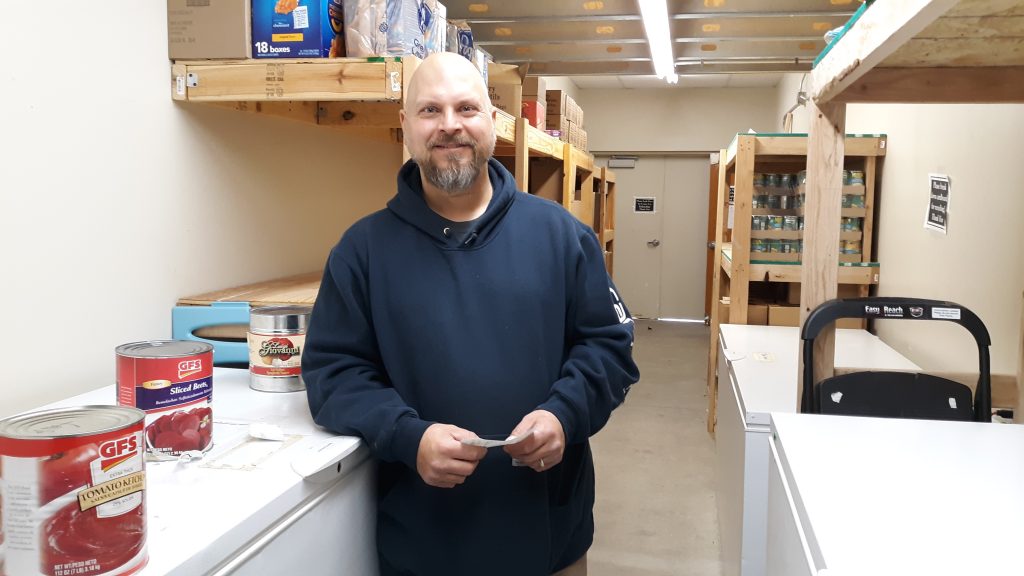 Donations help keep the pantry in business. Earlier this month, First Federal Bank gave the food operation $1,250 that will most likely be put toward a fund for a walk-in cooler, Sayler said.
The Wood County Area Ministries helps, as well as organizations like the AmVets.
But it's always tight, Sayler said.
"We're on a shoestring budget."
The food pantry fed more than 2,300 households last year, with more than 70,000 pounds of food from the Northwestern Ohio Food Bank, and another 70,000 pounds from the Seagate Food Bank.
Donations of food are also made by businesses like Panera Bread.
The food pantry serves all of Wood County – with people picking up food from 26 Zip Code areas, Sayler said.
"We're never going to turn you down," he said. "We're always going to give you food."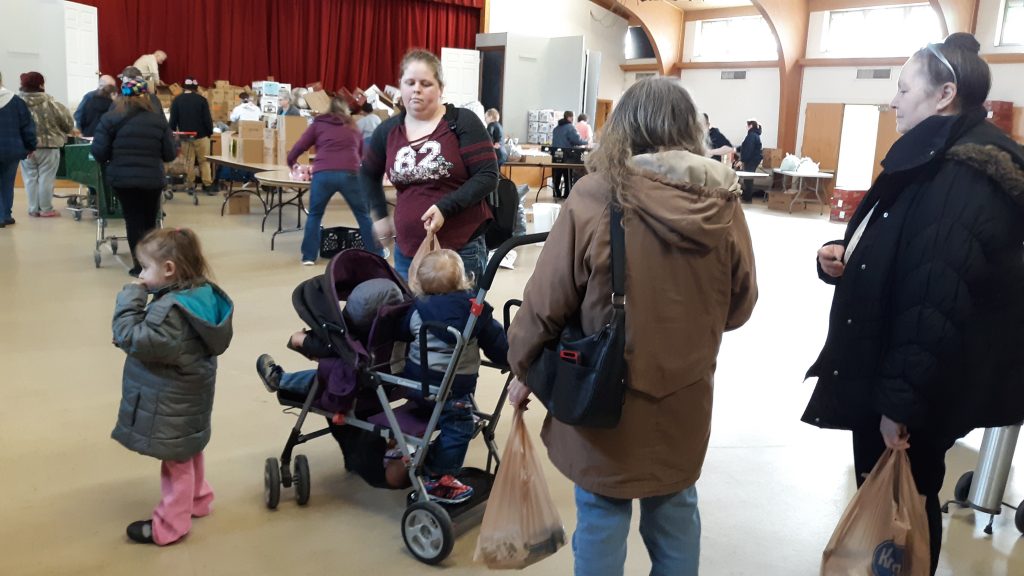 The food pantry also delivers the monthly groceries to people unable to pick them up. A delivery truck was purchased last year, with the help of a Bowling Green Community Foundation grant, church contributions, and donations from others in the community.
In addition to the food, the monthly operation takes a lot of volunteers. Nearly 60 people are needed to help each month – from the congregation, the community, Bowling Green State University, the Wood County Alternative School, and the Wood County Juvenile Residential Center.
"We help 240 people in an hour and a half. It's amazing," Sayler said. "It's all about the prep."
Much of the prep is behind the scenes, where several chest freezers stock food for the next month, and where shelves hold cans of kidney beans, soups and peanut butter for the next round.