By DAVID DUPONT
BG Independent News
When Laura Dirksen was 7 years old, she went digging for clay.
She'd just learned about the material and was intrigued that it could be found in her back yard. She was so intent on her search and digging the hole that she almost got stuck. Her father had to come out to get her.
In truth, Dirksen admits now, mostly she found mud.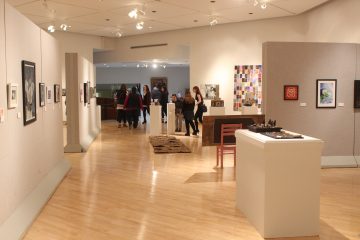 She rediscovered clay about a dozen years later in her second year studying art at Bowling Green State University.  She started as a painting major. "I fell into the ceramics program my sophomore year," she said, "and things really shot up from there." And it made her feel her nostalgic for her childhood adventure.
Dirksen's ceramic sculpture "Degrade" won the Medici Circle Best of Show Award at the Undergraduate Art Exhibition, which opened Sunday in the University Galleries in the Fine Arts Center. The show continues through Feb. 19.
"Degrade" is her reflection on the tendency to denigrate people, especially women. The form reflects her own shape, and features the admonition: "Why do you always degrade Tom?"
"Tom," she explained, is a stand in for society. While "a lot of people tear things down … I try to bring out the best."
Dirksen, who grew up in Maria Stein in Mercer County near the Indiana border, wasn't sure she'd ever make it to college. "In high school my academic level wasn't exactly the best, but my art stuff was always what kept me going."
After high school she ended up working two jobs and realized that's not what she wanted. Dirksen recommitted herself to her art. She came to BGSU as a painting major. In her sophomore year, she was introduced to ceramics.
Working with clay heightened her sense of touch.
"It's really intense. You're always working. It's humbling," she said. "You work constantly at something, and you're not going to get your best results unless it's something you've done 1,000 times over."
Seeing a completed piece is "a reminder of how hard you work, and that's the most rewarding thing ever."
Dirksen credits Professor John Balistreri with instilling that kind of work ethic into his students. "He teaches us in a very disciplined manner. It's intense. I've never had to work as hard. I'll be better off having worked with him."
Dirksen has returned to painting. That offers a different look at the use of color, which she employs in her ceramics. One of her paintings, "Materiality #2 (6022)" won second place honors in painting. She studied painting with Mille Guldbeck.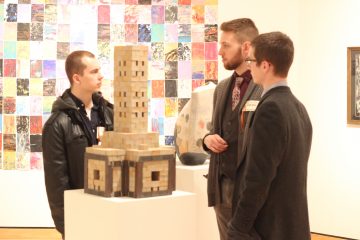 The show features the work of more than 100 students. The exhibit is an important milestone for many students,
said Charles Kanwischer, the director of the School of Art.
"For lots of them this is the first time they're coming out of the classroom and seeing their work in a different arena," he said. "When you put it up in the gallery, you see it differently, and some of the tentativeness and fears you have about it can be eased when compared to other students."
The show's importance is why Marissa Saneholtz, who teaches metals and jewelry, encourages her students to participate and helps them prepare their applications.
A 2008 graduate of BGSU, she remembers how important it was to her as a student. She sold her first piece, two silver rings, to gallery director Jacqueline Nathan. "That's exciting," Saneholtz, a Bowling Green High School graduate, said.
The undergraduate show displays the students' progress because it includes work by first-year students through seniors, she said. It also reflects the fading boundaries between the disciplines.
"I see more diversity of media, more experimentation," Kanwischer said. "It is becoming an interdisciplinary, collaborative hybrid media."
The undergraduate show leads into a spring featuring student work. After it, come the two shows featuring graduates with Bachelor of Fine Arts degrees. The academic year closes with an exhibit of work by master of fine arts graduates.
The undergraduate show was judged by a panel of three jurors: Stefan Chinov, Wright State, and Brian Carpenter and Barbara Miner, both from University of Toledo.
Other winners in the show include:
Nicholas Welker, "Bricks With Fleur-de-Lis Pattern," Alumni Association Award.
Jessie Renner, "Floating or Drowning," Main Street Photo Award.
Tyler Weber, Untitled, Marietta Kirschner Wigg Print Award.
Michelle Whitmer, "Door," Ringholz Art Supply Award 2D.
Scott Jones, "Dotted Platter," Ringholz Art Supply Award 3D.
Gallery hours are Tuesday through Saturday, 11 a.m. to 4 p.m., Thursday evenings 6-9 p.m., and Sunday 1-4 p.m. The show will be open Presidents Day, Monday, Feb. 19.