Submitted by Horizon Youth Theatre
Horizon Youth Theatre is pleased to announce its 2017 Festival of Shorts. Three different shows will consist of one act plays written and acted by students; monologues by students from Cassie Greenlee's Character Acting & Monologue workshop; and the emcee talents of Scarlet Frishman and Katie Partlow. Performances are at Otsego Elementary School, 18505 Tontogany Creek Road, on Friday March 31 and Saturday April 1 at 7:00 pm; and Sunday April 2 at 2:00 pm. Admission is by donation.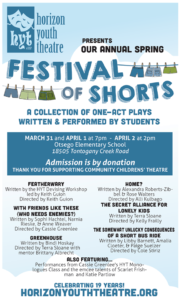 The plays, with their performance days and cast lists, are as follows:
Featherwary by The 2017 Devising Class, directed by Keith Guion
Performing Friday and Sunday
Cast:
Firecloud, an elf-dragon thief – Alexandra Roberts-Zibbel
Lainey, a mushroom fairy – Paige Suelzer
Penny, a bewildered sudden visitor – Katie Partlow
Tim Brown II, a squatter and housekeeper – Eli Marx
Vanessa West, a spoiled, rich brat – Emma Kate Holbrook
Dr. Cecilia Goldberg, a medical prodigy – Grace Holbrook
Greenhouse by Bindi Hoskay, directed by Terra Sloane with mentor Brittany Albrecht
Performing Friday and Saturday
Cast:
Gardener – Ethan Headley
Daisy – Isobel Roberts-Zibbel
Sunflower – Scarlett Strausbaugh
Rose – Calista Wilkins
Primrose – Alice Walters
Shopper 1 – Noah Carpenter
Shopper 2 – Lydia Korzeniewski
Shopper 3 – Elise Allen
Gwen – Izzy Douglass
Home? by Alexandra Roberts-Zibbel & Rose Walters, directed by Alli Kulbago
Performing Friday and Saturday
Cast:
Mom – Sasha Meade
Karsyn – Lydia Mackiewicz
Cassidy – Lauren Clifford
Penny – Bindi Hoskay
Peyton – Gray Frishman
The Secret Alliance for Lonely Kids by Terra Sloane, directed by Kelly Frailly
Performing Friday and Sunday
Cast:
Ezra – Luke Weaver
Pearl – Amalia Cloeter
Taylor – Lola Truman
Tyler – Isaac Douglass
Mom – Annie Oberlander
Classmate 1 – Ayla Weinandy
Classmate 2 – Ligaya Edge
The Somewhat Unlucky Consequences of a Short Bus Ride by Libby Barnett, Amalia Cloeter & Paige Suelzer, directed by Cole Stiriz
Performing Friday and Saturday
Cast:
Pebble – Emy Wilkins
Luna – Ari Allen
Eric – Maddox Brosius
Sofia – Madison Kline
Selsius – Bella Truman
Fairinheight – Ella McNamara
With Friends Like These (Who Needs Enemies?) by Sophi Hachtel, Narnia Rieske & Anne Weaver, directed by Cassie Greenlee
Performing Saturday and Sunday
Cast:
Lady Foxglove / Addie – Megan Clifford
Captain Man / Calvin – Gavin Miller
Baroness Monolith / Georgie – Aria Weaver
Viscount Voltage / Bob – Vance Weaver
Nox / Daniel – Liam Rogel
Sandy – Emily Pollock
Stacy – Haley Premo
Agatha – Gianna Hemming
Emil – Amelia Mazzarella
HYT would like to thank OTSEGO SCHOOLS for the generous access to its facilities we've enjoyed since 2014. We couldn't do this without you. We'd also like to thank St. Mark's Lutheran Church, First Presbyterian Church, Vineyard Church, and Grounds For Thought for providing practice space.