By DAVID DUPONT
BG Independent News
A year ago musician Joe Baker was on "tour" — a tour of Northwest Ohio hospitals.
A heart attack on Nov. 29, 2017, sent him first to Wood County Hospital, where he was told it was good he came as soon as he did, at the guidance of his wife, Peg. He headed to St. Vincent's for surgery. That didn't go well. He was transferred to Medical Center of Ohio.
After an operation that lasted nine days, he didn't wake up. During the operation he had a stroke."I lost all of December," he said.
Baker, who has been active on the Bowling Green music scene since he came to Bowling Green State University in 1969, wondered about how much he'd lost. "I was concerned I wouldn't get back," he said. "I couldn't walk. I couldn't raise myself. Those were major hurdles."
On June 24, though, Baker was back on stage singing with his band at City Park. Now Saturday, Dec. 29, at 7 p.m. the Joe Baker Band will perform at Howard's Club H in Bowling Green. The concert is aptly titled Joe Baker's Home for the Holidays Christmas Jam.
His cognition and speech came back fairly quickly, he said. The neurologist told his wife that her husband had "the best kind of stroke." While peripheral areas of the brain were affected, no major areas were wiped out.
Baker got moving again. He still has problems lifting his right arm, so he can't get it over the body of his acoustic guitar. He discovered he can get it over the body of his electric.
Music, he said, has helped him recover. "Even just working this hand and giving it something to do," he said of his right hand. "I can't imagine not being able to play. So even if I could just play for myself it was a good thing."
His musician friends visited him while he was hospitalized, he said, though he was "in wonderland" and wasn't sure where he was.
Baker said he'd look out the window and see the awning, and think he was looking at a boat dock. When his friends would walk into his room, he thought they were entering through the bar.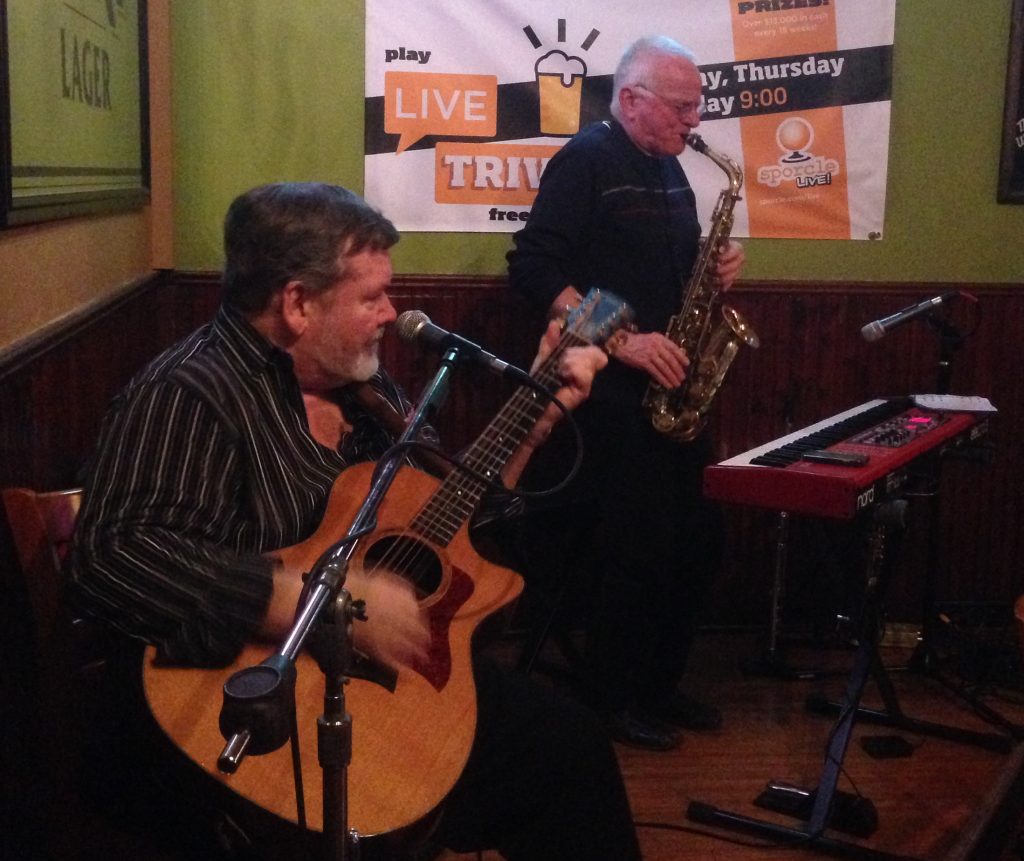 Once home, his "band buddies" came over to play. The singing returned first, and in June, that's all he did.
Those buddies are Tim Berry, bass, Tim Stubbs, drums, Denny Gwynne, lead guitar, and Bob Manley, saxophone, flute, and keyboards.
He sang along to his music on his iPod to help get his voice back on track. He found himself listening to the thousands of songs he had stored. He hadn't just listened to music for himself for years, and he found himself "rediscovering that part of life. It was just sweeter."
Then at one rehearsal he surprised his bandmates by strumming his guitar.
He'd been playing guitar and singing since he was in high school in Dayton.
His father was a clarinetist, in the Air Force. His service included time in the Ambassadors band in Europe. Baker remembers the band acquiring and playing the original Glen Miller charts. Baker moved around a lot. When he was in seventh grade, his father retired in Dayton, and took a job in computers with NCR.
Baker came to BGSU to study history education. He did one quarter as a music major, but was stifled by the requirement to learn multiple instruments.
When he was a senior, he took a job in the university greenhouse — he had worked in the city greenhouse back in Dayton. He never finished his degree, though he continued to take courses in botany. He worked in the greenhouse for 35 years. "It was a really wonderful job."
And all through that time, he continued to play. In college he worked solo on the coffeehouse circuit playing tunes by the likes of Gordon Lightfoot and Paul Simon. Then he got an offer to join Hardy's Live Band.
In the 1970s, the group worked regularly in Northwest Ohio. Manley was part of the band as well, their first collaboration, which would be picked up later first as the JoeBobDuda group, then a duo, and now the Joe Baker Band.
Over time, Hardy's Live Band morphed into The Welders. They still play an annual spring break show at Howard's.
Baker also was in a bluegrass band Togany Creek that opened once for Steely Dan in Toledo.
"I always had a band or people to play with," Baker said. "There were always jams at people's houses. I enjoy that as much as any gig, just making music with people, just getting people to sing and get out old instruments they haven't played since high school."
One of those musical collaborators is his son, Nate, a saxophonist who got some early training from his grandfather. One of the key steps in Baker's return to music was a visit in June to see his son in his new home in Pennsylvania. They had a small family gathering with Nate and his in-laws, and Nate played guitar and his father sang. "That was really sweet."
Nate Baker won't be able to join his father ay Howard's, though he did subbed for him last March with the Welders.
The Howard's show is a celebration of Baker's comeback, but also of "my wonderful friends" who were there for him. "It's such a nice community of people."
Howard's is "like old home," he said. "I'm really looking forward to that.
"There's also a certain nervousness I have about it. I hope everybody accepts it for what it is. I'm sure they do. This community knows what I went through. They've been nothing but supportive."