By DAVID DUPONT
BG Independent News
The transformation of the Kroger Store on North Main Street into a Kroger Marketplace has been a work in progress for all, employees and customers, alike to see and experience.
And that experience has been trying at times, conceded store manager Kim Richmond.
Every day the store's associates had to answer queries. Where's the bread today? And for her it meant late night calls reporting problems at the store. Once it was even a fire. Turned out to be a minor blaze.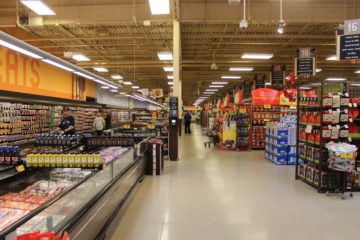 As a bright new produce section opened up in the north end, in the south end other sections looked like a grocery store in a sci-fi dystopia.
On Wednesday the Marketplace put those day behind it. Everything is bright and new. The shelves are packed, and the aisles lined with folks offering free tastes of some of the store's new products – fried Japanese peppers, all-beef hot dogs and more.
There'll even be a new service starting Thursday that those befuddled customers of a few weeks back would have appreciated – ClickList, a service that allows customers to shop online, drive to the store and have their groceries delivered to them while they wait outside, never having to get out of their cars.
The marketplace will also offer The Little Clinic, staffed by nurse practitioners, who will be able to diagnose, treat, and prescribed medications for common illnesses.
The store features an extensive deli and cheese area.
Roberts, who grew up in Pemberville, started her career at Kroger as a meat counter clerk in 1994.
Times and expectations of customers have changed. Now the store must cater to those looking for quick and easy foods, rotisserie chickens, expanded sushi offerings, hand-tossed pizzas and artisan sandwiches to take home or to eat in the bistro area.
On the other end of the spectrum, she said, are "the foodies" who are always on the lookout for the newest culinary trend. The Kroger Marketplace has expanded its offerings to appeal to that crowd as well.
The store has a wine and beer tasting bar, will have a growler bar once the proper license comes through.
The Kroger Marketplace, which is a 57,000-square-foot expansion, will also sell name brand apparel and small appliances, housewares, and toys.
More than 100 new associates have been hired to staff the expanded Kroger.
That drew praised from Mayor Dick Edwards and County Commission Chair Doris Herringshaw who were on hand for the ceremonial ribbon-cutting. They appreciate the investment in the local economy.
Roberts said she's proud of the new store because: "This is where my friends shop, this is where my family shops, this is where my neighbors shop."
When they do, they'll have little problem finding just where the bread's located.