By DAVID DUPONT
BG Independent News
Zandra Anthony should have been at the press conference marking the start of motorcycle season.
This is the time, Sandy Wiechman of the Wood County Safe Communities Coalition said, when "motorcyclists will hit the streets, ready to shake off the winter blues and cruise."
Anthony , a trauma nurse who worked with safety committees of Lucas and Wood counties, would have been present sharing the statistics and advice on motorcycle safety.
Anthony was there in spirit only, her photo visible behind the row of public safety officials.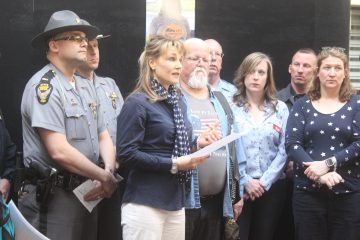 Anthony died in early January six months after sustaining severe head trauma in a motorcycle accident.
When Wiechman and Jamie Blazevich of Lucas County Traffic Safety Committee spoke about her their voices cracked. "We're all devastated from losing Zandra," Wiechman said. "We're still reeling from her death."
Blazevich said Anthony was a mother of two, wife, and "a great colleague."
Losing someone that close shows the other side of the statistics, the human side. She urged people to understand that a motorcyclist may be someone's mother, or son, or husband.
Motorcyclists should also think about the heartbreak their death would cause, Blazevich said. "So wear your helmet, observe speed limits and watch out for those motorists. It takes all of us on the roadways to make sure that we do not miss another life that's so important to us to a motorcycle crash."
If Anthony were there, Wiechman said, she'd probably tell them to "get it together and smile."
The press conference was held to announce old and new initiatives by the National Highway Traffic Safety Administration. Wiechman said those initiatives are: sharing the road; stopping impaired riding; and getting drivers up to speed about motorcycles.
Again, the safety officials are urging drivers to look twice.
Mike Stock of ABATE (American Bikers Aimed Toward Education) said distracted driving is one of the biggest killers. Motorcyclists see it all the time as they cruise. People are eating, talking on cell phones, and engaging in other activities that take their eyes off the road.
The number one obligation of a driver, Wood County Sheriff Mark Wasylyshyn said, is to pay attention.
"Even the slightest momentary lapse in a vehicle driver's awareness can result in the death of an unseen motorcyclist," Wiechman said.
Blazevich said that training has to start early. She already works with her children as they drive along. She awards them points for spotting safety concerns, and extra points for spotting motorcycles. It's a variation of the slug-bug game.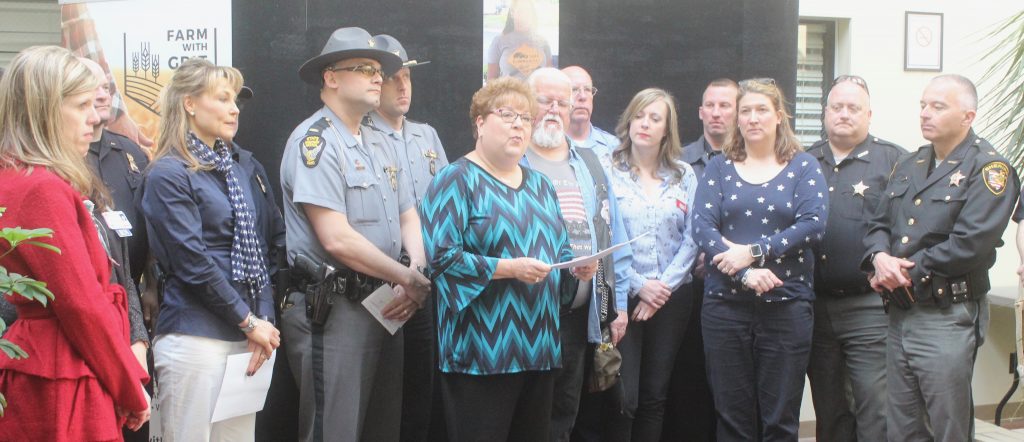 Wiechman said that combatting impaired riding is crucial given 37 percent of the 1,970 motorcyclists who died in single vehicle accidents in 2016 were alcohol impaired, and that jumps to more than half on weekend nights.
The "get up to speed on motorcycles" initiative is new this year. It aims, Wiechman said, to educate motorists about standard motorcycle driving behaviors and how to drive safely around them.
Wiechman noted that "per vehicle mile traveled, motorcyclist are about 27 times more likely than passenger vehicle occupant to die in a motor vehicle crash, and five times more likely to be injured."
Locally, Shaun Robinson, of the Toledo Post of the Ohio Highway Patrol, said there were 12 motorcycle fatalities in 2016 and 2017 in Lucas County and another four in Wood County. There were more than 400 crashes.
Lucas County has already had one motorcycle fatality, he said.
The main reasons for these tragedies, he said, were failure to yield whether by the motorcyclist or the driver of the other vehicle, unsafe speed, and failure to control.
"All things," he said, "that are avoidable."