By DAVID DUPONT
BG Independent News
Drawing cadavers might not seem like the way to become a children's author. For Lindsay Moore, though, medical and scientific illustration helped her hone the drawing skills needed to produce her first children's book, "Sea Bear."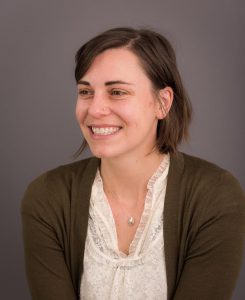 Moore, of Bowling Green, will mark the publication of "Sea Bear" on Greenwillow Books, an imprint of HarperCollins, with an appearance at the Wood County District Public Library, Tuesday, Jan. 22, at 7 p.m.
The book for ages 4-8 follows the journey of polar bear through the Arctic.
Her inspiration came from a visit to the Toledo Zoo with her three children. Moore found herself fascinated by learning how far a polar bear travels along the edge of ice and sea to keep itself alive. "I thought that was very remarkable." That was in 2014. 
While her background was in medical and scientific illustration, writing children's books seemed a good fit for her life as a stay-at-home mother. Moore, 35, has children 5, 6, and 8 years old. She moved to Bowling Green with her husband, Tim Davis, who teaches in the biology department and is a lead researcher in the Lake Erie Center for Fresh Waters and Human Health.
"Sea Bear" was not her first foray into writing for children. Her first book about a lobster made the rounds publishers with no success. But she gained experience and insight from the effort.
In writing "Sea Bear," which has the subtitle "A Journey for Survival," she wanted to present the facts, but keep the story from getting too dark for your readers. So image of the carcass of the seal pup was taken out.
Writing about animals, she said, requires care to make it possible for people to relate to them without giving them human traits. "We don't know why they do certain things," she said.
Moore said she's been pleased with the early reviews of the book.
Moore grew up in northern Michigan. When she was in third grade, a teacher "pulled me aside and told me 'I think you could be a writer.'"
Moore believed her. She loved the work of Madeleine L'Engle. Then as a teenager she learned about how hard it was for even this great author to get her first work published. So Moore redirected her efforts into art and science.
She double majored in fine art and marine biology. But she couldn't see herself creating art for art's sake, and as much as she loved science, she admits, "I was a disaster in the lab."
Scientific illustration, though, drew on her interests in both, so she headed to Medical College of Georgia, where the art students took the same courses as medical students.
In art school, the students were concerned about creating beauty; in medical school, they wanted the drawings to tell a story, a story about pathology.
Moore's marriage to Davis, whom she'd met at Stony Brook University, where he worked in the harmful algae bloom lab, has taken her around the world, and back to the Midwest.
Before Bowling Green, Davis worked for NOAA in Ann Arbor. Even before he took a position at BGSU, he was collaborating with his future colleagues in Bowling Green who are also studying harmful algae blooms.
Once after he'd been away from home on a long trip, he suggested turning business trip to Bowling Green into a family vacation.
Moore admitted she was not convinced that Bowling Green was a vacation spot, but the family came along. On the advice from someone at the hotel they were staying at, she and the three children ended up at the Children's Place at the Wood County Public Library and exploring Wintergarden Park.
When her husband was hired at BGSU, she was already sold on the city and insisted they live in a downtown neighborhood.
That makes the library all the more fitting as a setting for her to unveil this new chapter in her journey as a writer and artist.