By DAVID DUPONT
BG Independent News
Project Connect employs a personal touch to link up those in need with those who can help. People coming to seek services are guests, and the volunteers who help them one-on-one are hosts.
Project Connect was started four years ago to address the problem of homelessness. It serves both those who are now homeless, and those in danger of becoming homeless.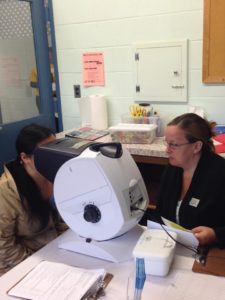 On Oct. 19 from 9 a.m. to 3 p.m., those in need will show up at St. Mark's Lutheran Church, 315 S. College St., Bowling Green, where volunteers will help them find the services they need from among the about 50 represented. Those can range from legal help to a haircut.
Each of these guests will be paired with a host who will help guide them to find the help to make their lives easier. That could be education, employment, food and counseling for the ills that hold so many back. It could be a massage for the body, or counseling for themind.
Last year more than 300 people representing 312 households attended. Those households included 782 adults and children.
Jamie Brubaker, of United Way in Wood County, said of those guests, 30 percent had been homeless sometime in the last three years.
Esther Nagel, who chairs the event's publicity committee, said that homelessness is invisible. You may see people, but you don't know they are homeless. They may be living in their cars, or sleeping on a couch at a friend's or relative's home.
The federal government, she noted, does not consider those people homeless. The Department of Housing and Urban Development only considers those living in a situation unsuitable for human habitation to be homeless.
Though the event starts at 9 a.m., people will start lining up to get in at 7 a.m., Nagel said. They'll be able to have a cup of coffee, and hot meals will also be available throughout the day.
The guests will be greeted, and then paired up with a host. Each guest will then list three or so of the needs they most want to have addressed during the day. If someone is currently homeless, they will be directed first to the Salvation Army to get set up with temporary housing.
At the 2015 Project Connect: 516 hot meals were served; about 300 bags of groceries distributed; 350 personal hygiene kits for women, men and kids were given out; more than 100 birth certificates were applied for; 115 haircuts given; over 80 vision and dental screenings done; and 61 flu shots administered.
This year more attention will be paid to tracking whether guests followed through on receiving services, Nagel said.
Delivering these services requires more than 300 volunteers.
Nagel said it was gratifying that over 90 percent of those who volunteered last year said they would come back this year. For information about volunteering call 419-352-2390.
"Volunteers," she said, "learn about all these resources that they may not have known about. It opens their eyes that there are people who need these services, people just like we are."
Susan Clanton, of United Way in Wood County, said she recently got a call from a woman in Perrysburg. She was in desperate straits needing food for her husband and disabled son.
The woman, Clanton said, told her that she had never been in this position before. She didn't know where to turn.
Clanton gave her some ideas, and encouraged her to come to Project Connect.
The woman told her: "I'm the one at church who always supplied the peanut butter; I'm the one who always brought the food."