By DAVID DUPONT
BG Independent News
Downtown Bowling Green is all decked out for the holidays.
Hand-crafted stars, a chorus of singing snowmen, and even Sonic the Hedgehog trimming a tree.
"To me it just makes the city so fun, walking up and down the street at night," said Sandy Wicks, a longtime downtown businesswoman.
This wasn't always the case, though, recalls Wicks. She remembers about 25 years ago when many downtown businesses paid little attention to their windows. Some proprietors used them for storage.
A revitalized Downtown Bowing Green sent a delegation to shopkeepers to encourage them "to make their windows appealing," she said.
"I always had a sense and firm belief you put your best foot forward," she said. "Put anything in window – art, plants, merchandise – but artfully displayed."
Wicks has practiced what she preaches for 28 years in the windows at Grounds for Thought. She does thematic displays on the south side – right now, Christmas trees made up of old sheet music, newspapers and book pages with bundles of books underneath. For the past few years, the shop has turned over the annex window to the middle school art program to display student creations.
"It helps downtown, helps business," Wicks said. "It gives a sense of specialness and uniqueness of small town businesses."
Back more than 20 years ago some shopkeepers were receptive to offers of help, others didn't want to bother. "They're not in business anymore," said Wicks. "How about that?"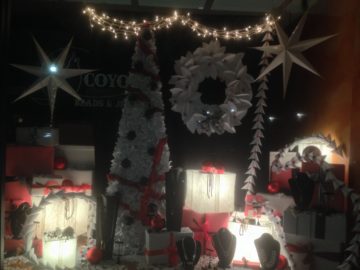 Now proprietors all through downtown, from established enterprises such as Grounds for Thought and Ace Hardware to newcomers not yet celebrating their first anniversaries, have stepped up.
"It's the first impression they get of your store," said Amy Craft Ahrens, who owns For Keeps and has designed the window displays for 20 years, "so your window is important."
"I want it to reflect what we sell in the store, but I want it to be eye-popping enough for people to want to come in and see what the store is if they've never been here before."
Given her line of housewares and gifts, her shop has plenty of seasonal merchandise to display in the window, she said.
Gayle Walterbach, Coyote Beads, praised by both Wicks and Ahrens, also makes use of her shop's merchandise to set the tone of the window displays.
Ahrens also likes that stores that don't necessarily have holiday wares to show off, still decorate. HomeWorks has large white lights strung across their windows. "I appreciate that more businesses are making their windows look festive."
Ahrens and Wicks are pleased to see the newest downtown shops, such as Mode Elle Boutique, Painted Clovers, and Eden Fashion Boutique, continuing the trend.
Kayla Minniear, owner with her husband, Jon, of newly opened Rock 'Em Sock 'Em Retro, said the large display window was one of the attractions of the former Mills Jewelry location.
Her mother, Caroline Lippert, who studied art at Bowling Green State University, was thrilled to have the window as a canvas.
Minniear said her mother welded a metal frame for the Sonic costume so it could stand up and help a snowman decorate the tree in the window.
"A lot of the people come in because they saw Sonic the Hedgehog," Minniear said.
Ahrens said that window size is helpful in terms of creating a design. Her windows are just the right size. Large enough for a full-size tree and furniture, but not too large. It's hard she said to fill a large window without making it look cluttered.
Wicks noted that Encore Bridal on the southwest of the Four Corners makes great use of its large expanse of plate glass facing West Wooster. Owner Lee Welling displays her most stunning dresses, and that adds a sense of city glamor to Bowling Green.
But even a small window is no deterrent to good design, Ahrens said, noting that Ginny Stewart's window at Ginny's Inspired Fashions "always looks fresh."
Some shops can rely on what they sell to set the mood. Ahrens said she's had to change out her windows at times because the product displayed was in so much demand, she was selling the items in the display itself.
But Kevin Pierce designs for Ace Hardware are some of the most striking and humorous windows on the street.
The self-taught artist – he also painted the mural on the outside back wall of Ben Franklin's – draws on the literal nuts and bolts of the hardware store to create whimsical scenes fit for the occasion. "It draws attention to the store," he said. "Anything I can do to draw people in here is good thing."
The store's Facebook page has photos of some of his favorite windows.
While Christmastime puts a greater emphasis on the windows, attention to design is seen throughout the year.
Minniear said her mother already has plans for the post-Christmas display, and Wicks said it won't be too long before she starts planning a window for the other big season for downtown, the Black Swamp Arts Festival.
"Sometimes I have no clue what I'm going to do," Ahrens said. "I put it together in my head the night before I come in. Sometimes I'll see something at a show six months before and say 'that's going to be my winter window.' And some of my best windows are some I haven't put too much thought into."
The effort to create an attractive window design is just part of running a small business, Wicks said. "You always have to work at it. It's not just going to happen. You have to go out and make it happen."
With the window displays, she said, "this is the shop owners taking their time to think it through. That's part of the charm."