By ABBY SHIFLEY
BG Independent Correspondent
At BGSU's "Shark Tank"-like event called The Hatch, alumni were busy investing money in student entrepreneurs. Out of eight entrepreneurs, referred to as "hatchlings," six received funding for their products.
This year, the event was put on live TV for the first time with WBGU-TV.
The investors were all successful BGSU alumni, including Nico Cottone CEO of SurfTech Inc.; George Heath, the retired group president at Sherwin-Williams; Earle Malm of HighMark Funds; falcon flames Matthew Yourkivitch and Michelle Drerup; and Mark West of Shared Clarity.
"Tonight [the hatchlings] will get a chance to, in four minutes, try to overwhelm us with their business idea and the potential of it," Malm, who is also the lead investor, said. "It's sort of like 'Shark Tank,' but it's not.
"We've all been successful. We've all developed our own businesses. We all are putting in our own money. We don't have any pull or capital that the university's giving us — this is real-time money that we put in that we've earned, and that's the same. Where it's different is that the 'Shark Tank,' most ideas have already earned revenue and they're operating businesses. We're predominately looking at ideas."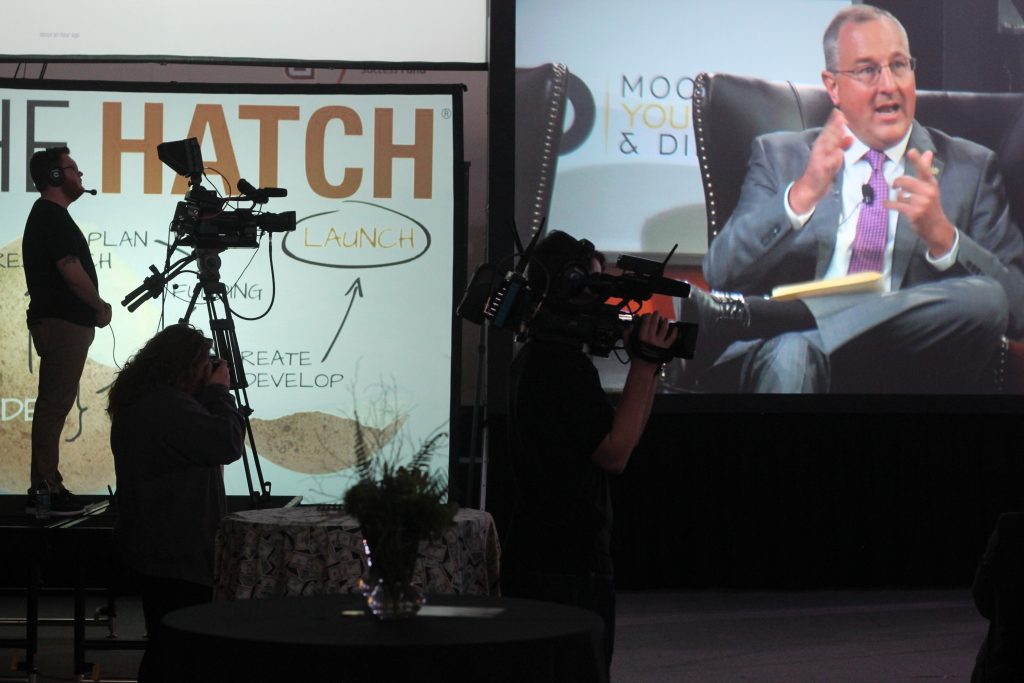 The evening started out on a low note, because the first entrepreneur did not receive funding for her idea. Ramsha Rashid, senior management major, had an idea called Toybox — a website where parents could either donate old children's toys or purchase bundles of used toys.
Rashid's main goals were to declutter people's home and be environmentally friendly by sustaining a "circle of play." However, investors found her idea too broad and thought she needed to review the market further.
"It's a great idea. My question is, are you familiar with Toygaroo?" Yourkivitch asked.
Toygaroo was a very similar idea to Rashid's and appeared on "Shark Tank."
"It was a great idea, it got a $250,000 investment from Mark Cuban, and it was bankrupt a year later," Yourkivitch said.
This comparison made many of the investors drop out.
The next presentation was Spit-Pac, a double-sided backpack invented by junior management major Phillip Forest. Forest had visual aids to go along with his presentation, having one of his friends model the backpack for the investors.
"This pack design can be applied to many other fields besides camping, such as travel ware, military, school bags and more," Forest said.
Investors had a few questions about the product, such as its cost and what the competition is like. However, they ultimately came to the conclusion that the product was extremely unique and the market for it was large.
Forest walked away with $10,000 in exchange for 10 percent of the company, with his initial offer being $10,000 for 5 percent.
Laura Dworning, senior dietetics major, presented the judges with a wristband for children with diabetes. The company's name was Sevas ("saves" spelled backward), and the band uses a color-coded system to warn children if their blood sugar is low.
"I have personally conducted interviews with parents whose children have type 1 diabetes and one response, I quote, '100 percent yes, I want my child to have this device,'" Dworning said. "Based on the other initial responses, I am certain there is a need for my product.
"Back in March of 2018, Medtronic released their Guardian Connect, which is their app that communicates via Bluetooth." This app displays sensor glucose data, trends and alerts, according to Medtronic's website.
"So, we know the technology is already out there and that it works. We just have to simplify it into a child-friendly device," Dworning said.
Investors were impressed with Dworning's product and equally impressed with her polished presentation. She made a deal with West, Cottone, Heath and Malm for $5,000 for 10 percent equity.
Jacob Clark, senior tourism, leisure and event planning major with a minor in entrepreneurship, came out on stage is camo coveralls to present his product, Decoyl. The product is a duck decoy, to be used by water fowl hunters. Clark said it will not tangle like other duck decoys.
The investors were impressed with the demand for the product, which Clark showed in surveys he conducted. West made a deal with Clark that for every incremental $1,000 he invests, West would receive 1 percent of the company, along with Clark's initial offer for $5,000 for 5 percent of the company.
The next presenter was not so fortunate, as her product Custom Kid Stories did not receive funding. The investors found sophomore exclusive early childhood education major Aubri Reiniche's product too similar to other products already on the market that were $25-$40 cheaper.
Junior Savannah Hinde was the next presenter, and showcased her already-created website, The Holy Dormitory and her plan change the brand into Esther and Light with the help of the investors. Esther and Light would expand to all ages, not just the Christian college students targeted by The Holy Dormitory.
Hinde is looking to become a pastor and started the t-shirt website to raise awareness of women in church leadership.
"Did you know that only 10 percent of lead pastors are female in the United States? There are more leadership opportunities in the church for men than there are for women. This is called the stained-glass ceiling and I plan on breaking it," Hinde said, which resulted in loud applause from the audience.
Hinde made a deal with Malm for $3,000 in exchange for 5 percent of the company.
The second-to-last presenter, graduate student and special education and computer science major Blade Frisch, was a favorite among investors.
His product, Spoken, aimed to help people who are unable to use their voices easily and was inspired by his friend, Daniel, who is on the severe side of the autism spectrum.
The investors were impressed by Frisch's personal connection to the product, and the amount of homework he had done. He received a deal from most of the investors of $10,000 for 10 percent of the product.
The final presenter was a crowd favorite, as he was voted the winner of the "Eggy" via Twitter. Biology and Computer Science major Michael Johnston received $5,000 for 10 percent of his company, despite only being a freshman.
His product also received lots of support from the crowd, because its main focus was on college students. The product was called Set-N-Swivel and was a mobile phone wall hanging device that uses an adhesive to stick to dorm walls.
BGSU mascot Freddie Falcon helped Johnston demonstrate his product in a short video and joined him on stage during the presentation.