NEWLY POSTED: Julie's presents jazzed up Nutcracker, Dec. 15-17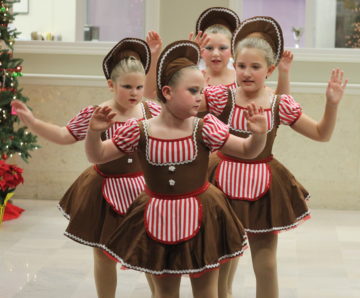 Julie's Dance Studio will present the 11th anniversary production of "The Nutcracker Ballet … All Jazzed UP!" Friday, Dec. 15 through Dec. 17 at the Bowling Green Performing Arts Center.
Based on the Tchaikovsky ballet, the story of a dreamy young girl and her Nutcracker prince takes a funky twist as they journey into a world of toy soldiers and mice, angels and snowflakes, queens and fairies in this electrifying new take on a holiday classic.
Performances are: Friday at 7 p.m.; Saturday at 2 and 7 p.m.; and Sunday at 2 p.m.
For tickets, click here.
NEWLY POSTED:  Heart of Christmas show at St. Aloysius, Dec. 17
Singer-songwriter Kerry Patrick Clark will bring his The Heart Of Christmas tour to St. Aloysius Catholic Church, 150 S. Enterprise St.,  Bowling Green, Sunday, Dec 17 at 7 p.m.
Bowling Green's own Tim Tegge will open the free concert.
A free-will offering will be taken.
NEWLY POSTED: Unlikely Friendships is theme of  Pizza & Pages, Dec. 19
The middle school book group, Pizza and Pages, meets next on Tuesday, December 19, at 2:30 p.m. in the Bowling Green Middle School's Media Center. "Pizza and Pages" is a partnership between BGCS and WCDPL and is open to all area 6th-8th graders. The Children's Place of the Wood County District Public Library has multiple copies of the pre-selected books available to check out. This December, youth can choose one or more of the following Unlikely Friendship titles: "The Great Treehouse War" by Lisa Graff; "Hello, Universe" by Erin Entrada Kelly; and "The Littlest Bigfoot" by Jennifer Weiner.
"The Great Treehouse War" by Lisa Graff is the story of fifth-grader Winnie who turns her treehouse into an embassy after her newly-divorced parents become unreasonable, and is soon joined by nine others with complaints.
"Hello, Universe" by Erin Entrada Kelly is the story of four misfits whose lives are intertwined when a bully's prank lands shy Virgil at the bottom of a well and Valencia, Kaori, and Gen must band together in an epic quest to find and rescue him.
"The Littlest Bigfoot" by Jennifer Weiner is the story of twelve-year-old Alice, a misfit who is ignored by her own family and shipped off to boarding school. She'd love a friend, and one day she rescues mysterious Millie Maximus from drowning in a lake. Millie, it turns out, is a Bigfoot, part ofa clan that lives deep in the woods. Alice swears to protect Millie and her tribe, and the two girls try to find a place where they both fit in.
The discussion with staff from BGMS and WCDPL will include any or all of these titles, along with pizza snacks.
NEWLY POSTED: Youth basketball winter league registration open till Dec. 31
Bowling Green Parks and Recreation's Youth Basketball Winter League is now open for registration.  The league is for children in kindergarten (or age 5) through 6th grade.  Divisions consist of K(5), 1st and 2nd grade, 3rd and 4th grade (boys/girls separate) and 5th and 6th grade( boys/girls separate).  Dates for the program run the week of
Jan. 8 – Feb. 12
.
Players are required to attend a skills assessment date prior to participating in the league (Dec. 12 or
Dec. 20 from 5:30-7 p.m.
) Program costs are $38 for residents and $47 for non-residents for participants in the K-4 grades (includes a league shirt).  For 5th and 6th grade participants, costs are $58(Res) and $67(NR) or $71(Res) and $80(NR) for the Bonus Pack (includes additional basketball skills training).  5th and 6th grade participants will also receive a reversible jersey.
The registration deadline is
Dec. 31st
.  Registration, practice/skills assessment dates, times and other details may all be found at
www.bgohio.org/parks
  (at the Sports Tab).
NEWLY POSTED: Families invited to build with library's Rigamajig, Dec. 17
Families are invited to play and build with the library's Rigamajig, a giant building set, in the programming room of the Children's Place of the Wood County District Public Library on Sunday, Dec. 17, from 2-3 p.m. For more information, contact the Children's Place at 419-352-8253.
NEWLY POSTED: Women's volleyball league to begin Jan. 4
The Winter Adult Volleyball League for the Women's Divisions begins
Thursday, Jan. 4,
at the Bowling Green Community Center.  Leagues consist of 6 v 6 Competition
on Thursday
evenings between
6:30 and 9:30 p.m.
  The league will include 10 regular season matches and a double elimination tournament.
Costs are $145/team (before 12/31).  Team late fee is an additional $50 after the
12/31/17
deadline.  Officials will be paid $7 cash per team per match (three games).  Non-residents of the City of Bowling Green must pay a yearly $15 non-resident fee.  To register, stop by the Bowling Green Community Center at 1245 W. Newton Road, or call 419-354-6223.
Library hosting cookie bake-off, Dec. 18
The Wood County District Public Library  invites home cooks and baking enthusiasts to bring their best recipes to the library for a community Holiday Cookie Bake-Off, Monday, Dec. 18, at 7 p.m. in the library.
 Contestants should bring at least two dozen cookies of each type f cookie they are entering.  After all the cookies have been tasted and the votes counted, Mrs. Claus will award the prize to the winning cookie.
Students in Vicki Hoehner's piano studio will provide seasonal music.
For more information about the Holiday Cookie Bake-Off, all the Wood County District Public Library's Adult Services department at 419-352-5050. See
story
.
Exchange Club to hear about Christmas music in Trnidad, Dec. 19
The Exchange Club of Bowling Green will welcome David Lewis, Sound Archivist at the Bowling Green State University Music Library as its guest Tuesday, Dec. 19,  at noon at the Stone Ridge Golf Club at 1553 Muirfield Drive, Bowling Green.
Lewis, will talk about the Christmas musical tradition of Trinidad and Tobago called Parang. Parang is a popular folk music. The word is derived from two Spanish words: parranda, meaning "a spree or fête", and parar meaning "to stop".
Join the club to find out how an English-speaking country end up singing traditional Christmas Carols in Spanish.
Library Children's Place offering free K-5 tutoring, throughout the school year
The Children's Place of the Wood County District Public Library is partnering again with the BGSU Martha Gesling Weber Reading Center for free homework help, tutoring and reading support beginning September 18 and continuing during the 2017-18 school year.
Trained tutors will be available Monday through Thursday from 6:00pm to 8:00pm for students in kindergarten – 5th grade. Scheduled breaks are posted for BGSU semester breaks. BGSU tutors will be available to meet with students in the Children's Place Quiet Study Room for about a half an hour (or as needed) as often as a family's schedule allows. Adults must remain in the building during tutoring sessions. Please call the Children's Place desk at 419-352-8253 with any questions.