By DAVID DUPONT
BG Independent News
A Walbridge painter who stepped out for her first Art Walk in downtown Bowling Green won top honors in the annual spring event Saturday.
Shirley Frater won the first place Juror's Award. She said she decided to do the event after exhibiting in the 50+ Shades of Grey Exhibit at the Wood County Senior Center.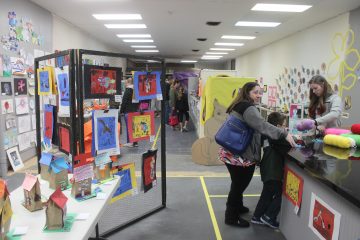 The second place award went to photographer Flannery Murnen, a junior at Bowling Green State University, and another first time participant in the show.
Richard Gullet won third place for his detailed pen and ink drawings. Gullet, who showed his work in Qdoba, also won the People's Choice award.
Emily Metzger's charcoal self-portrait, shown in Murder Ink Tattoo Company, won second place in People's Choice, and Gail Christofferson won third place for her art guitars, which were on display at Finder's Records.
Following the event, the judges Sara Busler and Lauren Canavan issued a statement, about their choices.
Of Frater's work they wrote: "Shirley draws inspiration from a variety of materials. These materials include found objects such as medallions, old book pages, napkins and photos. Through the use of these found objects she creates an intricate composition that tells a narrative. The arts pays attention to all the fine details of her work from production to presentation. Each frame is found and repurposed to complement the work enclosed within."
Frater said that exhibiting at the senior center inspired her to show her work more, as well as become more involved in the Bowling Green Arts Council, who co-sponsors Art Walk with Downtown BG.
Frater said she was a little concerned that she was in Biggby's Coffee, which is a block off Main Street. But foot traffic at the shop was good, and a couple of the pieces she sold were to people who had just stopped in a buy a coffee.
O
f Murnen's work, the judges wrote: "Through the use of traditional film cameras, Flannery's work is at the mercy of the moment. Pairing her love of history and talent in photography, she captures images for posterity. One photo captures a quick glimpse of the crowd on the Woman's March on Washington, while another documents a woman in Cuba carrying clean water, a basic amenity often taken for granted in other countries."
Murnen is not a complete newcomer to the show. She works at Coyote Beads where her photos were displayed, and has worked during Art Walk. Also, while in high school, she participated in Art Walk projects, though she said she never had the time to actually attend.
Now a junior at Bowling Green State University, Murnen is a double major in history and photography. The two merge in her work. She shoots film, not digital, and despite what some people think, this is not a waste of time.
"There's a glow in a silver gelatin print that you can't get from an ink jet print," she said. "So if you're looking for real beauty put it in silver. … It's great to meet people who also have passion for the craft. Film photography doesn't get its due."
She likes exhibiting as a way to showcase her work but also to draw attention to the photography program at the BGSU School of Art.
"The work Lynn Whitney does is phenomenal and deserves more attention. She's my mentor and inspired me, teaching me how to use photography to find meaning in my life. This medium can help me think through my life."
Murnen is interested in preserving art. She'll travel to Italy this summer as part of the SACI program where she will study art preservation and painting. When she returns she has an internship at the Toledo Museum of Art.
Of Gullet's work Busler and Canavan wrote: "Richard impressed us with his black and white ink drawings. Each intricate piece takes four to six weeks to complete with meticulous planning. As the ink is being applied over his original pencil drawing, the negative space often activates his imagination altering his original vision. Frequenting animals and Greek mythology for inspiration, he manages to make one of a kind work each time."
Art Walk also is a place for younger artists to display their work. "This is our one big art show," said Cindy Marso, a middle school art teacher. The middle school work and the work from the three elementary schools are all displayed together.
Dylan Stark, her colleague at the middle school, said having all the work in one space gives students a sense of what they can expect when they get to the middle school.
The teachers do their best to get interested students into all the art classes they want, Stark said, and then move them on to the high school where there are many more options, as was evident in the work displayed at other Art Walk galleries.
This wealth of local art is what attracted Thaddaeus and Barbara Thomas of Toledo to Bowling Green.
They were impressed by what was offered, and were interested in possibly returning at the end of the summer for the Black Swamp Arts Festival.
Karen Glassford was demonstrating essential oils in the bead shop. In the past, she's been active with the Black Swamp Quilters Guild.
Some people, she said, come in looking for particular artists, others were carrying their "passport," listing all the galleries.
Anyone who visited all 31 exhibits was eligible for a drawing for $50 in downtown dollars.
"People are looking for something to do," Glassford said.
For the artists, the event gives them to chat with buyers and maybe sell some of the work they have stored.
John Powell was sitting in the library displaying his hand-crafted walking sticks. He's been creating them for 15 years. The retired bookmobile driver finds most of his material around his home in Arlington Woods, though he's been known to carry a saw with him in case he spies a nice fallen limb along the side of the road.
The stocks take more than a year to create. He immediately strips the bark, and then lets the wood dry out for a year. After that he sands it down, and applies several layers of polyurethane lacquer.
He finds the work "meditative," and is less concerned about selling them. He has also sold them at the Black Swamp Arts Festival and another event in Michigan, but the work of hauling his inventory and setting up a booth is hard considering the amount of money he makes.
He sold more, he said, when he was driving the bookmobile, and would carry several along with him.
Anne May's pastel landscapes are also a hobby, though she has her Bachelor of Fine Arts in digital art from BGSU.
She now works as a reference assistant at the Wood Many of her paintings are created outside on location. "This lets me get out."
Sometimes, though, she wants to paint a hill. Her father will send her photographs from California.
She does Art Walk so she has a chance to display her paintings and talk to people. She does sell some. "Otherwise I just hoard them at home."
Her cards also offer a more affordable options for people and she sells quite a few of those.
Saturday's event, May said, seemed "busier than usual."
For the first time, Art Walk included a culinary arts dimension. The One-Bite competition asked restaurants to offer something to tantalize the mouth, said Mary Hinkelman, director of Downtown Bowling Green.
Top prize was awarded to Kabob It by judges Sandy Earle, Lucy Long, and Nathan Crook.
Reverends Bar and Grill received second place and Cookie Jar, third place.
Earle said the entries were marked by "creativity and variety." And were "very, very tasty," Long said.
Kabob It stood out for the simplicity of their presentation, Crook said.
Long said the flavors "lingered in a pleasant way."
An entry from Crim Elementary school won the first place in Project Chair-Art-Y with the proceeds benefiting the Bowling Green Schools Foundation.
Second place was from Marissa Muniz, Peg Holland, and Amy Holland to benefit the Brown Bag Food Project. Third place went to  Andrea Depinet benefiting United Way.
Participants were asked to decorate a wooden chair, donated by Grounds for Thought. The chairs were raffled off with half the money going to the charity of the decorator's choice and half benefiting the downtown flowers fund.
A quilt created by Dr. Carol Hicks and a painting by Lonnie Rosenberg were also raffled off to benefit the flower fund.
Hinkelman said that attendance for the walk appeared to be up with 327 people passing through the lobby of the Four Corners Center where the art chairs were exhibited and the Black Swamp Quilters were displaying and demonstrating their craft.