By DAVID DUPONT
BG Independent News
When Marissa Saneholtz was a kid she'd squirrel away her allowance in anticipation of the Black Swamp Arts Festival.
She could always find a ring or print that she wanted to buy, she said. "I've been interested in art forever.
This year Saneholtz, who teaches metalsmithing at the Bowling Green State University School of Art, is one of the jurors who selected the artists and artisans who will exhibit in the juried show.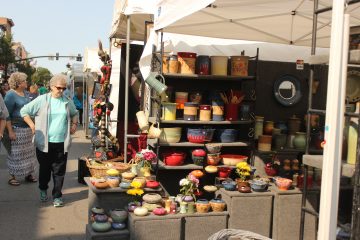 The Black Swamp Arts Festival will be Sept. 7, 8, and 9 in downtown Bowling Green, starting with music, food vendors, and beer garden on Friday, Sept. 7, and continuing with art, music, youth activities, food vendors, and beer garden, Saturday Sept. 8 and Sunday, Sept. 9.
"It was really amazing to be asked to jury it," Saneholtz said. She joined Dan Chudzinski, curator for the Mazza Museum, and painter Jessica Summers on the panel.
Saneholtz doesn't think people will have difficulty finding something that catches their fancy. "Overall there's such a wide variety of artists that apply."
Knowing the community helped inform her work as a juror. "I know what price points people will buy at, from the kid saving their allowance to the professional." She has her taste, she said, but must look beyond that. "I'm also trying to think: Would my family members want to buy this?"
High quality is first and foremost for the jurors, she said. "I mean there's always the people who just blow your socks off."
Artists apply through the online service Zapplication. They must submit slides of their work, their display, and their process. The jurors then review those slides individually before coming together as a panel to make final decisions.
Just over 200 artists and artisans applied this year.
Stacy and Josh Poca are chairing the festival's visual arts committee this year. They said a few artists got the highest marks in the first round, and immediately made it into the show. Also the winners from last year's show automatically get a spot, and all but one are coming back.
There were also a few whom jurors agreed didn't make the cut before the jurying session, Stacy Poca said.
But most fell somewhere in between.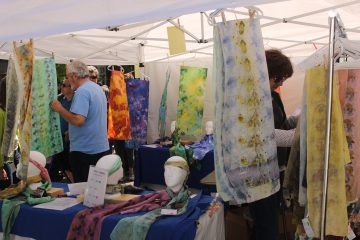 The jurors look for the best work as well as a balance of media. Jewelry always accounts for the greatest number of applications. That's why about 10 years ago, the festival decided to increase the jurying panel to three, so they always have a metalsmith looking at the work. That's Saneholtz, who is recognized as an up-and-coming jeweler.
She said that the jewelers worked in a range of materials, sometimes recycling found items and others using silver and gold.
The juried show will feature 108 artists in booths arranged in blocks of four running down the middle of Main Street.
While this is the Pocas' first year chairing the visual arts committee, they have been festival volunteers before.
A number of years ago when they'd first moved to Bowling Green, they were introduced to festival by Chris and Michelle Miller, whom they met at a party.
Josh Poca, at time a structural ironworker, helped with stage set up, and Stacy Poca, who worked at BGSU in development, helped with fundraising. Then they moved first to Tennessee and then Indiana.
Eight years later they returned, now parents of a daughter and a son, and they wanted to reconnect with the festival.
"Bowling Green for us is the Black Swamp Arts Festival," she said. "So many friends we have are because of the festival."
While they intended to volunteer, they didn't necessarily think it would be chairing a committee. But that was the greatest need, so they decided to do it as a team.
Josh Poca said it made him realize just how much energy goes into the festival year in and year out. "It shows how much you need a good community to pull this off."
Every year the festival needs to find people, sometimes on short notice, to step in to fill key roles.
"A lot of faith being put into volunteers," Stacy Poca said. "To do a good job you really have to care."
With the juried show selection wrapped up, the Pocas are focused on finalizing the Wood County Invitational. She said 78 people applied for 50 spots. The field has been winnowed, and now they are waiting for people to confirm that they will be coming.
That show is open to artists and artisans living within 30 miles of Bowling Green. It was created to ensure that local artists have place at the festival. The show is in the parking lot at the corner of Clough and South Main.
Across Clough Street, the art clubs from the BGSU School of Art set up shop to sell their work. The student artists have been part of the festival since the beginning.
Some may end up on the art fair circuit.
Saneholtz has not done art fairs, but she has friends from graduate school who do.
It takes a lot of hard work and creativity. They must be able to make distinctive pieces that stand out from the crowd, but that can be replicated. They may do some one-of-a-kind pieces but they also have to have "their bread-and-butter pieces that sell well."
All that is produced in the studio, then packed up, hauled to the fair, and set up in a transient gallery.
"It's a talent," she said.
On festival weekend, Saneholtz, Summers, and Chudzinski will return to judge the show and award the $5,850 in prizes.
"Judging is always hard. The end part is always the hardest," Saneholtz said. "Who gets the prize?
"I think we're going to have a really good festival this year. It's incredible that people are producing this artwork and it's available for sale in Bowling Green. How does this happen?"
For her part, she said: "I'm going to be saving my money again for this year."