By JAN LARSON McLAUGHLIN
BG Independent News

My husband, a runner, does not understand the skill and stamina required to complete a "Chocolate Crawl."
He cannot comprehend how an event called a "crawl" is athletic. But this year's Chocolate Crawl went from 16 business participants last year to 42 this year. As far as I'm concerned, that is like going from a 5K to a marathon.
My husband also has no respect for the training regimen it takes leading up to the annual event held in downtown Bowling Green as a fundraiser for United Way during the city's Winterfest.
And he refuses to acknowledge that there is a technique:
Gloves slow you down. No matter how cold it is, repeated removal and replacement of gloves cuts into your finish time. The harsh reality is, some places will run out of chocolates before feeding all 500 participants.
Hydrate. Take advantage of the stores offering the chocolate smoothies, the chocolate "buzz" rum shots, the hot chocolate and the chocolate shooters which threw in a shot of espresso so "crawlers" could maintain their pace.
Use the buddy system. When you are eating chocolate on the crawl, you need a true friend who will tell you if your face is covered in hastily eaten chocolate. (Thank you, Julie.)
Accessorize with a bag, since consuming all the chocolate on site is not advisable.
Consult the downtown map occasionally to make sure you stay on course and don't miss chocolate stops.
Robin Cross, of Bowling Green, was going strong as she started the Chocolate Crawl Friday evening.
She had just stopped in at SamB's for one of the true delicacies on the crawl route – a Belgian chocolate truffle dipped in Columbian white chocolate with an Amareno cherry on top.
"It's my favorite so far," Cross said. Of course, she hadn't turned down the more common chocolate treats of the Hershey variety. The lure of chocolate was enough to get her out in the cold.
"It's for a good cause … and you gotta love chocolate," she said.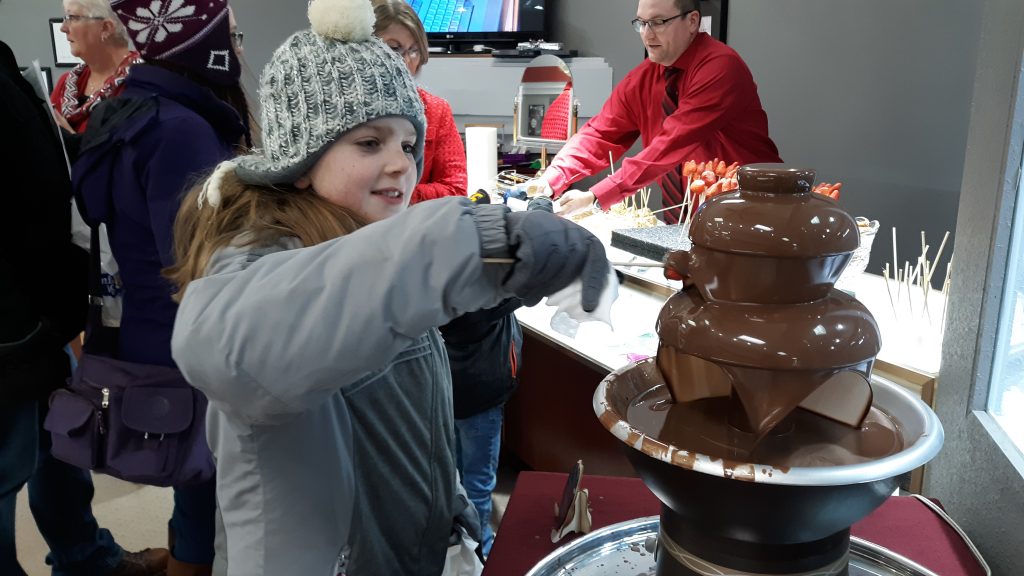 At Waddington Jewelers, crawlers were given the choice of strawberries, pretzels or rice krispie treats to drench in a chocolate fountain.
"I could just do this all day. It's so satisfying," Aimee Burns said as she held a treat under the running milk chocolate.
This was Burns' second year on the crawl. And she was ready for the challenge of the expanded course.
"It's the best. This is huge," she said.
Down the street at Aardvark Screen Printing & Embroidery, owner Gary Bell added a twist to the crawl. He was handing out T-shirts that smelled like chocolate. There's nothing like the sweet smell of chocolate to keep the crawlers motivated.
"We were looking for some idea that was chocolate related," Bell said. "The scent is supposed to last through 40 washes."
The shirts were a hit. "People are loving them," he said. Bell also threw in some chocolate chapsticks as an added treat.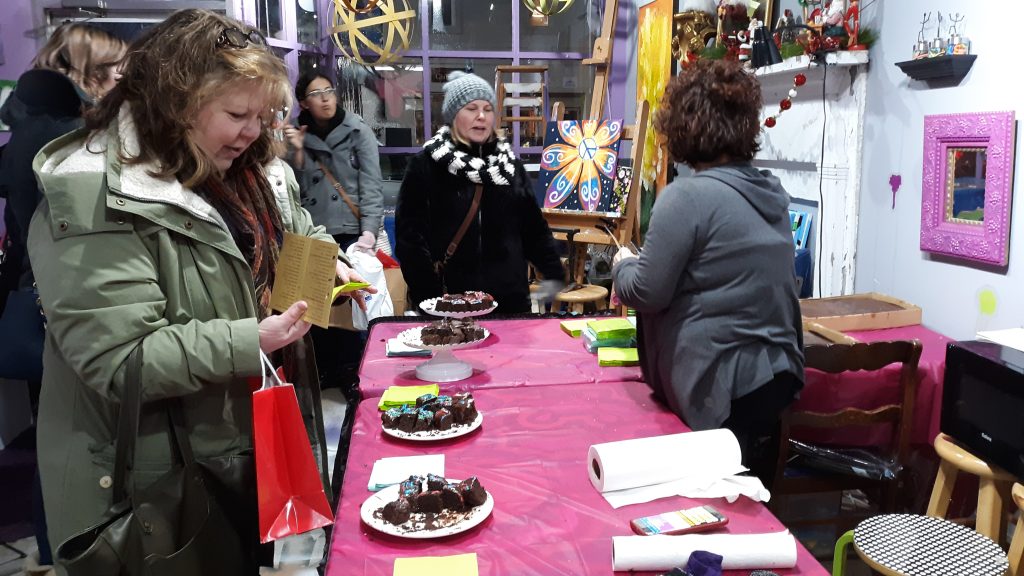 The vast majority of the crawl participants were female, possibly because they are more open to the idea that consuming chocolate can be a competitive event.
But some husbands and male partners seemed to recognize the value of participating – or at least pleasing their mates.
"I'm a willing participant," Patrick Schroeder said as he and his wife, Karen, waited for their treats in United Way. But he willingly admitted that between the two of them, "definitely Karen" is more of a choco-holic.
"We share," Karen said.
Jackie and John Dubler also joined forces on crawl. "Chocolate makes my wife happy, so….." Jackie said of her husband's theory.
Evidence that the crawl was not for the weak, was found in City Tap, where Mike and Karla Geyman were taking a break from the cold.
"It got to the point my hands hurt," Mike said with a smile. Karla was also experiencing side effects – primarily shaking from all the sugar, she said.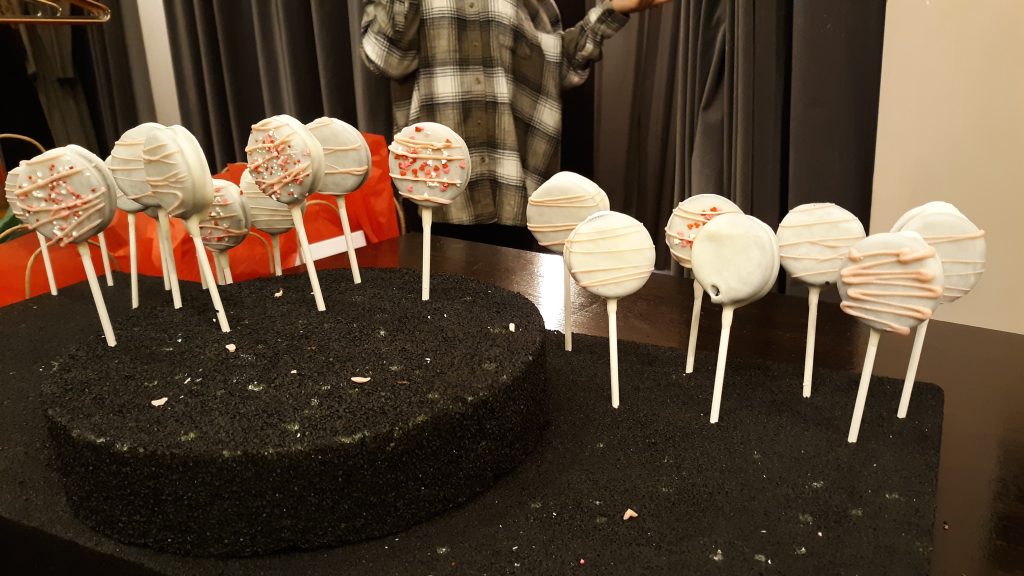 The treats were irresistible – and creative – including such items as dark chocolate salted caramel, mini chocolate eclairs, chocolate moonshine bars, mocha haystacks, chocolate baklava, tres leches cakes, and chipotle bacon brownies.
"This is like adult trick or treat," said Tamara Whitson, as she went for the chocolate in Coyote Beads and Jewelry..
And of course, it was for a good cause – United Way.
"Oh my gosh. It doesn't matter how cold it is," Shari Beeker said. "This is a great community event, doing something good for a wonderful charity."
(As I write this, my husband has noticed that the number of chocolates from last night's crawl seem to be disappearing. If he asks about the chocolate smell, I'll blame it on my new T-shirt.)