By DAVID DUPONT
BG Independent News
The kids at Crim got to play with the DePue Brothers Thursday.
Zachary and Alex DePue, of the DePue Brothers Band, along with guest vocalist Aria Noelle Curzon, stopped by Crim Elementary Thursday to perform for the children.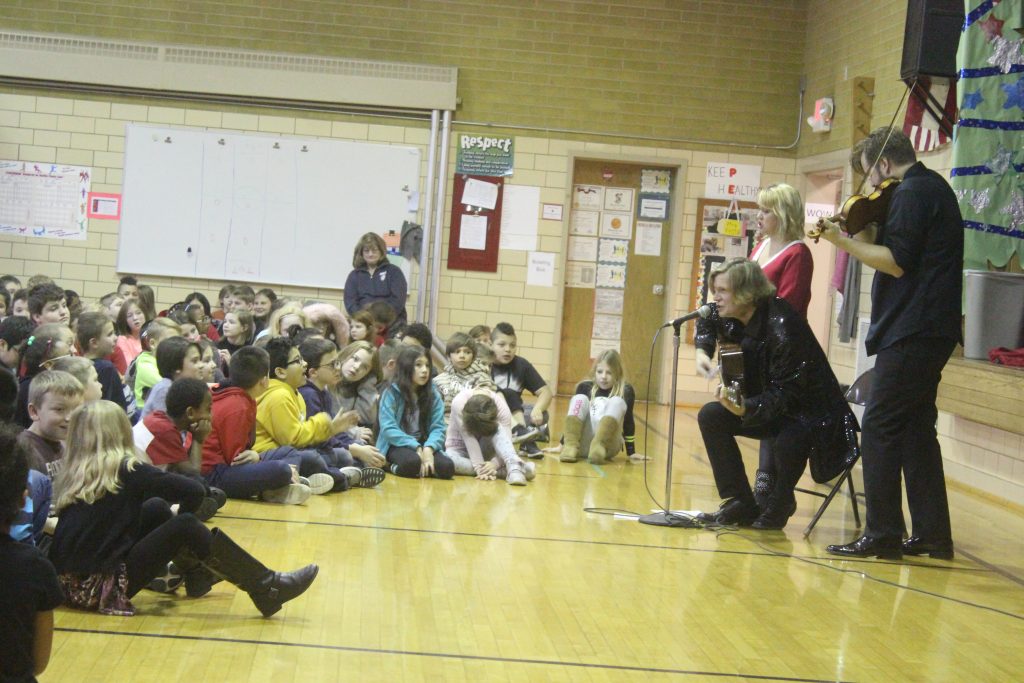 In introducing them, Stacey Higgins told the young audience that the brothers Wallace, Jr. and Jason along with Alex and Zachary, started performing when they were children living in Bowling Green, just like them.
The second grade teacher knows because she went to Ridge Elementary School with the DePues.
Zach DePue was back in town where he performed on the Bowling Green Philharmonia concert on campus. Alex DePue and Curzon joined him here to help set up the logistics for a DePue Brothers Holiday Spectacular on Dec. 21 in Kobacker Hall on the Bowling Green State University campus. The four brothers, Curzon, and their full band will play two shows. The originally scheduled 7:30 p.m. evening show has almost sold out so, a 2 p.m. matinee has been added. Click for tickets.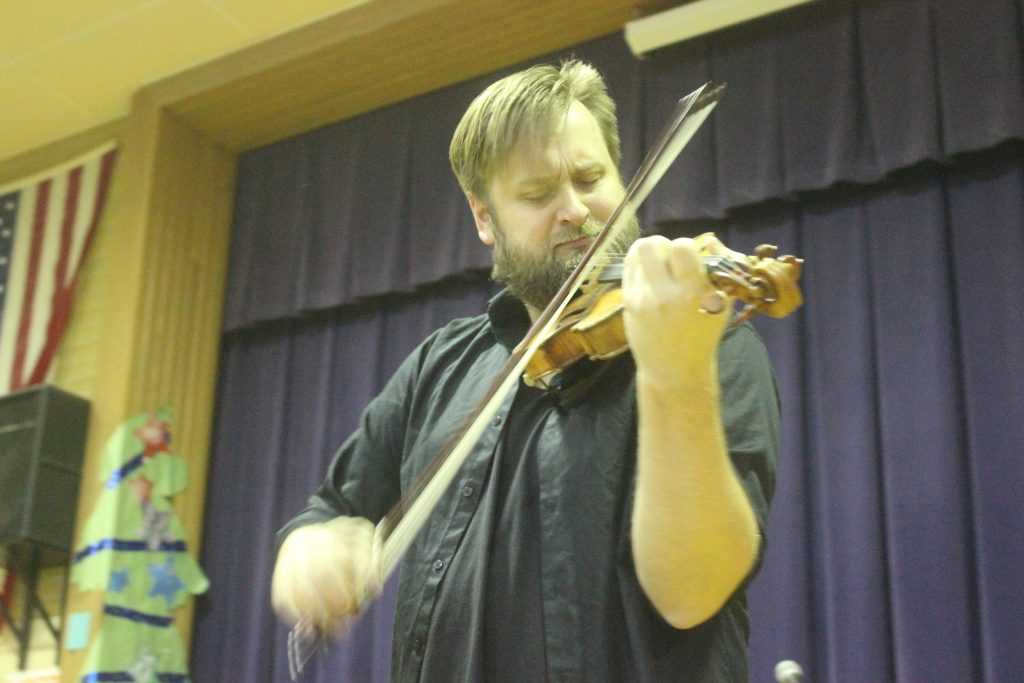 The demand should come as no surprise. Their previous holiday shows have drawn standing-room only crowds.
The DePue Brothers have been building their local following for decades. Under the direction of their father Wallace, Sr., then a music professor at BGSU, the brothers started playing for church and small community events.
During an appearance on WBGU-FM's "The Morning Show," Alex DePue said the response they got, prompted their father to book more and more gigs for them. In 1989 they were honored by President George H.W. Bush as "The Most Musical Family in America."
Though they all headed in different directions professionally, they still would get together by home, sometimes playing for a Christmas Eve service in their church, sometimes offering the community a holiday spectacular.
Wallace DePue, Jr., the eldest, has a doctorate in music and has played with the Philadelphia Pops and with the Star Wars National Tour Concert Orchestra.
After classical studies, Alex DePue headed into the world of country, fiddling, and rock. He's won medals for his fiddling, and toured with country star Chris Cagle and rock guitarist Steve Vai. He lives outside San Diego where he performs with master guitarist Miguel De Hoyos.
Jason DePue performs with the Philadelphia Orchestra.
Zach DePue until June was the concertmaster of the Indianapolis Orchestra, and was a founding member of Time for Three.
He is, he said, the youngest "with the scars to prove it."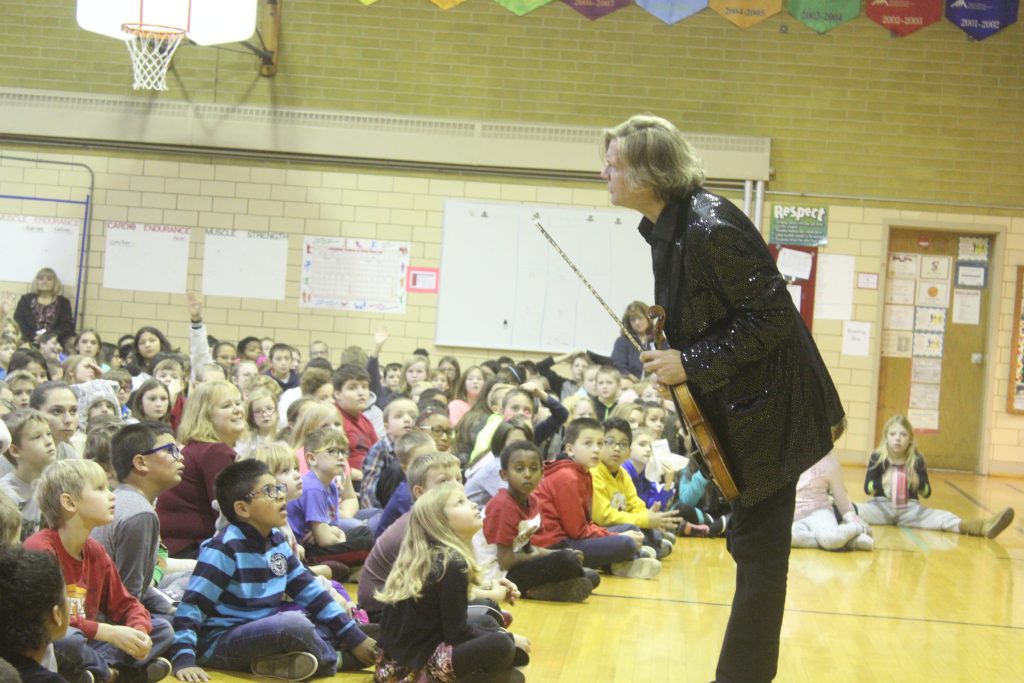 The DePue Brothers Band brings together their diverse talents with those of a collection of accomplished musicians from around the country. In Bowling Green, the band will include: drummer Don Liuzzi, the principal percussionist with the Philadelphia Orchestra; national flat-picking champion guitarist Mark Cosgrove: multi-faceted bassist Kevin MacConnell; and Mike Munford, named top banjo player by the International Bluegrass Music Association in 2013.
During a recent interview, Alex and Zachary DePue talked about a more active touring schedule for the band.
That's part of what Zachary DePue is hoping to explore following his resignation from orchestral work. He's also pursuing more possibilities as a soloist as well as opening up his calendar for more DePue Brothers shows.
The band's roots are on stages throughout Wood County. The ensemble was prescient in its mixing of bluegrass fiddling with classical music.
That band , though, was run by their father, Zachary DePue said. This band is wholly the brothers' project, though the father will come up to take a bow at the end of the concert. He even gets billing as "old-school composer and arranger."
This, Alex DePue said, is the concert their father can attend since his ability to travel is limited.
Wallace DePue, Jr. coined the term "Grassical" to describe their style. They perform a buoyant blend that ranges from old-time fiddling to classical violin, and is delivered with a healthy dose of family humor.
All that's on display in the show.
Curzon said she's gotten a warm welcome into the family and is happy to take part in the antics.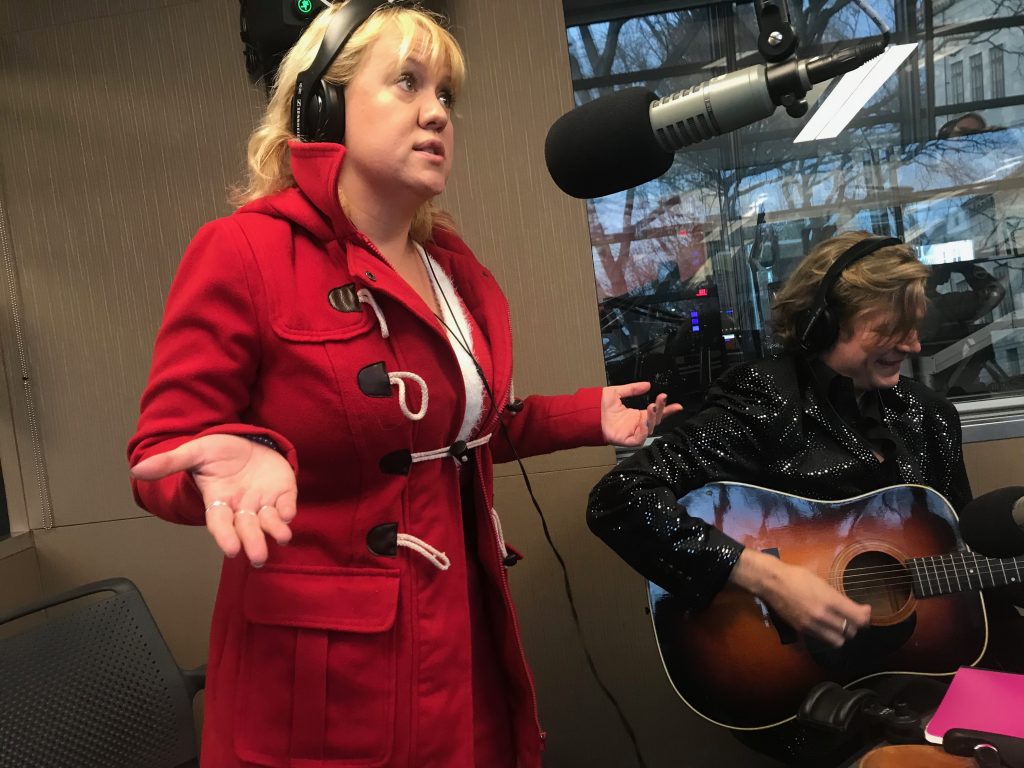 She met Alex DePue when she was a teenager and wanted to learn to play violin. They collaborated in the 10-plus years since.
Like the DePues, she got an early start in show business. As a child she was doing the voice for Ducky in the "Land Before Time" sequels. She can still pull the voice out at will. But she also has a strong Broadway soprano that can soar above the band.
At Crim, she put her child-like persona to work on "I Want a Hippopotamus for Christmas."
The kids ate it up.
The Crim crew didn't wait to be asked to participate. They started to clap along when a melody by Mozart took a bluegrass turn. Then when Zach DePue started playing "Rudolph the Red-Nosed Reindeer" as part of a demonstration of improvisation, the kids sang along.
"You guys are as good as we are," Alex DePue said.
Then they were asked to use their imaginations as Zach DePue played a piece by Bach.
"I felt like I was being chased or something," one boy said in response.
They wrapped up the show with "Jingle Bells." But before the familiar chorus, Curzon offered her own verse about Christmas in her native southern California home with its sunny beaches and no snow.
Then the sleigh ride began with the audience singing all the way. As one youngster responded after an earlier number: "Awesome."