By DAVID DUPONT
BG Independent News
There was more of the lightning bug than lightning about Firefly Nights Friday in downtown Bowling Green.
The second street fair in the monthly summer series was staged under the threat of rain – telephone weather reports had ominous lightning bolts for throughout the event. Yet the rain never amounted more than a heavy sprinkle, and people weren't scared way as they came to enjoy food, vendors, shopping,
music, games and visiting.
In deference to the predicted storms, the music was moved inside to Howard's Club H and Doc's. But when the storms failed to materialize Ryan Roth & The Sideshow did take the outside stage on the north end of the festival to close out the evening.
And vocalist Flannery Murnen and guitarist Mike Bryce, who opened the festival with a set indoors, decided to perform a second impromptu show later in the evening outside on the south stage.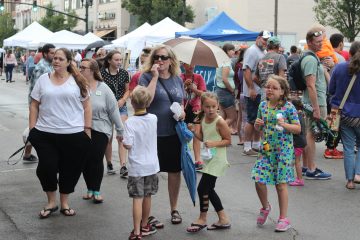 Though the weather wasn't as predicted, Firefly Nights came through as promised with more outdoor food options, both food trucks and eateries serving outdoors, more craft vendors, and more activities for the younger set.
The third and final Firefly Nights street fair of the season will be held Aug. 17.