By DAVID DUPONT
BG Independent News
Firefly Nights, a new series of street festivals in downtown Bowling Green, got off to a running start Friday night.
About 200 runners and walkers toed the starting line on North Church Street near the library and at the signal marked what organizers hope will be a summer of fun in the business district.
The 5K race and one mile walk started at 9 p.m. The participants in fluorescent shirts and glow bracelets.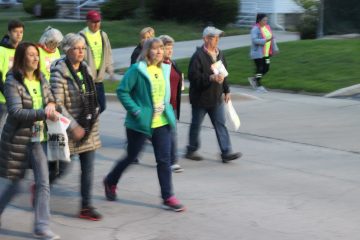 The evening start was meant to set it apart from all the other charity runs, said Stacie Banfield, one the organizers. "We wanted to make it a fun event for kids."
The after-dark start was also fitting given it promoted and raised funds for evening events
Banfield, owner of Mode Elle, was one of a quartet of women business proprietors – Kati Thompson, of Eden Fashion Boutique, Gayle Walterbach of Coyote Beads, and Laura Wicks, of Grounds for Thought – who organized Firefly Nights.
Thompson said to get 200 registrants for a first time race was a great response. "A hundred is considered a success."
Banfield said it was exciting to watch the registrations increased as race time approached, Banfield said. That included folks who signed up on Friday night.
She and Thompson are optimistic that this is a sign of the enthusiasm for the three scheduled street festivals.
The race will help fund three nights of downtown activities set for the third Friday of each month – June 15, July 20, and Aug. 17 – from 6 to 10 p.m.
Main Street will be blocked off from the intersection of Court Street to the intersection of Washington with music stages at each end. Four bands will play alternating sets each night. All the bands have been booked, Banfield said. The lineup of talent from Northwest Ohio will be announced on June 1.
Thompson said that 30 downtown businesses have signed up to participate and be sponsors. They will have sidewalk sales, a farmers market, and artisans will sell their wares. They are still talking with restaurants about how they will take part. Several will set tables out on the sidewalk.
Mary Hinkelman, director of Downtown Bowling Green, was on hand as a participant in the walk.
She's excited by the prospects for Firefly Nights and sees it as a part of a growing interest in downtown activities.
The farmers market, which opened for the season on Wednesday, drew a good crowd, and the One-Bite restaurant crawl held during Art Walk has drawn raves from the restaurants.
"I see lot of great things happening downtown," Hinkelman said. "Everybody's pulling together."