By DAVID DUPONT
BG Independent News
Flatlands Coffee made its presence known at the Specialty Coffee Association National Barista Championships this past weekend.
For the shop's owner Ben Vollmar and Rachel Diaz, operations manager of the shop, to make it to the championship event in Kansas City, Missouri, was success, Vollmar said. Now he's ready to build on that with an eye toward next year.
He felt to have two people from a part of the country where specialty coffee is still new, and make it to the championships to compete against "the best of the best" was an honor.
The learning curve is steep, he said. The rules are 22 pages long "and there's even more you learn" at the competition. To make it, they had to be in the top 16 of the 60-barista field in the qualifying round held in Nashville.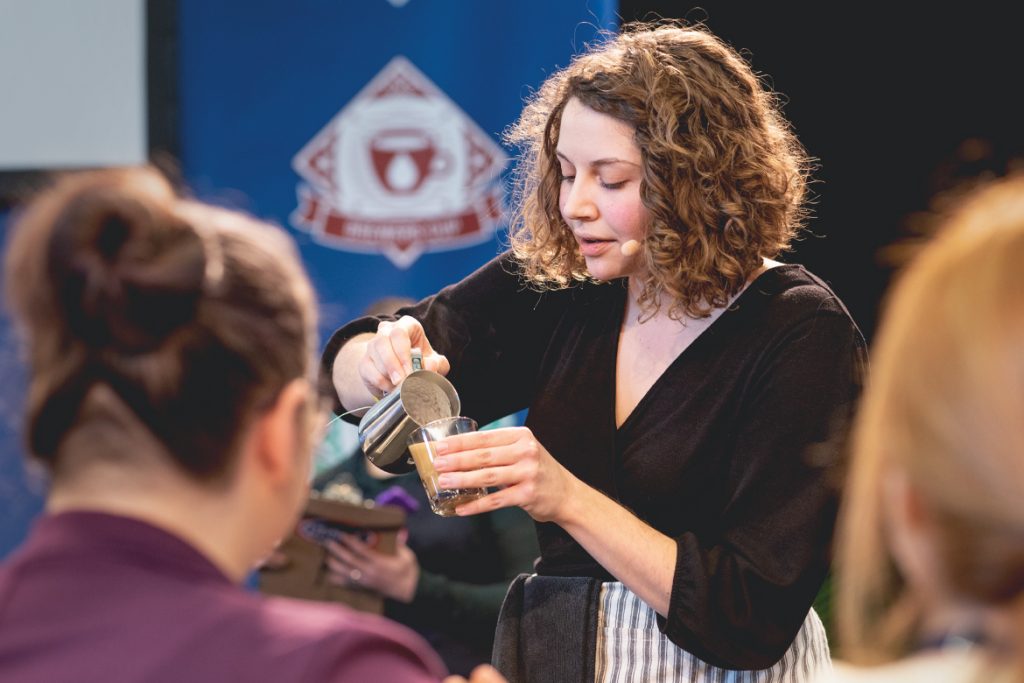 Each barista has 15 minutes to make four espressos, four milk espresso drinks, and four espresso specialty drinks of their own creation. And they have to talk throughout the process, demonstrating their knowledge of coffee and the brewing process. The winner will represent the specialty quality industry for the entire year, and compete internationally.
Vollmar placed in the middle of the pack, not making the cut to go on to the semifinals.
Part of the competition is being able to precisely tell the judging panel what they will taste in the specialty drink. Having made a last minute adjustment to the grind on his coffee, he was off.
He feels if he'd been more precise, he may have moved up enough to move on.
"You have to incredibly accurate in what you tell the panel that they're going to taste. They better taste it. That's where majority of points are," he said.
In his creation, he used tea, milk, lime and dry ice to quickly chill it. Diaz used nitrogen infusion and pear rooibos tea.
She hit a time crunch. She went 55 seconds over time and was docked a large number of points for it.
She said she realized when she had 10 seconds left that she had to either call time and not lose the points or just continue and make the best drink she could. "I just made the choice that I'm just going to do my best and give my full presentation."
Vollmar said he was on the sidelines watching her "going crazy" cheering her on.
Diaz had decided to compete after Vollmar's experience in the Eastern qualifying event in 2018. The team at Flatlands watched a live feed of him in his first competition on a live feed. "I have to do it next year," Diaz told herself. "I was completely intrigued by it."
Diaz said she enjoyed the sense of community. "To be able to see interact with people in the larger industry was very exciting."
Diaz has only been working as a barista for a couple years. She started when Vollmar hired her to work at Flatlands.
Last summer she graduated from Bowling Green State University with a degree in Philosophy, Politics, Economics and Law. She had to decide whether to get a job related to her field, or stay at Flatlands and pursue something she was passionate about.
"Once I made the decision to stay it was a matter of how I develop myself as a coffee professional, develop my skills, develop my technique," she said. "Competing was one of those things."
In preparing for competition "I'm doing research on coffee, on espresso extraction, the science behind that. I became better at developing my palate." Attending the competitions adds a further level to her education.
Whether she'll take another shot at competing next year is uncertain. It was emotionally trying, she said. Another Flatlands barista is interested in competing, so she may serve as a coach instead.
Vollmar said that the qualities that are important at the competition are the same qualities he stresses at Flatlands. "It's really in line with our core values."
First, he said, is quality. Then service. And cleanliness — competitors are downgraded if they drip any coffee or spill grounds on the counter.
"If we're in competition that is going to push us to understand the product we're serving," Vollmar said. "It's also helped us as a team to have a great positive place to work."
What happens on the stage, and behind the stage with the team members who accompanied Diaz and Vollmar helps build camaraderie.
Now he wants to share the fun. In what could be considered an "after party" to the competition, Flatlands will host a Latte Art Throw-down, on Friday, April 19 at 8 p.m. at the shop. The event is open to all baristas within the 419 area code.
The event will help further spread the word about the area's specialty coffee culture.