By DAVID DUPONT
BG Independent News
Panagiotis Andreoglou is a missionary proselytizing about the virtues of accordion.
The Greek musician has traveled to Bowling Green intent on introducing composers and music lovers here to his instrument, and to understanding through experience that it's more than a vehicle for polka, zydeco or tango.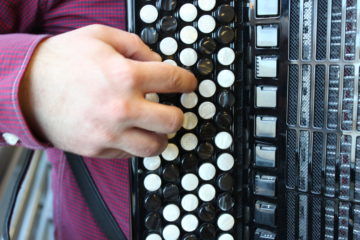 Not, that there's anything wrong with those venerable styles. They are part of his instrument's DNA. Still wielding a button accordion, a further development from the more familiar piano accordion, he's intent on showing that the instrument he begged to play when he was a child has a place in contemporary music.
Andreoglou will make his case Tuesday at 8 p.m. in a guest artist recital in Bryan Recital Hall in Bowling Green State University. His program showcases his instrument both as a haunting solo voice and in conjunction with pre-recorded electronics. He will also perform March 2 at 8 p.m. with the New Music Ensemble.
Andreoglou is in the early stages of a semester long residency at BGSU made possible by Fulbright Artist Scholarship.
He decided to take up residency after meeting BGSU composition professor Elainie Lillios at a music festival in Thessaloniki in his native Greece.  They were intrigued by each other's music.
BGSU's strong reputation as a center of contemporary music was an attraction. Andreoglou is particularly interested in electro-acoustic music, Lillios' specialty, where acoustic and electronic sounds merge. The accordionist believes the particular timbre of his instrument lends itself particularly well to the genre, and he wants to encourage composers to explore those possibilities.
"Composers are interested generally in new sounds since this is a new instrument with a lot of possibilities they can use."
Andreoglou has been exploring the sound of the accordion since he was 7. His father had a small piano accordion, and could play three songs, Andreoglou remembers.  "I was fascinated," he said. "I wanted to learn. I insisted."
So his parents sent him to the local music school. A few years later he began piano lessons as well and through his teenage years he played and studied both instruments. When he went to university he focused on piano. He majored in musicology with studies in ethnomusicology and continued his piano at the local music school.
It was only after he graduated that the accordion drew him back. By then he had acquired a button accordion.
The instrument was developed in the 1950s and allows the player far greater flexibility. The notes are sounded using small buttons. In the right hand each button sounds a single note. The left hand can either be played as a single-note instrument, or as with the piano accordion, play chords. The instrument has almost the full range of a piano, with just a few notes less on the upper register. The sound, he said, is close to that the bandoneon, the accordion-like instrument used in tango.
Though he had a button accordion, it sat neglected for several years as he concentrated on piano. Then Andreoglou heard its call and returned.
It was like learning almost a new instrument, he said. "You want to play but you can't play." The fundamentals from his study of piano and piano accordion helped, but still it was frustrating.
Still he was drawn to the accordion. "That first instrument always stays somehow in your mind and body. This is the instrument that suits me better," he said. "When I started practicing the new accordion, I felt a connection with my first instrument."
He devoted himself to practicing. After two and a half years applied to the Royal Conservatory in Copenhagen, which has been the first of a few schools to offer a degree in accordion. That's thanks to Mogens Ellegaardm the pioneer of using accordion in classical music.
The repertoire for classical accordion began to develop in Europe in the 1950s though until about 15 years ago few Greek composers were writing for the instrument. Andreoglou is dedicated to encouraging composers of all nationalities,including Americans, to consider the possibilities of the accordion.
Not that the accordion's ties to other folk and popular styles are lost. Andreoglou plays tangos in a quartet with violin, viola and cello, and he also collaborates with a jazz pianist.  The pieces on Tuesday's program include those influenced by rock and jazz.
The accordion's roots cannot be denied, he said.
"Some composers comply with this stereotype and take it into account and are inspired by it. Some other composers want to break all these traditions and find something new, find a sound that's not at all the traditional accordion," he said.
"You have these two different poles. Every composer is aware of the traditional sound of the accordion. It started as a folk instrument, and this character is part of its charm. They can use it or they can reject, but somehow it's always there."