By JAN LARSON McLAUGHLIN
BG Independent News

Mike Aspacher may be a townie, who has served on Bowling Green City Council for 10 years, and is running unopposed for mayor. But he still wants citizens to get to know him – and vice versa.
"I believe these type of meetings are really, really important," he said last week as he held a public gathering at the library downtown.
"This begins the opportunity for me to earn your trust," Aspacher said to those gathered.
But he's earned that already, said former police chief Brad Conner.
"Obviously these folks here trust him, or we wouldn't be here right now," Conner said.
Aspacher assured residents that his governing style would not change when elected mayor. And that means using one criteria when making decisions – "What is best for the residents of Bowling Green," he said.
Aspacher referred to himself as a "proud Democrat" and a "true townie."
"I've never lived anywhere else, and truthfully, I'm immensely proud of that."
Still working on getting comfortable speaking in front of a crowd, Aspacher apologized for using a "script." But no one seemed to mind
"I think it's important for you to understand who I am and where I come from," he said.
He spent 35 years working out of Local 50 plumbers and pipefitters union, before retiring last year. He has volunteered in the community with coaching ball teams, leading cub scouts, and serving on the park board, school board, and city council.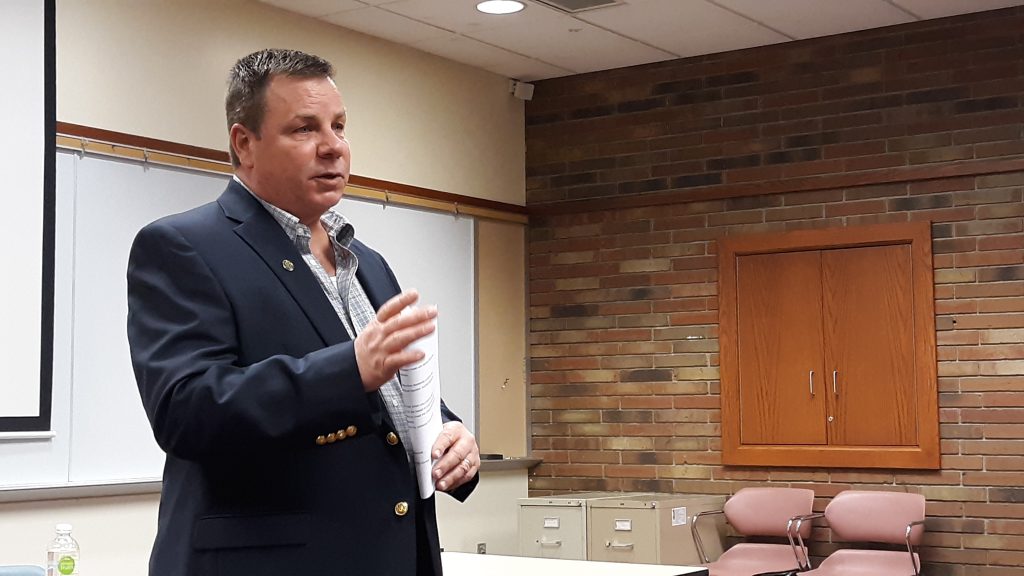 Aspacher listed what he believes are the tenets of a strong community:
Responsive and transparent local government. "We certainly try to be transparent in all our decision making," he said of council.
Sound financial management. "We are challenged and continue to be challenged," primarily by the state cuts to Local Government Funds. In spite of that, "the city is on sound financial footing," he said.
Well-trained public safety forces. Both the city's fire and police divisions are nationally accredited. "They are comprised of the best people we can find," and the city provides the best training and equipment possible.
Efficient public works. Citizens have expectations, and the city strives to meet those, he said. "People want their trash picked up, their streets plowed. They want their city to look nice."
Good public utilities. The city's electric, water and sewer rates are all competitive, and the services reliable. The water quality exceeds EPA standards. City leaders believe in investing in public utilities, and in getting power from renewable sources – like the city's wind turbines and the largest solar field in the state. "We're incredibly proud of that," he said.
Commitment to public education. "Historically, Bowling Green has supported their schools practically at every turn," he said. The city must continue supporting the mission of the district and the school board. "One is so dependent on the other," he said of the city and the school district. Without quality schools, the city can't attract new businesses and residents. "We fully understand the importance of the schools in our community."
Well-developed and maintained park system. The city's park system is the "envy of many communities," with a park within one mile of every home, Aspacher said. The focus now shifts to maintaining the parkland the city has acquired.
Thriving business community. Aspacher said he recently went on annual business visits with other city officials. "It was pretty uplifting," he said. "Our business community is really thriving."
Healthy downtown. "We should be very proud of our downtown," with its vibrant and varying businesses, he said. The city is committed to continuing support of the downtown merchants by updating infrastructure. "I'm always interested in hearing from local businesses on what they need from the city."
Economic development. Since 2008, the city has seen an addition of nearly 2,000 new jobs – many in the industrial sector. Aspacher said he wants to investigate how to diversify businesses in the city. The biggest challenge faced by employers currently is the lack of workers. "Manufacturing plants in Bowling Green are hiring everyday. They can't get enough people," he said. The city has adopted a Welcoming BG Initiative, in order to make immigrants feel welcome coming here for jobs.
Relationship with BGSU. "A strong partnership with BGSU is essential to the city," Aspacher said. The two are "co-dependent." Working together, the city and university hope to make improvements along East Wooster Street – the entry to the community and campus.
Community improvement opportunities. The city has multiple new land use and planning efforts intended to help revitalize neighborhoods and "provide a roadmap to community improvement in the future," he said.
A few people at the meeting had questions, like Hayley Fournier, head of the BGSU College Democrats, who asked how Aspacher would work with students.
"We need to find ways to engage with incoming students," Aspacher said. "First of all, make them feel welcome, and second of all, make them aware of all the qualities of the town."
BGSU students should know the downtown offers more than bars, he said.
"We need to do a better job," he said. "We need to make you feel at home and welcome, and make you feel you are a valued part of this community."
Sandy Wiechman asked for Aspacher's top three goals when he becomes mayor. He had trouble narrowing it down to three, and listed off continuing work with community partners on being an inclusive city, supporting the school district, diversifying economic development, and improving housing options.
"Housing is a really, really, really big issue," Aspacher said. While BG has created new jobs, many people who work in the city reside elsewhere.
"I think we need to understand why that's happening and how we reverse that trend," he said.
The city lacks affordable and senior housing.
Brad Conner expressed his concern about the number of city workers who don't live in the city. Though state law doesn't allow required residency, there can be incentives used to encourage city employees to live in Bowling Green, he said.
Les Barber noted the loss of family homes on the East Side of the city as more are turned into student rentals. "I would love to see that trend reversed," Aspacher agreed. He mentioned the city's recent effort to restart the historic preservation commission, which should help revitalize older neighborhoods.
Bill Clifford urged Aspacher to work on the city's progressive image. Aspacher agreed there is a problem of "paralysis by analysis."
"I'm ready to go, and I think a lot of the people in the community are as well," Aspacher said.
On the recent racist attack at the Waffle House in Bowling Green, Aspacher called the incident "reprehensible."
"These type of behaviors will not be tolerated in Bowling Green," he said, adding that he will continue working with groups like Not In Our Town, La Conexion and the Human Relations Commission to prevent such acts.