By DAVID DUPONT
BG Independent News
The new shorter semester threw off the timing of the Wayland Chamber Competition at Bowling Green State University.
The timing of the performers though was unaffected.
The competition founded in 2007 was moved into the earlier part of March, two to three weeks earlier than usual, to accommodate the new 15-week semester. And the semester also had a later start because of Winter Session.
That, said Brittany Lasch, one of the faculty members coordinating the event, put a strain on students. It would be extremely difficult to form and prepare an ensemble in those few weeks. Also the event conflicted with some off-campus activities that some students were involved in.
Still the finals of the competition held Sunday (March 3) featured the usual mix of intriguing music crisply performed.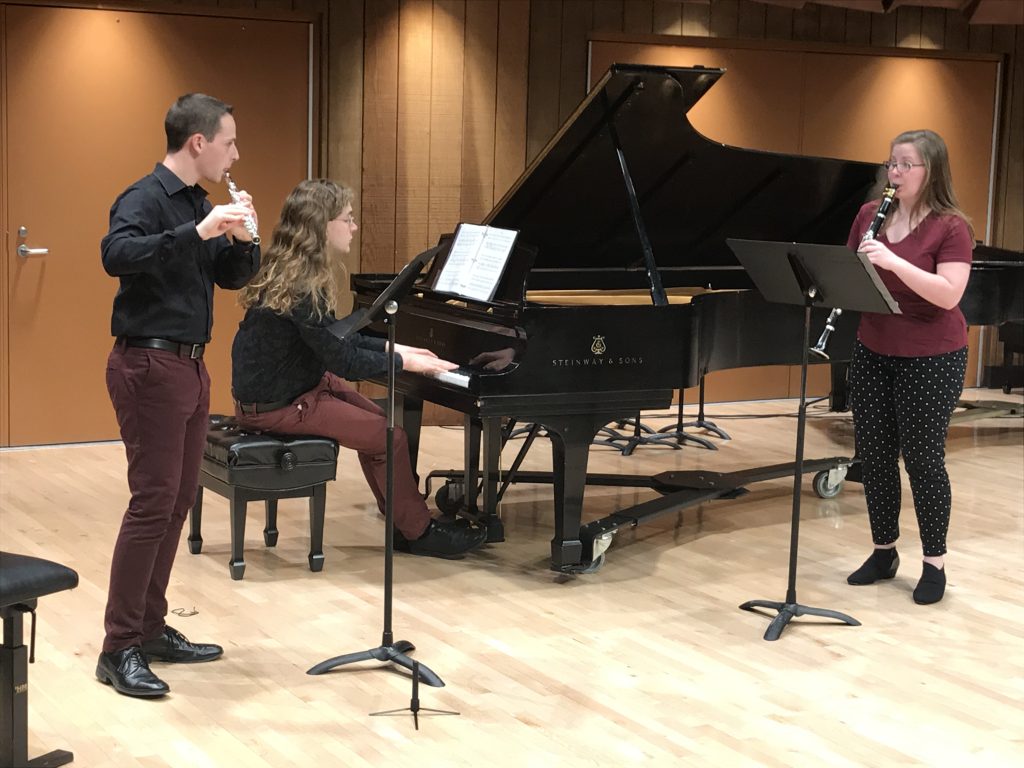 The winner in the undergraduate division was the Borderlines Trio — Taylor Francis, flute, Gretchen Hill, clarinet, and Steve Naylor, piano. They performed the aptly titled "Relentless" movement from Pierre Jalbert's "Triple Set." The piece featured darting, interlocking lines with the shards of musical ideas ricochetting from one instrument to another. Then the trio performed "Portraits of Langston" by Valerie Coleman (who has performed on campus as part of Imani Winds). Dedicated to writer Langston Hughes, the two movements were imbued with the spontaneity of jazz.
The first place award for the graduate division went to Landlocked Percussion, a repeat winner.
With shifting personnel the ensemble won first place in 2018 and second place in 2017. Nick Fox is the only constant member over the three years. Other members this year were: Henrique Batista (returning from 2017) and Jerry Emmons ( returning from 2018) with pianist Ariel Magno de Costa. Their two pieces Michael Oesterle's "Carrousel" and Michael Laurello's "Spine" called for delicacy, including passages played with knitting needles, as well as intricate high volume cadences precisely executed.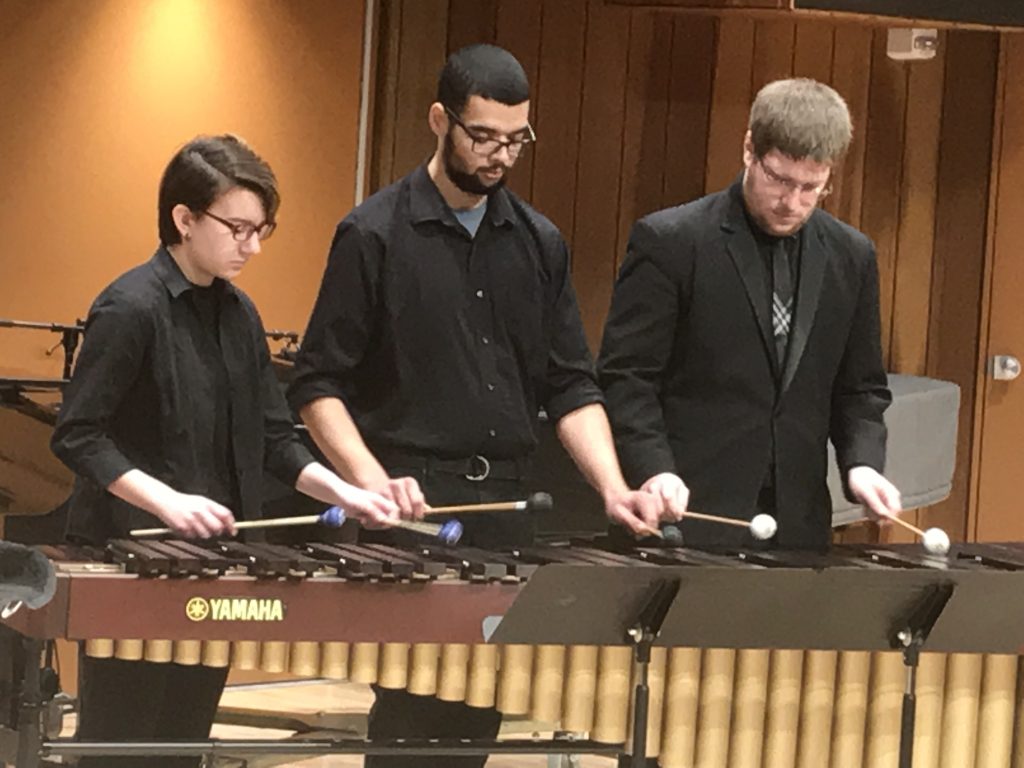 Another percussion ensemble, Third Nature — Frances Zengel, Trey Washington, and David Hirschfeld — won second place in the undergraduate division.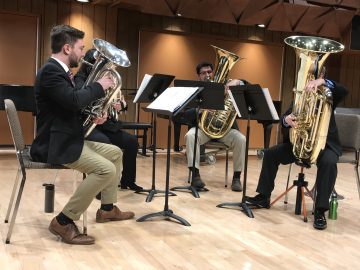 Winning second place in the graduate division was Tuphonium — Graeme Materne and Elena Markley, euphonium, and Josh Maberry and Tyler Schreiber, tuba.
The third undergraduate finalist was the Fifth Circle Reed Quintet — Ava Wirth, oboe, Kendra Sachs, clarinet, Andrew Hosler, saxophone, Jennifer Buck, bass clarinet, and Nicole Grimone, bassoon.
The semifinals were held Saturday.
The first place ensembles received $200 for each member with the second place ensembles winning $100.
The winning ensembles will perform several times in April. Performances will be: a radio broadcast at WGTE, Friday, April 6 at 10 a.m.; at the Toledo Museum of Art, Sunday, April 14, at 3 p.m.; and at the Manor House in Wildwood Preserve Metropark, Toledo, Tuesday, April 9, at 7 p.m.
Lasch said that the College of Musical Arts is considering holding the competition later in the semester next year, and having the semifinals and finals all on one day as is done for the Conrad Art Song Competition, which will be held next Saturday, March 9.