By JAN LARSON McLAUGHLIN
BG Independent News
The tree that provided shade for soccer teams and challenges for sledders is now providing a place for people to sit and rest.
Nearly a year ago, the towering elm tree at the base of the Conneaut sledding hill was removed after it was deemed a hazard.
The timber from that tree has been turned into benches by the city public works staff.
"There's a lot of history here," Mayor Dick Edwards said, as he looked at the new bench in the city administration building.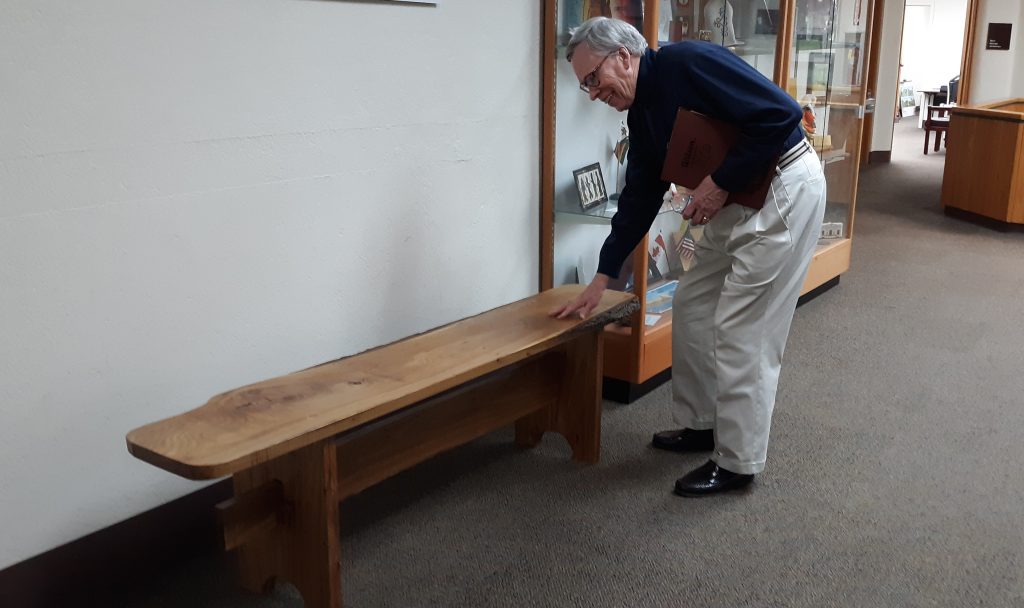 The city of Bowling Green tried to stretch out the life of the shapely elm tree at the sledding hill. Years ago, some limbs were braced together in order to shore up the aging tree, but that was only a short-term fix. Cables were installed to hold up the limbs, Public Works Director Brian Craft said.
But in February of last year, the city could no longer prop up the elm – and its fate was sealed.
"A very large crack has developed in the tree," Municipal Administrator Lori Tretter announced last year. "This large part of the tree is separating from the rest of the tree."
The giant tree was examined by Bowling Green's city arborist and by an Ohio Department of Natural Resources arborist. The two came to the same conclusion.
"We couldn't have children on that hill with that tree there," Tretter said.
The tree was hurriedly disposed of because of three factors – there was snow on the ground, many children wanted to go sledding, and few hills exist in the city.
"We didn't take this decision lightly," Assistant Municipal Administrator Joe Fawcett said last year. "Nobody wanted to remove an iconic part of Bowling Green."
But the risk from the rotting tree was too great, he said.
"We don't want to put people using city parks at risk," Fawcett said.
The wood from the iconic elm was saved, and public works employee Rick Beaverson turned the wood into planks. Those planks were then made into benches by fellow public works employees Andy Sergent and Dan Zeigler.
One bench will sit in the downtown city building, next to the Tree City display, and another will go to the parks and recreation office, Craft said.
A third bench from the elm will be raffled off at the annual Tree City event, Craft said.