By DAVID DUPONT
BG Independent News
Speaking at Commencement ceremonies Saturday morning at Bowling Green State University, ESPN personality Jay Crawford remembered his first college class.
It was a speech course that met in South Hall in 1983, and as an exercise the professor asked them to tell the class what they hoped to achieve. The freshman from Sandusky said: "I'm here to be a television sports anchor."
"I had no idea how crazy that sounded, and I'm glad I didn't," he told the graduates from the College of Arts and Science. "I heard the chuckles in the back of the room, but I didn't listen to them."
He cautioned the graduates that for every friend and family member who supports them there will be "many more who will stand between you and what you dream of and what you want the most. Hear those voices but let them fuel you."
So the kid from Sandusky persisted. Armed with a degree in radio, television and film, he went into broadcast. Now the 1987 graduate is at the top of his field as co-host for the midday edition of ESPN's flagship program "Sports Center."
Crawford has "wildly exceeded the dreams" he had that first day in class at BGSU, he said.
Honorary doctoral degree recipient Maribeth Rahe, president and chief executive officer of Fort Washington Investment Advisors, took a less direct route to success. "Career paths are not linear," she told the graduates.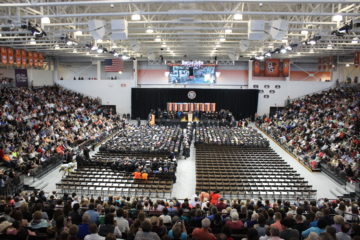 Her mother urged her to go to college to pursue the opportunities denied women of older generations. She graduated in 1970 with a BA in Spanish with a minor in business. She only came to BGSU after first attending Miami University. Rahe's career sights were not as precisely set as Crawford's. She wanted to learn Spanish, study abroad and be active on campus.
At Miami, she found her choices to study abroad limited. Her sister's BGSU roommate, though, told her she could study abroad for a full year in Madrid. She transferred and at BGSU got the grounding she needed to pursue a career in finance.
"If you like what you do, it does show up in your work and life," Rahe said. "and if you don't, seek out another opportunity. … Do not settle for something expedient or what someone else thinks you should do. Trust your own instincts."
Crawford recalled his own graduation 29 years ago. It was the year children television legend Fred Rogers spoke.
When the beloved Mister Rogers came to the podium, a student called out a request for the show's theme song. So Mister Rogers led 2,200 graduates in singing about his neighborhood. "The symbolism of that moment was gripping," Crawford remembered.
Rogers' speech continues to resonate with Crawford. "The message was to come together all of us as neighbors as friends, as co-workers to interact to enjoy each other company," he said.
Put away your phones when you're with family and friends, Crawford said. "Share stories. Share laughs. … Don't lose that part of who we are, we're all neighbors."
Mister Rogers' message "works as a mission statement for life: Treat yourself and treat others with respect. Don't ever forget that."