By DAVID DUPONT
BG Independent News
Bowling Green celebrated the lighting of a new Christmas tree Friday night and got help from some friends from afar to do it.
Gone is the 50-foot Colorado blue spruce, and in its place is a less towering 12-foot specimen.
Still Wood County Library Director Michael Penrod, who had to make the recommendation to cut down the old tree, said he was pleased with the new tree. "Our new baby is alive and well and is awesome," he said. "It's exciting to be here on the beginning of a new tradition."
He hopes the tree will last 30 years like the previous tree. This is the third community tree on the library lawn, though the first one only lasted a year.
For such a momentous change, it's taken a long time for some people to notice. A patron came in a couple weeks ago, Penrod said, and asked what happened to the tree. "Wasn't it bigger?"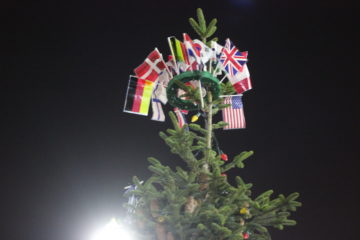 In honor of International Week on the Bowling Green State University campus, foreign students were invited to participate in the tradition.
Foreign students on campus made decorations representing their countries, and the tree was topped with flags representing some of the 80 countries from which students come to BGSU.
Edwards invited three BGSU students to join him in flipping the switch to light the tree. Hannah Lechner, from Austria, Crystal Lau, Hong Kong, and Caroline Flaesgarten, an American student who studied in Strasbourg, France, last year.
"It made me feel like a little girl," Lau said, after the tree was lit.
Flaesgarten agreed, especially having the chance to drive to the event in the fire engine with the mayor.
"I'm so thankful for this opportunity because all the people who are here," Lechner said.
This made the students feel more connected to the community.
Erin Klessner came with her children as they have for the last five or so years. "It's just a fun family event to kick off the holidays."
She said it was "a bummer" that the old tree was gone. But she's looking forward to seeing this tree grow over the years.
"It's exciting to be here on the beginning of a new tradition," Penrod said.