By JAN LARSON McLAUGHLIN
BG Independent News

A group of citizens wants U.S. Rep. Bob Latta, R-Bowling Green, to take a stand against family separations at the U.S.-Mexico border.
Latta has stated that the separation of families coming into the U.S. is "not necessary." But that falls far short of calling out the practice as "a crime against humanity," said Beatriz Maya, director of La Conexion of Wood County.
"There was an intentionality in separating children from parents as a way to stop immigration," Maya said during a meeting Thursday between La Conexion members and David Wirt, district director for Latta.
"There was never an intention of returning these kids to their parents," Maya said, noting the federal government's admission that an insufficient record system now means that many children are still separated from their parents.
Maya and others presented Wirt with a letter for Latta, asking that he support the termination of the family separations, the immediate reunification of children and parents, and allocations for more agents to process asylum claims.
Wirt pointed out that Latta has stated that the separations are not necessary.
That isn't enough, Maya said.
"The point is, what are we going to do about it," she asked.
The members of La Conexion asked for a face-to-face meeting with Latta about their concerns. Wirt said he would pass on that request to Latta's office in Washington, D.C., where all the scheduling is handled.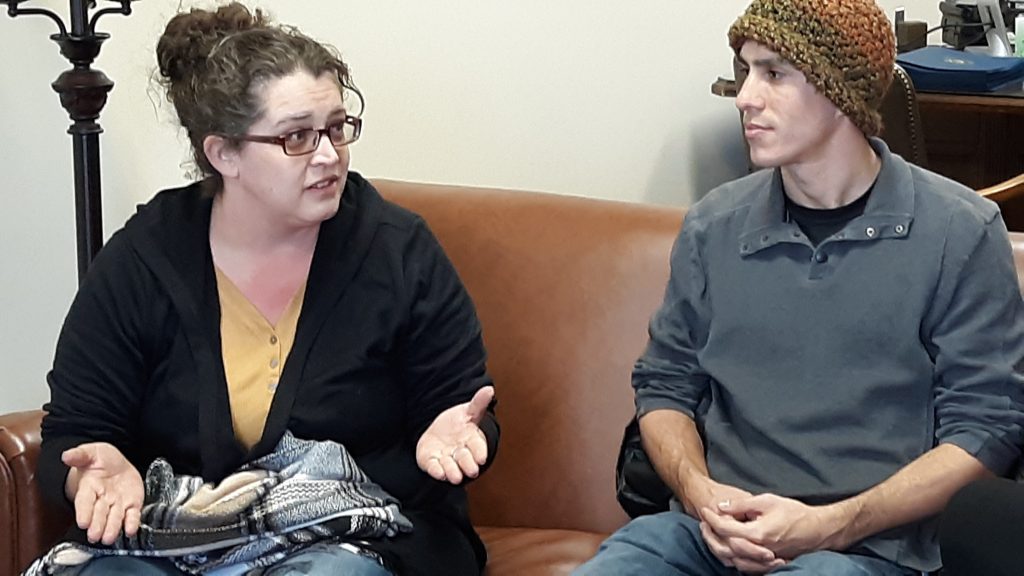 Most of the families separated at the border were not sneaking into the country, but openly seeking asylum – which is their right under international law, said La Conexion member Amanda Schackow. However, they were torn apart prior to any hearings held.
"It's pretty clear this was meant as a deterrent," despite the U.S. experiencing a 20-year low in the number of asylum seekers, she said.
Without their parents, many of the children had to represent themselves at asylum hearings – which determined if they would be deported, adopted or put in foster care. Many of the children were classified as "unaccompanied minors," which was only because the U.S. government had separated them.
"Those parents have a right to know where their kids are," Schackow said. "That is morally wrong."
"We have basically stolen children," she said.
Nicholas Eckhart said the separation policy is beneath the U.S.
"It's a crime against humanity," he said. "I don't think any First World country should do that. It's inhumane."
Ruth Martinez shared her perspective as a mother.
"I have two small kids, and just the thought of not knowing where they are – that for me would be torture," Martinez said.
La Conexion member Linda Lander suggested that Latta visit one of the detention centers where children are being held.
Peg Baker suggested that he put himself in the position of those families searching for a better life for their children. "I wonder if he would have wanted his two daughters to be separated from him," she asked.
The practice has been called "a crime against humanity" by the United Nations.
Lander also questioned the expense being incurred by the policy. She cited statistics showing the costs to house children in the detention centers is estimated at more than $700 a day. There are reportedly 42,000 undocumented immigrants currently being housed in detention centers.
"That is not fiscally responsible," Lander said.
The Republican party has always espoused to be the party of family values and fiscal responsibility, she said.
"There's not an ounce of family values or an ounce of fiscal conservatism in these policies," Lander said.
She asked Wirt to pass on the adage to Latta that, "silence in the face of injustice is immoral."
Beyond the humanitarian crisis, the immigration policy is also hurting the nation's employers, Maya said. There are an estimated 11 million undocumented workers in the U.S.
"The U.S. needs people from other countries working here," she said. "They are filling jobs nobody else wants to do in this country. That's called exploitation of human beings. Let's treat them like human beings. Let's give them the right to work legally."
The nation needs a comprehensive immigration policy, the members of La Conexion said.
Wirt said that Latta has voiced that same opinion.
"Congressman Latta fully supports legal immigration," Wirt said. "It's a tough problem," with a lot of disagreement over the solution.
But he added that as a nation of laws, change takes time. "It's a slow process, but a process that works over time."
However, Maya pointed out that time is continuing to pass, but the same cannot be said of immigration bills.
"We haven't had immigration reform since Reagan," she said. "The actions of Congress have been shameful."
"Nobody has the political will to do it," Maya said.
Under current immigration laws, there is no legal process available for most workers to get in to the U.S. Those workers are now labeled by some as "undocumentable," because they have no way of achieving work status, she said. Some Americans still insist that all immigrants need to do is get legal documentation.
"Well, give them the process to do that," Maya said.
Peg Baker, of Bowling Green, went a step further and asked Wirt to give Latta this message: "Rep. Latta needs to tell the president to not give false information." She referred to his repeated claims that illegal immigrants are a major source of violent crimes in the U.S., when statistics show otherwise.
"The president does not tell the truth," Baker said. "I would like Rep. Latta to get the Republican party to make sure the president spouts the truth."
Wirt listened and wrote notes as the citizens expressed their feelings, and assured them he would get their letter to Latta. He also pointed out the "different perspectives" that some have on the immigration issue, and referred the La Conexion members to the federal HHS website for other information about undocumented minors.