By DAVID DUPONT
BG Independent News
All it took was an unassuming alley in downtown Bowling Green to spark the imaginations of architecture students at Bowling Green State University.
The class in urban architecture taught by Sara Khorshidifard studied the alley, called Dog Leg Alley, just south of Finders Records on the east side of North Main Street. The goal was to improve the use and look of the alley.
What they came up with impressed people from the city who viewed their designs during a recent display on campus.
"Who would have thought you could have this many concepts for one alley," said Tony Vetter, the executive director of Downtown Bowling Green.
Khorshidifard said she worked with Vetter's predecessor, Mary Hinkelman, to come up with the idea for the project.
Hinkelman, Khorshidifard said, was interested in developing the alley, especially for use during the Black Swamp Arts Festival.
The designs ranged from the elaborate, including lights, trellises, and even projectors, to simple seating, and maybe a mural.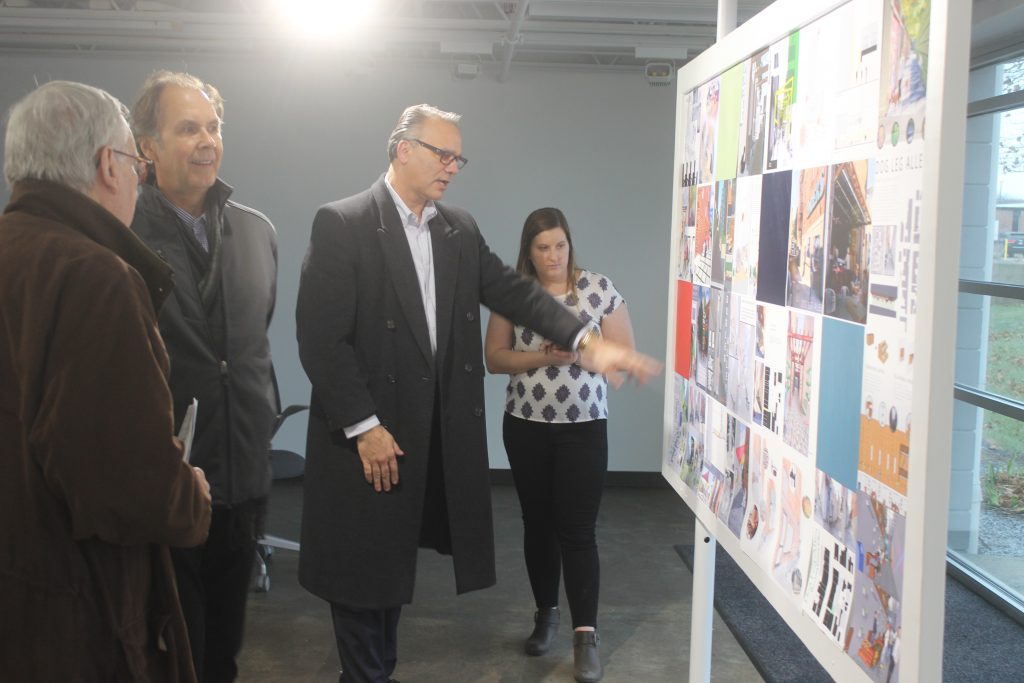 Lauren Schmenk, one of the students whose designed drew praise, said her goal as to make small changes to create a more appealing space. That included lighting, some greenery, and murals.
"You don't have to make big changes to have an impact," she said.
Greg Halamay, who owns Finders and chairs the Downtown BG board of directors, appreciated that approach.
While the more dramatic ideas were "terrific," he was looking for more modest suggestions that could actually be realized without a major expense.
Mayor Dick Edwards also appreciated the students work and the possibility of a project that "opens up that alley that's rarely used, that brings it to life."
This was a two-three week long project for the students, Khorshidifard said.
The students are all seniors, and this is the first class where they deal with the concept of urbanism.
They studied issues such as the interaction of urban and rural areas and the idea of utopia. They looked at cities from different cultures.
The main project looked at concepts for The Junction neighborhood in Toledo — that's the neighborhood west of downtown and southwest of the Toledo Museum of Art. It has greater problems than downtown Bowling Green. The neighborhood suffers from deteriorating housing stock and lack of places to buy food.
The Dog Leg Alley project, Khorshidifard said, was a good transition. It offered a smaller scale project meant to find ways to attract people to the area.
She urged students to come up with 10 reasons people might visit the alley. Maybe it's just to sit and read or to stroll or to look at art displayed there.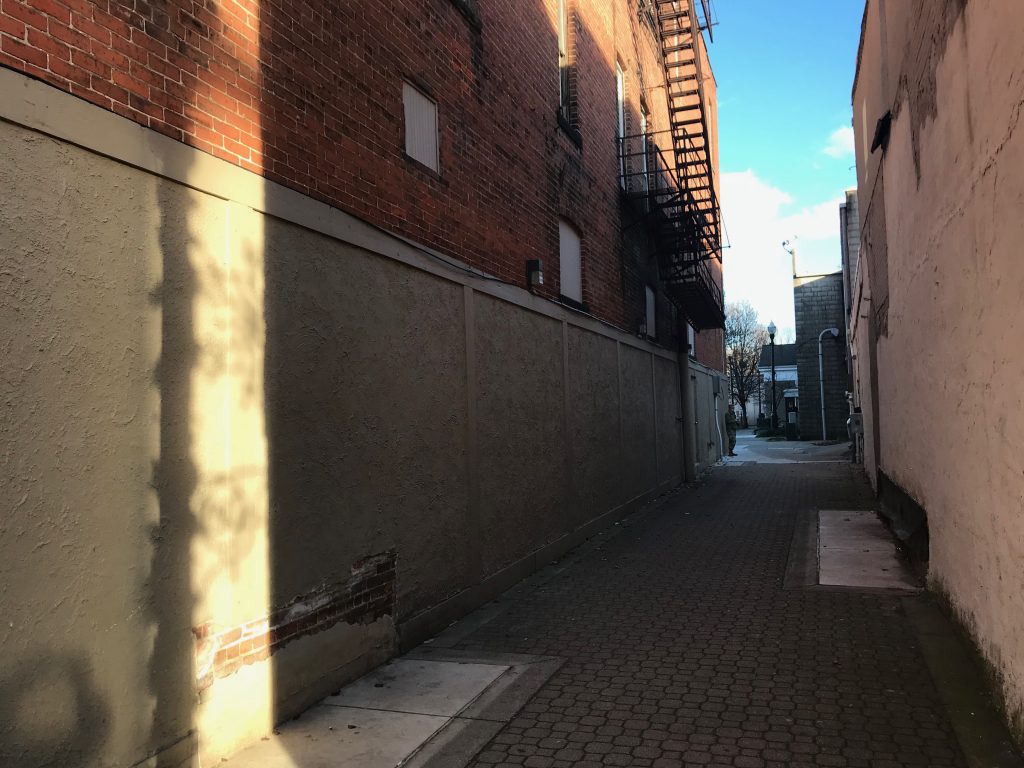 "Overall make it safe and walkable," she told them.
Nick Gatsos said that he was "generally familiar with the area." He was struck by "how secluded it was. It isn't easily accessible."
That lends itself to designs that make it stick out from the surroundings, he said.
Eric Phlipot said he enjoyed looking at the space and imaging what could be done, not just in the alley but with the neighboring buildings.
When he noticed the large garage door down toward the end near the parking lot, he saw potential. This could be "a walk-in bar like BG Beer Works," he said.
"I like this project. It felt very real to us," said Ashley Franklin. "It is something that could potentially happen."
The project also connects to students lives. They frequent that area both day and night.
And it involved a dose of realism — they had to work with local business owners as well as city officials with an eye toward the various regulations that needed to be followed, Franklin said.
"You could have life in there," Khorshidifard said, "but as of now it's just an alleyway."