By DAVID DUPONT
BG Independent News
The glass on display at River House Arts gives a clear view of the mission of the newly launched Contemporary Art Toledo.
The art on exhibit in HUSH.ex challenges what viewers may expect from an art medium so closely tied to Toledo. The works are more than beautiful objects, but provocations.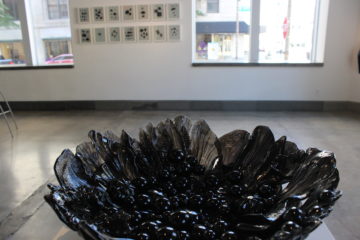 Jessica Jane Julius intentionally "mars" some of her work, questioning the ideal of perfection. She also created long shimmering panels. Are these glass? Yes, glass-infused paint, normally used to paint stripes on runways.
Amber Cowan's milk glass pieces at first glance seem like they were retrieved from an old aunt's estate. But they subvert that thought, teasing out the line between art and kitsch.
And the work by Megan Biddle and Sharyn O'Mara tests the boundaries between drawing and glass.
The work, which is on view through Nov.4, in the show "pushes the medium and pushes the history of glass," said Brian Carpenter, one of the two founders of Contemporary Art Toledo.
The show is the second sponsored by the nascent arts organization.
The organization's roots go back to when Carpenter and Paula Baldoni, the owner of River House Arts, were introduced about two years ago.
They found they had similar thoughts about the regional arts scene. "We immediately started talking about artists," Carpenter said.
Both were interested in exposing local viewers to a different kind of work.
Carpenter teaches and is gallery curator at the University of Toledo.
Baldoni and her husband, William Jordan, founded River House Arts 12 years ago in Perrysburg. Early this year they brought their operation, which includes art leasing and sales, to the Secor building at 425 Jefferson St., in downtown Toledo.
"For River House Arts, it came out of this acknowledgement that we were showing more statement shows, more works that were not commercially driven, conceptual work," Baldoni said.
Baldoni, who has presented shows at Owens Community College, worked with Carpenter on Where Light Goes, which looked at new directions in photography. They also collaborated on a show at UT.
Carpenter said they started to think about what this would look like as an institution.
They studied models in others cities, Cincinnati, Detroit, Indianapolis and others. "I spent this summer doing our due diligence on how do those institutions operate," Baldoni said. "What benefit do they provide the community? Does their community really want it?"
They came back and with some fiscal sponsorship launched the effort with the exhibit Beautiful Pig. The show focused on a Detroit police officer Marty Gaynor and his use of photography on the job, and his relationship with a young photographer Ben Schonberger who was fascinated by his work.
In a time of Black Lives Matter, the subject was provocative. "Ben's show spoke to things that are very difficult to speak about," Carpenter said. "But people spoke and had conversations and did talk.
"We're not going too shy away from the difficult issues," he said. "The conversations that come out from that are important to the community."
Baldoni said Contemporary Art Toledo has a three-pronged mission.
The first is to support the growth of regional artists and give them place to work and a venue to show their work, Baldoni said.
"We have a lot of talented artists in Toledo and the region, and a lot of them don't have the opportunity to develop bodies of work," Carpenter said. He hopes that by giving them a chance to show their work, it will "put them on the trajectory of emerging artists."
"We have a lot great glass artists who don't have an institution to support them and show their work," Baldoni said.
The second goal is to attract national exhibits that may not have a venue. Beautiful Pig was an example, and this is the second iteration of HUSH.ex, which was first shown at the Philadelphia Art Alliance.
Carpenter said that the organization also wants to bring artists in residence to Toledo. Carpenter said artists are excited to come to Toledo.  They offer the insights of an outsider.
Baldoni and Carpenter see themselves working within the existing cultural framework of the region.
The universities, UT and Bowling Green State University, develop the core skills. The Arts Commission of Greater Toledo "does a phenomenal job networking and creating those connective tissues," Carpenter said. "And the Toledo Museum of Art does one of the most brilliant jobs with visual literacy and getting people to think about what they see and articulate what they see."
Contemporary Art Toledo will find its space within in this environment.
"We've always wanted a slow growth model," Carpenter said. "We really want the community's involvement on this.  We want to make sure we do everything right before we expand."
For now River House Arts can serve as a launching pad, though a space of its own is part of the Contemporary Art Toledo plan.
For Badoni "it is a natural development to what we were doing. That really is where our hearts lie, in presenting work that otherwise wouldn't be seen. … If we're going to have working artists here they need to be supported locally."