By DAVID DUPONT
BG Independent News
The sun shined down on Bowling Green State University graduates Saturday morning. For the first time since 2013, summer commencement ceremonies were held outdoors on university lawn.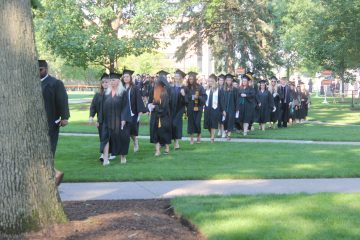 Since that time construction projects in the area had forced summer commencement into the Stroh Center. Now with the work on University and Moseley halls and the Kuhlin Center completed, graduation was moved back outdoors.
"It's beautiful," said graduate Abby Paskvan, of Bowling Green. "I've taken so many pictures."
Others approved as well, though Diamond Hurt was concerned about temperatures expected to rise to 90. Dressed in her cap and gown she was already feeling the heat.
In his remarks, graduation speaker State Sen. Randy Gardner (R-Bowing Green) praised university officials for "preserving these traditional buildings."
"They have not only protected our heritage and our history but inside they have modernized learning centers for our students."
BGSU President Rodney Rogers said the unprecedented renovation and building boom that the graduates had experienced during their time on campus was not over.
Nearby the new College of Business is just starting to take shape with the expansion and renovation of Hanna Hall, and after that will come the renovation of the College of Technology.
The graduation class had 942 degree recipients, including 364 receiving graduate degrees.
During their time on campus, Rogers said, more than 1.5 million volumes, paper and digital, have been borrowed from Jerome Library. In that time, students have eaten as well 1.6 million meals at the Oaks Dining Center alone. Students have spent 2 million hours at the Rec Center.
By making the commitment and graduating, they are adding value to the university, he said.
"Make sure you have fun," Rogers urged them. "And never stop learning."
The Economist magazine said that BGSU was the top college in the state for return on education, the equivalent of return on investment for a business, a fact noted by both Gardner and Rogers.
"Not only will your BGSU degree be of value to you, but this university is becoming more than a value to others," Gardner said.
The majority leader in the state senate praised BGSU's efforts to reach beyond campus to help the community. That includes its partnership with the county Committee on Aging to build a new senior citizens center in Bowling Green as well as a program at the Firelands campus to help train nurses to treat babies born addicted to drugs and to fight infant mortality.
Gardner urged the graduates to do more than excel at their chosen careers.
He cited a graduation speech given in 1990 at Wellesley College by then First Lady Barbara Bush. "You are a human being first and those human connections with spouses, with children, with friends are the most important investment you will ever make," she said.
Gardner concluded by saying: "I believe if you carry the spirit of Barbara Bush's words with you, you will have real meaning in you life, and you will be of real value to others. Most of you are human beings with boundless potential to be of value to others."