By BG INDEPENDENT NEWS
(This is  the last of our blog posts about the Black Swamp Arts Festival. See you next year.)
Every year I get that wistful feeling when Main Street in downtown Bowling Green reverts to its workaday self after the two and a half days of the Black Swamp Arts Festival. It's like seeing the first discarded Christmas tree on the curb.
The festival came off well. All those weather worries proved for naught. Saturday had intermittent showers, and late in the afternoon there were sudden hard gusts of wind, that had artists and helpers scurrying to better secure their booths. But that passed. If they gave a best of show honors for weather, Sunday would certainly be a top contender.
One thing artists have consistently noted is that when it rains at the Black Swamp Arts Festival, the crowds seek cover in shops and booths and then return as soon as the rain stops. They don't just go away. The result was Saturday wasn't a bad day for art sales, and Sunday was far better.
Ceramicist Jan Bostwick said she and her partner were "clicking our heels" over the amount of pottery she moved, and fabric artist Becca Levenson gleefully compressed her remaining stock into less than two feet of rack space. Now they'll be back to work, producing more merchandise for their next fairs.
Others didn't fare as well. Jeweler Amy Beeler said hers were all right. That's been true the entire season. She'd been told by veteran exhibitors that sales always get slow during presidential election years, especially when there's no incumbent in the race.
Most artists said their sales were good.
Amy Craft Ahrens, co-chair of the concessions committee, said that sales in the beer garden were up dramatically on Friday, and just a little off on Saturday night. Speaking just as the festival was closing down, she said she was optimistic about Sunday given the length of the lines.
Certainly the crowds seemed larger than usual for Sunday, which is not surprising, since it was a break, not just from Saturday's showers, but the oppressive humidity late last week. It was a great day to be outdoors, noshing, looking at and buying art and taking in some great sounds.
Homegrown talent was evident more than ever this year. Two Bowling Green musicians made their Main Stage debuts, Corey Baum with his country band from Austin, Texas, Croy and the Boys and Grant Flick playing with his buddies, Josh Turner, guitar, and Jacob Warren, bass.
Baum's band added a wry approach to classic country with originals that held their own next to covers of songs by artists such as George Jones.
Having heard Flick before with his dad in Acoustic Penguin, his set on the Community Stage, demonstrated why he has such a bright future on the national scene, including a couple strong originals. One had the trio shifting smoothly through odd time signatures.
I saw both bands at the community stage where their music could be heard across the way in Isaac Smith's booth. Isaac, a product of Bowling Green High School's art program, won best of show. The Black Swamp Arts Festival continues to be a place were younger artists or those new to the circuit get a boost.
Next year will be the festival's 25th. The committee has already been thinking ahead about how to mark that landmark year.
But that won't happen without help. The festival has a number of companies and service clubs that support the festival, but a crucial element has always been the donations and sweat equity put in by individual members of the community.
It takes about 1,000 volunteers to make the Black Swamp Arts Festival happen. Gate monitors were still being recruited throughout the weekend.
The last volunteer shift are those who return the town to normal. That includes Roger Mazzarella and his Bowling Green State University rugby players who turned out again this year to clear out the Main Stage area. For their long-time efforts they were awarded the festival's Dan Baglione Service Award.
So the best way for the community to help mark the festival's 25 years of success is to step up and help it continue to move forward.
DONATE $10 A MONTH TO THE NEWS
*****
Young Picassos at work
Jack Hilmer, like many others visiting the cardboard box creative area, was easy to spot. He was one of many kids trailing duct tape off their shoes.
It's a lot of work turning a cardboard box into a robot – for adults, anyway.  But Jack, 6, of Toledo, had no problem with the transformation.
He didn't plan to make a robot. It just happened.
"I saw this big floppy piece," he said, flapping the cardboard up and down. Once he got stacking and taping, it was simple to see. From the corrugated boxes, a robot emerged.
The Youth Arts Village at the Black Swamp Arts Festival, sponsored each year by the Bowling Green Kiwanis, was a place blooming with budding artists and builders this past weekend.
Take Vivian Wyant, 5, of Bradner. On Saturday she constructed a party hat from butcher paper and bedazzled it with colorful plastic flowers and sparkly snowflakes. On Sunday, she came back wearing her hat to paint her self-portrait. Upon seeing it, her mom complimented her Picasso-like skills.
The Youth Arts Village was tucked between two noisy ends – one featuring a stage of animated musicians, the other sounding like a workshop of Santa's elves. That's the construction zone, where kids put on hot pink or yellow "hard hats" and worked with BGSU construction management and architecture students to build anything from planes, trains to automobiles.
"This is the first thing she wanted to do," Anne Frederick, said of her daughter Lucie Smith, 6, of Bowling Green. Lucie was concentrating heavily on her airplane, which she planned to put in the cabinet above her desk with the truck she made at last year's festival.
Why a plane this year? "Because it can fly," she replied as if that question was quite silly.
Though kids are not allowed to run the powered saws in the construction area, they do get to try their hands at hammering and even drilling.
Blake Fox, a BGSU construction management student, said this was his third year helping at the festival. "I like getting the kids inspired working with tools," he said. "We're trying to get them interested in building things."
At another station, kids were squirting dye onto T-shirts. Hailey Swartz, 8, and Serenidy Wertz, 10, both of Bowling Green, were planning to use all the colors available.
"We usually come just for the kids. It's free and it's fun," said Amanda Swartz, Hailey's mom. "They get to use their creativity."
The youth arts area was not quite as busy this year as some past, since it rained a few times on Saturday. But the arts village was visited by about 3,000 kids, went through about 800 T-shirts for tie-dying,  used about four rolls of butcher paper for hats, and lots of woods for young builders, said Matt Reger, chairperson of the youth arts area.
The glory of the youth arts village is that there are so few rules to follow.
"The kids get to do what they want," Reger said. "We let them use their imagination."
At one station, they were using watercolors to paint landscapes. "They take a blank page. They are given some tools, and they take it from there," Reger said. "They are having a ball."
In the box building site, one of the volunteers estimated the kids had gone through 400 boxes over the weekend. One of the structures just kept growing as kids taped on additions during both days.
"The idea is they start a structure and they just kind of run with it," said Logan Mears, a BGSU student volunteer.
Though the focus of much of the festival may be on the adult artists, the youth arts village draws in many budding artists. "The big reason we come is because they have this stuff for kids," said Kari Reed, of Bowling Green.
The youth area also gives teenage artists a change to share their skills, according to Lloyd Triggs, an art teacher at Bowling Green High School and a festival volunteer.
"It's exciting my students can give back to the community," Triggs said, explaining that many of them grew up coming to the festival as children. "It's a rite of passage that they can help."
Though most art festivals have some activities for children, very few offer so much for the smallest visitors.
"I think this is really unique. Ours has kind of grown over the years," Triggs said. "It's a destination, not just something to occupy their time, but something they want to do."
– JAN McLAUGHLIN
*******
Chalk it up to talented teen artists
They may have started the day clean, but within a few hours they were coated in chalk. The young artists had immersed themselves so deeply into their work that they had become one with the water scenes they were creating.
This was the chance for teenage artists to make their mark on the Black Swamp Arts Festival on Sunday. Their assignment was to turn asphalt into water – the theme of this year's contest.
As the artists finished turning the pavement into ponds, a spectator lamented the temporary nature of the chalk art. "It's kind of a shame that someone is going to drive on them," as soon as Main Street was opened to traffic a few hours later.
The first place winners from Eastwood modeled their entry after a famous piece of Japanese art from the 1830s. "We got inspired by the Great Wave of Kanagawa," Reegan Harvey, a freshman from Eastwood explained. "This really shows how powerful water is."
But replicating art on asphalt is not exactly easy. "We all have to work together to blend the color," Harvey said. "The teamwork is a big thing."
Then there was the problem of the chalk rubbing off on everything – and everyone. "We're all covered in chalk. I think we may have more chalk on us than the ground," she said.
The second place winners from Anthony Wayne suspected that all their competition would focus on the water – so they chose something different.
"We have Poseidon. He's the strength of the ocean," said Ariel Tonkel, a junior at Anthony Wayne. "We wanted to incorporate a more human aspect." In recognition of the Black Swamp Arts Festival, the team added a salamander to the art and turned Poseidon's trident points into paint brushes.
And the third place winners from Bowling Green High School created a giant water bubble with a black and yellow salamander inside. "The yellow-spotted salamander is native to this area," said Rona Mejiritski, a junior.
Like the other artists, the Bowling Green team started by sketching out a design. But moving that to their 8 by 10 foot spot on Main Street posed some difficulties. "The size – you have to think about the proportions," Mejiritski said.
Three other teams competed, with all spending about four hours on their temporary masterpieces.
Otsego artists created a koi pond showing the solidarity of water and life. "Some people will dismiss the fact that the water cycle and the life cycle are one," junior Gabby Trevino said.
The large dimensions and chalky mess created by the art weren't the only challenges. Otsego's team had a tar line running right through the middle of their artwork. But they just worked a little bit harder. "You've got to bash the color into the cracks," Trevino said.
A second Anthony Wayne team discovered a secret weapon to keep their chalk on the pavement. "We found if you hairspray the colors, they stay," senior Eileen Lama said. Their creation showed a giant koi breaking free of the water.
"Life is like a fish," Lama said. "Sometimes you have to jump out of your comfort zone – out of the water."
A second Bowling Green team also left the competition covered in chalk. "Blending is really hard," sophomore Kate Bozzo said. Their art showed a koi pond with lily pads and a salamander. "It's really time consuming because it's a really big space."
The chalk art competition began about five years ago when organizers realized that the festival offered no stage for the talents of teenage artists.
"The mission of the festival is promoting artists and the appreciation of arts in the community," said Bill Donnelly, co-organizer of the chalk competition with Kate Kamphius. "We recognized adolescents are blooming artists and there were no options for them. We created this for adolescent artists."
The organizers would love to see the contest grow to include student artists from more area schools. The event was short a couple teams this year since it had to be postponed because of the rain on Saturday.
"We have this dream of filling this street with chalk artists," Kamphius said.
The contest, sponsored by the Bowling Green Rotary Club, awards monetary prizes that go directly to the art departments of the schools represented by the winning artists.
"In schools, what's the first thing to get cut? Arts and music," Kamphius said, noting the goal behind the monetary awards of $500 for first place, $250 for second, and $100 for third.
The judges for this year's chalk art contest were Todd Childers, Alma-Lynn Dupont, Jessica Miller Blakely and Enoch Wu.
– JAN McLAUGHLIN
*******
All about the bass during prime time
It was all about the bass at Saturday night's prime time show at the Black Swamp Arts Festival.
To appreciate the diversity of the acts presented all you had to do was check out the instrument being used to provide that foundation.
Mariachi Flor de Toloache showed its roots in the mariachi tradition with Eunice Aparicio on guittaron, which looks like the defensive lineman on the guitar team. The instrument provided the clear, supple harmonic underpinnings of a music rooted in the mariachi tradition but embracing many more styles.
The band had Latin fans – and it was nice to see more Latin faces coming out to hear the band – singing along to traditional tunes. But the New York-based quartet also mixed in the Latin jazz of Mongo Santamaria, an Irving Berlin standard and something from Nirvana.
People were dancing in front of the stage regardless of the style.
Mariachi Flor de Toloache – Mireya Ramos, Shae Fiol, Julie Acosta, and Aparicio – came on stage for the supper hour show after two earlier sets elsewhere on the festival grounds. Still there was no hint of weariness. The show had the high energy of the last set in a club. The music soars with ringing vocal harmonies, accented by trumpet flourishes. Having seen them on the Community Stage it was interesting the variations in tunes. This was clearly a band aware and alive to the moment.
Pokey LaFarge's band boasted your classic bull bass played by Joey Glynn, that big, warm sound that can' be replicated, a righteous thud that sets the beat right where it belongs. LaFarge, a folk noir troubadour, covers an expansive parcel of the Americana territory, from old jazz to old rock and mountain folk tunes, all in the service of tales of loss and loneliness, whiskey and women. Then just to add to that mix, the leader stepped aside mid-show to give star sideman multi-instrumentalist Ryan Koenig a chance to perform a couple of his own songs. Koenig hews faithfully to the twang of old-time country. This was the most anticipated act of the festival, and LaFarge and company delivered. When the band was called out for an encore, they turned to a Chubby Checker tune that had the crowd doing the vintage twist, or at least what their muscle memory could recall.
Tim Concannon, co-chair of the festival's performing arts committee and Main Stage master of ceremonies, captured the music of LaFarge the best. "Does anyone make hard times sound as good as Pokey LaFarge?"
Closing the show were The Sheepdogs. This is power rock with its inspiration firmly in the 1970s. This is Fender bass music. Ryan Gullen looks the part with waves of long hair that flew about freely as he moved to the music. His bass prowled around the bottom of the songs, adding melodic comments.
The band – Gullen, lead vocalist and guitarist Ewan Currie, drummer Sam Corbett, guitarist Jimmy Bowskill, and keyboard player Shamus Currie – launched into its set. This was no-holds-barred rocking. Primary, electric colors. The beat delivering relentless body blows. Music with a primal, communal appeal.
That is the kind of music you want after a long festival day.
With Bowskill, the newest member of the band, moving to steel guitar, the band mid-set showed its connections to country. That respite set up some more rocking.
The beat and the balmy temperatures accomplished what festival organizers hope for. The crowd hanging around, partying until closing time.
*****
Homegrown talent takes top prize in art show
Top prize at Bowling Green's home grown arts festival has gone to a home grown talent.
Isaac Smith, a 2011 graduate of Bowling Green High School, won the Best of Show honors in this year's Black Swamp Arts Festival for his finely detailed realistic drawings.
Smith, who just graduated from Kendall College of Art and Design, first exhibited at the festival last year when he had a booth in the Wood County Invitational Show.
In awarding the top prize to Smith, judge Matt Paskiet said his work was  "a step above."
Judge Brandon Briggs said Smith had "a penetrating vision."
He's able to see elements that are not immediately apparent in the subject matter. "That takes not only time and patience but a certain amount of heart."
Smith said it was while going through the art program at Bowling Green High School that he realized he not only had the talent, but the ability to do art as a career.
He was capable in other areas, but only creating art satisfied him. He won top awards at the Northwest Ohio Community Art Show and at the Wood County Fair.
He was a junior at Kendall when he took a course in advanced painting techniques from a Kendall graduate who toured the country on the art fair circuit.
With his encouragement, Smith decided to strike out on his own. The first year, he said, was difficult because he was finishing up his college course work. This show is his seventh.
He plans to continue taking the art fair route.
He wants to refine his approach to art, and focus more on what he does best. High school and college is a time to experiment, and the work he did then still has a place in his booth. There's a range of quality, he said, and subjects.
Smith said: "I've always enjoyed drawing people" he said. "People tell a story, just looking at the face for visual clues."
Briggs said: "Most people are willing to go as far as good enough. You're a real artist if you're willing to go 'good enough is not good enough. I'm going to take it farther.'"
That's true of all the award winners at the festival, he said.
Janet Alsup, of Delaware, won best 2D award.
Like Smith she's new to the art fair circuit, and has done a limited number of shows.
Though she has a degree in graphic design, she set that aside as she raised her children. But the desire to create art nagged at her, so she returned to school to study painting at the Columbus School of Art and Design.
She specializes in portraits of people and pets, taking on other subjects, still lifes and landscapes, in between commissions.
Briggs said she has "a fine sense of line."
"It's hard to question her training and dedication."
Alsup said she's done shows for four years. She only does art fairs in Ohio. Her daughters are now teenagers.
She came to the Black Swamp Arts Festival on the recommendation of another artist who'd done well here.
Alsup said Saturday, she'd done well. That's not always true for painters at art fairs, she said.
Alsup said she enjoys doing fairs. "I love talking one-on-one with people. Just talking about your art."
Other winners are:
Don and Serena David, second place.
Chris Plummer, third place,
Dave Grabarcyzk; Gint and Regina Sabailiauskas; and Melvin McGee, honorable mention.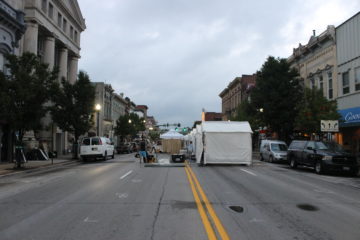 The dawn of the festival
The Dawn Patrol was on duty again Saturday morning.
By 6 a.m. the transformation of Main Street in downtown Bowling Green into an art and craft show was well underway. Some vendors already had tents up. The contents of vans were disgorged onto quiet sidewalks. The work of setting up was well in hand.
Despite the early hour after a late night, I love this part of the festival. It's like magic, except it takes a lot of hard work. By 10 a.m. all the art and crafts will be in place, and the exhibitors will be ready for business.
Part of why I like this time of the festival is greeting familiar faces. Previous year winners Amy Beeler and Mike Kozumplik are back. Fabric artist Rebecca Levenson from Ann Arbor is here. Levenson and her husband, Karl Dyke, are big music fans. This year they're looking forward to hearing Mariachi Flor De Toloache and Michigan bluesman Michael Katon.
I always get to meet new folks. This is the first time at the festival for Henry Warner from Georgia. He started doing the art fair circuit after closing his shop. The show was recommended to him by another artist. That's common. Word of mouth is vital in having artists decide what shows to do, and it seems to work well in the Black Swamp Arts Festival's favor.
Some new faces were on hand as volunteers as well. At the Four Corners where I'm used to seeing Hal Brown and Dick Edwards, who stood guard there many years before he was mayor, I found a couple fresh-faced Bowling Green State University students.
Part of the ECCO Learning Community, which promotes service to the community, Dakota Cowper and Ericka Corrigan were helping artists find where they needed to be. During load in, artists drive the opposite way down the street. That was they're assured of their van doors opening toward the spot on the street where they'll be setting up. That was the late Bill Hann's idea. The longtime volunteer is also the one who dubbed the early morning Saturday crew the Dawn Patrol.
And businesses were getting ready for the day. Ace Hardware was open, which was fortunate for an artist in the Wood County show who didn't realize she needed something to weigh down her tent.
Shelly Zavaleta was outside Main Street Antiques. The festival is a good time for the shop, introducing it to new customers.
Main Street Antiques timed its 2013 opening to occur on the weekend, and it still is important to the shop, Zavaleta said.
That exposure is the most important aspect of the festival for a number of shops, more so than actual sales on the weekend itself.
If it rains, folks will take shelter there and in other establishments along the street.
The forecast calls for a chance of showers and thunderstorms from a front that radar shows extending from the eastern border of Indiana to the western border of Illinois.
But getting the show set up in dry, if sticky weather, is a big plus. All that's certain is that there is a 100-percent chance of weather.
We rely on reader support. Buy a membership today!
Keeping thunder at bay with hard rockin'
I love walking to and from the Black Swamp Arts Festival with the sounds from the Main Stage wafting through the streets.
On Friday Southern Avenue from Memphis was already on stage as I headed downtown. The voice of Tierinii Jackso was calling the faithful home to the festival. Her voice permeated the festival grounds, and then when I got close to the stage I was taken aback. Ms. Jackson is diminutive in stature. There doesn't seem to be much to her, but the voice that emerges is a powerful, soulful wail.
During the week that preceded opening night, festival organizers were facing some dire weather predictions. At one point the weather was compared to the rain that almost drowned the festival in its very first year. But the committee takes such forecasts in stride. Nothing they can do about it. Alex Hann, chair of site and logistics, has plans in place for the worst, while he and everyone else hopes for the best. That's really what they got at least Friday night.
Balmy weather drew a good sized Friday night crowd, and that crowd was rewarded by high energy and diverse music making. After Southern Avenue came John Brown's Body. The reggae group played here back in 2003, putting on a memorable show when the band's horn section joined Chubby Carrier and dozens of dancing fans in a party-like jam.
The band's sound has evolved since that time with elements of hip-hop and electronic blending in with the reggae groove. The beat set by drummer Tommy Benedetti is more aggressive and the band behind the theatrics of vocalist Elliot Martin was tight. The horns each got a chance to solo, and they added a taste of jazz-rock to the proceedings.
Just before closing act Delta Saints started playing, performance chair Cole Christensen cautioned that organizers were keeping an eye on a storm front sweeping in from the north. The Saints would play as long as they could.
Once the Saints hit, it was as if they were trying to make sure they packed in a full set of rock-driven roots music in no matter how shortened the show was. At one point lead singer Ben Ringel said maybe if they played loud enough they would keep the storm at bay. Maybe it worked. They not only played a full show, but came back for an encore; a song, Ringel said, about being a long way from home.
Folks were already moving home. The storm was still maybe an hour away, just passing through Napoleon.
Festival chair Dave Shaffer said during set up he doesn't worry about the weather. What comes, comes.
Saturday will be another day to hope for the best.
*****
Chalk Walk event postponed until Sunday
In the first concession to the forecast of rain Saturday, the Chalk Walk competition has been postponed until Sunday from 11 a.m. to 3 p.m.
Bill Donnelly, one of the event's organizers, said that teams will be able to sign up to compete until the very start of the event on Sunday.
Teams that are unable to participate on Sunday can submit their drawings and designs and those will be considered by the judges.
Seven teams have registered with two more expressing interest.
See story below for full details on Chalk Walk.
*****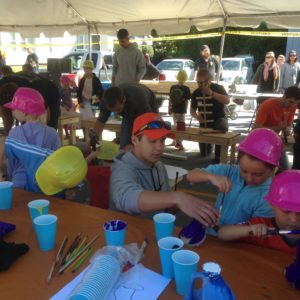 Young at art
All the materials are assembled, and most of the volunteers signed up, so the Youth Arts Area is set to go.
The area keep expanding and changing slowly. With new tweaks even to old favorite activities like tie-dyeing.
The goals of youth art remain the same – learn something about art, have something to take home and, most of all, have fun, said Matt Reger, who chairs the Youth Arts committee.
At the Black Swamp Arts Festival, the Youth Arts are not an afterthought, something to occupy kids while the parents enjoy the other activities. It's one of the major components of the festival along with music, the art show, and, that guilty pleasure, concessions and adult beverages.
Something for everyone, or something for anyone with broad tastes. If this sounds like fun you can still volunteer by visiting blackswampfest.org.
This year, Reger said, the construction area, now in its third year, has been expanded. The area coordinated by his wife, Heidi Reger, an architect, will give kids the opportunity to use the materials at hand to build something from a blueprint, or to draw their own blueprint. Bowling Green State University construction management students are on hand to help.
Youth Arts is a prime example of the way the university community collaborates with the festival. Athletic teams volunteer as do art students.
A group of area art teachers have also banded together to develop six different activities related to the subject matter of art.
Young artists will be able to create: a wire and foil, sculpture in the style Alberto Giacometti; a painted self-portrait in the style of Picasso or Matisse; an oil pastel still life in the style of Salvador Dali or a Dutch master; a foil landscape, "Starry Night in the Black Swamp" inspired by Van Gogh; an abstract watercolor seascape in the style of Winslow Homer; and a non-objective sculpture, "Taking a Line for a Walk," in the style of Paul Klee.
The Youth Arts also includes the literary arts with a poetry table.
Music will be well represented on the stage with a number of Main Stage performers doing sets in the more intimate setting of the Family Stage.
Also, the ever entertainer singer-songwriter and raconteur Barbara Bailey Hutchison returns this year for a set at 11:30 a.m. Saturday, and Grammy winner Tim Kubart at 11:30 a.m. Sunday.
*****
App puts the festival in the palm of the hand
The festival has launched its own mobile app.
It's available in the App store on an iPhone by searching Black Swamp Arts Festival or at https://play.google.com/store/apps/details?id=com.attendify.confay0t6u.
The app has a complete festival schedule and links to artists and musicians.
*****
Juried art show holds steady in Sunshine rankings
The Black Swamp Arts Festival has maintained its top 100 ranking with Sunshine Artist magazine, a leading source of information for those exhibiting on the art fair circuit.
The festival, however, was shifted from one list to another. The magazine ranks the top 100 Fine Arts and Design Shows.  That's the list where the festival has consistently ranked in the middle of the field, 67 last year and 66 in 2014.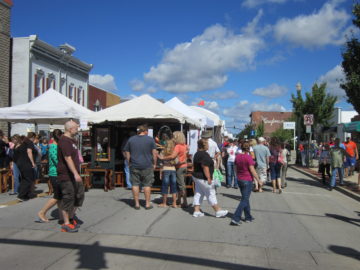 This year the festival's juried art show ranks 70th on the Top 100 Classic and Contemporary Show list. Brenda Baker, who chairs the Visual Arts committee, has noted in the past Black Swamp Arts Festival holds pretty steady in the middle of the field while other festivals vary widely. BSAF is the only area festival on the list. The Crosby Festival of the Arts dropped off last year, and the Levis Commons Fine Art Fair, which appeared at 99th in 2012, also was not ranked.
The Black Swamp event has placed as high as 53rd in 2009 before the economic downturn settled in. That ranking was based on the September, 2008, show.
The list is compiled by the magazine from ballots submitted by artists. Exhibitors are asked to list their best 10 shows in terms of sales. Which list a show appears on is based on how the majority of artists who include that show on their ballots describe their work.
This year, in their introduction to the lists, the Sunshine Artist editors write: "As we all know, popularity does count, and when lots of the artists have a good experience at a show, make some money, enjoy some good times with fellow artists and promoters, they are more likely to make it a point to vote."
Artists in surveys handed out by the festival and in conversation consistently praise the way they are treated in Bowling Green. It'd be nice to think that being nice does make a difference.
*****
Painting numbers sets stage for juried art show
The secret festival squad has been out. Take a look along Main Street and you will notice the booth numbers for the Black Swamp Arts Festival emblazoned on the pavement. Well, actually those numbers have been visible all year. They didn't fade as in past years. But now Alex Hann, who chairs the site and logistics committee for the festival, and a small band of volunteers have been out in wee hours of the morning to refresh them.
That's a sure sign that the festival is near. Four days from now, starting at 5 a.m. Saturday, artists will start arriving and looking for those numbers to see where to set up shop for the weekend. The booth must fit within the designated corners. Watching the show go up in those two blocks of Main Street is like witnessing a three-dimensional puzzle take shape.
A few hours later, the two jurors who selected most of the 108 artists in the juried show, will show up.  (Last year's award winners are automatically entered.)
This year's jurors are Matt Paskiet, the owner of Fire Nation Glass Studio and Gallery, and Brandon Briggs, who teaches art at Bowling Green State University's School of Art. Both are expected back to judge the show and decide on the award winners.
Briggs recently answered a query about his role as juror. "My overall impression of the art was good. What stood out to me the most was color being a real force across all mediums. Painting seems strong, yes, but the smart use of color and form seems particularly evident in the 'objects' department. "
Having studied painting at BGSU before he joined the faculty, he's familiar with the festival. "My experience with the event has always been positive. It's great for the community and is a good time of year to showcase the talent and hard work by the BGSU School of Art students."
Since the festival's first year, BGSU art students have been a presence, starting with the glass club. Now the student clubs representing all media show and sell their work in and near the courtyard on Clough Street, right across from the Wood County Invitational Show.
Briggs wrote: "It has been a wonderful way for me to work with students and teach them the importance of having a well-organized event and building a relationship between artists and community."
Beyond the hustle and energy of the festival, Briggs sees a deeper purpose. "I think the event is a reminder that we really do need art in our lives and that sometimes a static image can help us to slow down for a moment."
*****
Volunteers needed
The bands are booked, the artists accepted, the vendors contracted. Now it's time for community members to step up and pull their weight: The Black Swamp Arts Festival runs on volunteers.
The festival is not possible with the sweat equity of the community.
Festival committee members meet year round. Once one festival is done, they assess it how it went and what can be better. Work to line up bands and recruit artists are pretty much 12-month activities.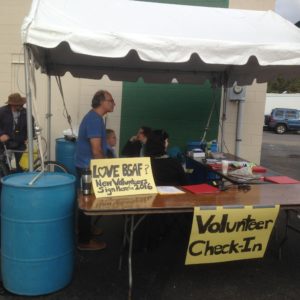 All of that would be for naught if people didn't step up and volunteer to work on the weekend itself, starting Friday morning when the beer garden, concessions and Main Stage area stakes shape through Sunday evening when downtown must revert from a festival grounds back to business as usual.
It takes more than 1,000 volunteers. And the festival needs people. Now. To sign up visit: http://www.blackswampfest.org/  
Wynn Perry, who chairs the volunteer committee, said volunteering seems to be lagging behind this year, which was not helped with a software glitch on the part of the company the festival is using to sign up help.
Spots are open in just about all areas, but there are some particular needs.
"We always need gate monitors," Perry said. She said it can be a fun job. "It's very social. You get to talk with everyone who walks by."
That's while checking to make sure people are taking beer out of the designated areas and have wristbands, if carrying beer.
Gate monitors take a load off the police officers working the festival and make sure that the festival sticks to the rules that come with having a liquor permit.
"We have to keep the alcohol contained in that area," Perry said.
And given how much of the about $160,000 it costs to stage the festival comes from beverage sales, that's essential.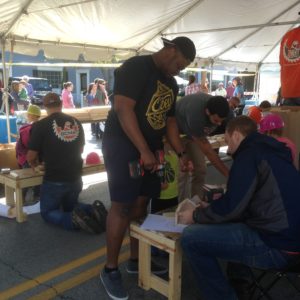 The biggest need in terms of volunteers is the Youth Arts area. These volunteers guide kids as they create their own tie-dyed, poetry, painted or construction masterpieces.
The festival is looking for high school students, clubs and athletic teams to step up to fill the gaps as they have in the past.
Another area of concern this year is what the late volunteer Bill Hann named "The Dawn Patrol." These are the dozens of volunteers who show up Saturday morning before the sun goes up to direct traffic, hand out information to artists, and set up Youth Arts. By the time they are done, the empty street has been turned into an art fair buzzing with anticipation.
Help is also needed a day earlier when the Main Stage area goes up. And the help is needed on the other end of the festival, when everything, stage, booths and chairs to return the Main Stage area and Main Street back to normal and ready for another work week.
*****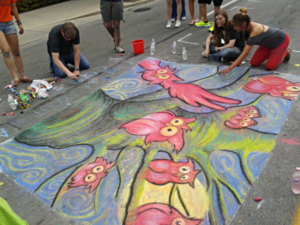 Chalk Walk still seeks high school teams
Chalk Walk is still a relatively new feature at the Black Swamp Arts Festival.
When Kate Kamphuis first promoted the idea several years ago, it was intended as a forum for high school students to get more involved in the festival. The festival has always sought to embrace the entire community, and here was a group too old for Youth Arts (except as volunteers) and too young for the beer tent. Inspired by I Madonnari, an Italian street painting tradition dating to the 19th Century, Chalk Walk allows high school teams of four to five students the chance to create their own 8-by-10-foot street designs in the 200 block of South Main Street from noon to 4 p.m. Saturday during the festival. Those designs are then judged.  
Award money goes to the art departments of the winning high schools, to support visual arts education and the development of adolescent artistic talents. The winning team will receive $500. Second place prize is $250 and third is $100.
The theme for this year's drawings is Water.
The Rotary Club stepped up three years ago to sponsor the event. There are still opportunities for teams to compete in the Rotary Chalk Walk at the Black Swamp Arts Festival on Saturday, Sept. 10. The original deadline of Sept.2 for applications has been extended. A maximum of 24 teams will be accepted. Application must include a sketch of the team's design and an artist statement about its concept.
Visit http://www.blackswampfest.org/chalk-walk/.
Chalk Walk provides all entering teams with a package of high quality street mural chalks, 12 colors, purchased from Eternity Arts.
In a new twist, the Bowling Green High School  Improv Troupe will perform for the Chalk Walk artists and their audience on-site, at 2:15, 2:45 and 3:15 p.m. Dr. Jo Beth Gonzalez is advisor to the BGHS Troupe with student leaders Elaine Hudson and Alexis Reinbolt.
Pisanello's Pizza has provided pizza to all team members during the afternoon and water available all afternoon. Chalk Walk t-shirts provided to all team members.
In the event of inclement weather cancelling Chalk Walk, awards will be judged based on original design.
Bowling Green Rotary Club made a five-year commitment to fund Chalk Walk. This is the third year of BG Rotary's five-year pledge.
Recent winners have been:
In 2013: First, Eastwood High School; Second, Penta Career Center's Interactive Media Porgram;  and Third, Ada High School
In 2012: First, Toledo School for the Arts and Second, Bowling Green High School.