By JAN LARSON McLAUGHLIN
BG Independent News
The same phenomenon occurs each time the new year rolls around. Gyms are suddenly full of fresh bodies trying desperately to stick to their New Year's resolutions to get fit. Meanwhile the workout regulars are grumbling and waiting for the newbies to give up.
"It's a madhouse," said Matt Steck, recreation administrative assistant, as he sat at the front desk of the Bowling Green Community Center on Monday morning. In the first hour of business in the new year, Steck had already sold $1,500 in passes to the center.
"The people who have been here forever can't stand it," Steck said.
But if the trend goes as is customary, many of the new exercisers will fall off the "fitness cliff" by Feb. 18. After that date, the New Year's resolutions weaken to their breaking point.
However, the crew upstairs at the community center said there are some ways to make exercise more bearable so people don't give up.
First, set short term goals – like showing up to the gym three days a week – not running a marathon and losing 50 pounds, said Josh Chatfield, aquatics and fitness manager for Bowling Green Parks and Recreation.
Second, try to make it enjoyable, not torture. "Do the things you like, and don't do the things you don't like," Chatfield suggested.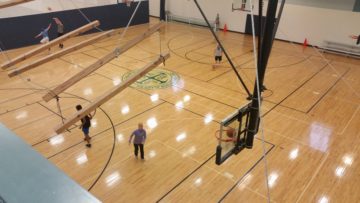 If using a treadmill, riding a stationary bike and lifting weights sound like drudgery, then play a sport. Play a game of basketball with buddies, "something that is still active," said fitness specialist Lindy Donaldson.
Next – and this one might sound odd – avoid reading stories trying to convince you of the latest and greatest exercise strategies.
"Stop reading health magazines," Chatfield said. "It's junk." The articles often focus on the latest buzzwords. "They glaze over what's important. Flashy and interesting isn't what's going to work."
Stay away from the newest trends – such as the "stupid wobble board." Chatfield learned long ago when he was a kid that wearing Michael Jordan shoes didn't give him the ability to jump like Jordan.
The American College of Sports Medicine lists more than 2,000 exercise trends that may or may not work. Chatfield is a fan of the "tried and true," like pushups, sit ups and jogging.
Some trends fade quickly – or never even make it to places like Bowling Green. Take for example buti yoga, which Chatfield said is the polite name for "striptease yoga." That won't be showing up here in community center classes anytime soon.
And don't invest a fortune in wearable fitness technology. "Studies show that people who use those have less success than people who don't use those," said trainer Corey Feasel.
Wearable fitness gadgets do seem to work for some people who are just starting out exercise after years of inactivity, Donaldson said. "They are good for people who are very sedentary. It tells you how inactive you are."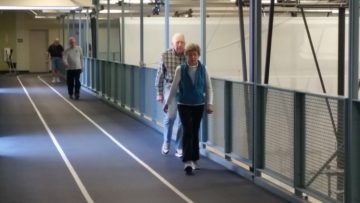 When the new year's fitness resolution rush occurs, the community center staff tries to give new members advice to help them meet goals and avoid the cliff.
"We try to steer them down the right path," Chatfield said. That's not always the case at other fitness centers, he added. "They sell memberships to people they know aren't coming back. We want you to stay."
Chatfield's advice: Don't feel bad about spending time on yourself. "You have to take care of yourself. It's not about looking good. It's about living good."
Words of wisdom from Feasel: "Health and fitness is a lifetime. It's not a six- or eight-week program."
And from Donaldson: Don't get caught up in what other people do at the gym. "Don't worry about anyone else, just yourself," she said. "Set small goals. Find something you enjoy." And don't get discouraged. "If it were easy, everybody would do it."